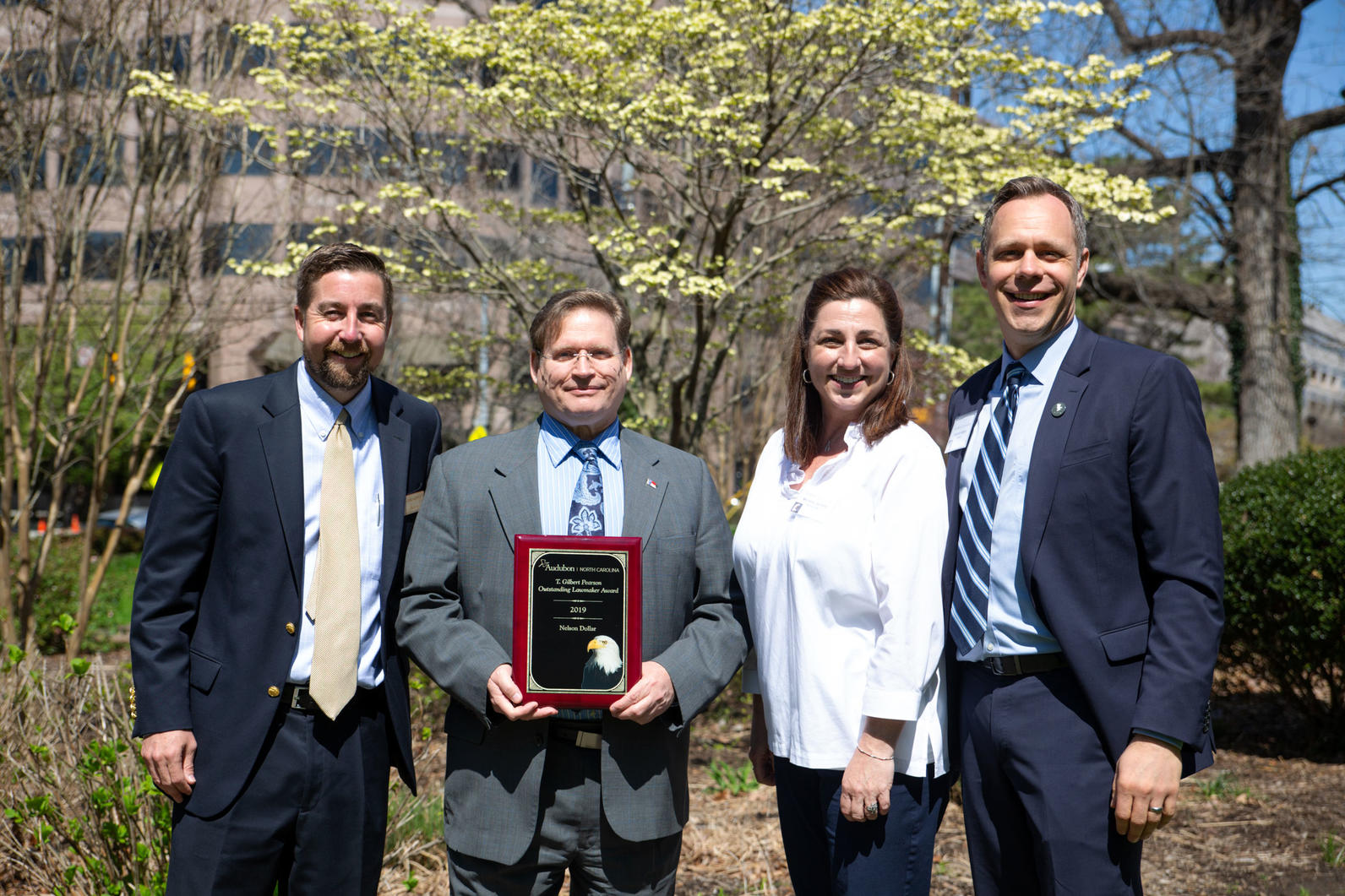 DURHAM, NC – Audubon North Carolina has named former Rep. Nelson Dollar the winner of the 2019 T. Gilbert Pearson Outstanding Lawmaker Award, citing the long-time legislator's leadership in bolstering the state's conservation funding and growing North Carolina's clean energy economy. Dollar's efforts have been critical to protecting habitat and cutting carbon pollution that threatens birds and communities across the state.
"Throughout his career as a legislator, Rep. Nelson Dollar has worked across the aisle to forge a bipartisan path on issues that are critical to protecting birds," said Andrew Hutson, Executive Director of Audubon North Carolina. "From clean energy initiatives to conservation funding, Audubon North Carolina applauds Dollar for his leadership and foresight."
The T. Gilbert Pearson Outstanding Lawmaker Award is given annually to a state lawmaker that has made significant impact in furthering bird conservation and protection in the state. Dollar, of Cary, accepted the award Tuesday, as Audubon members from the mountains to the coast flocked to Raleigh for the organization's annual Lobby Day. More than 60 members spent the day talking with their legislators at the State Capitol, urging their elected representatives to support conservation funding and the state's burgeoning clean energy industry.
Dollar played a key role in championing similar issues during his 14 years as a state lawmaker. When Dollar took the reins of the House Appropriations Committee as chairman in 2013, the Clean Water Management Trust Fund had been whittled down to a historic low of $10.8 million. Cuts to the trust fund meant less money to buy and conserve land and restore watersheds.
But under Dollar's leadership, lawmakers added to the fund over the years, growing the pot to $27.2 million by 2017. Since then, the money has been used to protect waterways, farmland and forests across the state, endeavors important to safeguarding birds and providing clean water to North Carolinians.
Dollar has also been a strong advocate for the growth of solar development and North Carolina's clean energy economy. He repeatedly opposed attempts to repeal the state's Renewable Energy Portfolio Standard, which has helped diversify North Carolina's energy production and reduce carbon pollution that threatens birds and people. As a cosponsor of the Energy Freedom Act, Dollar furthered this work by promoting legislation that would have increased competition for renewable energy and given customers more clean energy choices in the marketplace.
Although no longer a state lawmaker, Dollar continues to play a critical role on state budget issues in his new position as Senior Policy Advisor to House Speaker Tim Moore. Last year's winner of the T. Gilbert Pearson Outstanding Lawmaker Award was Representative Chuck McGrady of Hendersonville.
The National Audubon Society protects birds and the places they need, today and tomorrow, throughout the Americas using science, advocacy, educationand on-the-ground conservation. Audubon's state programs, nature centers, chapters and partners have an unparalleled wingspan that reaches millions of people each year to inform, inspire and unite diverse communities in conservation action. Since 1905, Audubon's vision has been a world in which people and wildlife thrive. Audubon is a nonprofit conservation organization. Learn more at www.audubon.org and @audubonsociety. Audubon North Carolina, a state program of the National Audubon Society, has offices in Durham, Boone, Corolla, and Wilmington. Learn more at www.nc.audubon.org and on Twitter at @audubonnc.