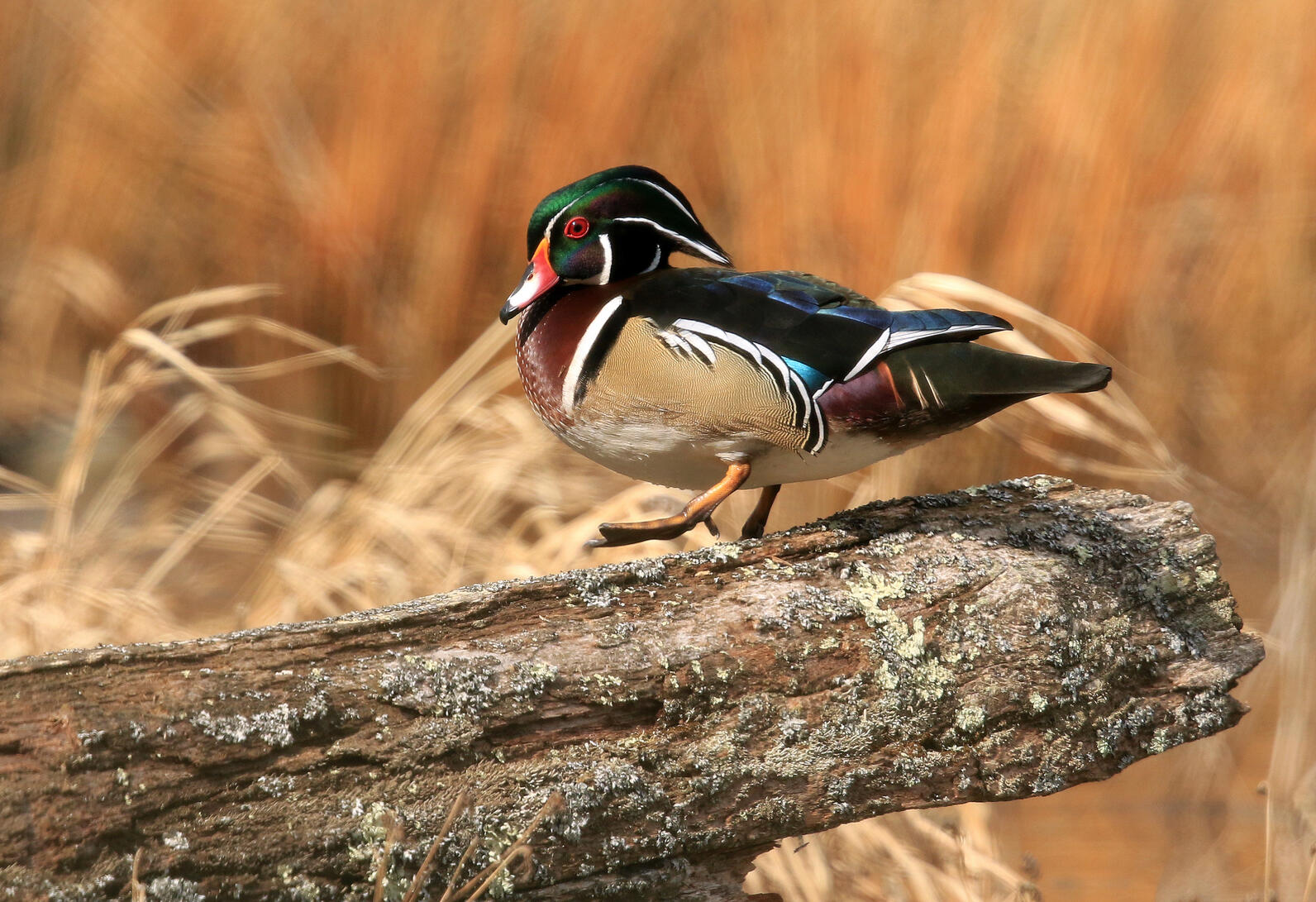 DURHAM, North Carolina – Today, Audubon North Carolina and the Currituck Sound Coalition announced the release of a landmark Marsh Conservation Plan that identifies the complex web of threats facing Currituck Sound and offers a blueprint of how best to protect and restore this invaluable coastal ecosystem for wildlife and people.
The extensive freshwater marshes of Currituck Sound are a globally rare ecosystem and provide habitat to all kinds of wildlife. Audubon's science shows the sound is among the most important places for birds in the world—the region is a formally designated Important Bird Area—and could serve as a stronghold for species as the climate changes. These same wetlands also support human communities by filtering water, serving as a buffer against erosion and flooding, and supporting a thriving recreation economy.
But even as new research is helping us better understand the ecology of the sound, its marshes are slipping away at a rate of 70 acres per year. The region faces increased erosion, encroaching development, and one of the fastest rates of sea level rise on the Atlantic coast. The Currituck Sound Coalition is working to offer a path toward a healthy, resilient future for the sound and the wildlife and people who depend on it.
"There aren't many places left where you can see marsh all the way to the horizon, and even that is changing in Currituck Sound," said Cat Bowler, Coastal Resilience Program Manager at Audubon North Carolina. "No single organization or community can respond to these threats alone. That's why the coalition formed, to come up with a plan and a shared vision for what a resilient future can look like for the ecosystem."
The Marsh Conservation Plan and the Currituck Sound Coalition are part of Audubon's growing coastal resilience work based out of the Donal C. O'Brien, Jr. Sanctuary at Pine Island, located on the sound. Partners in the Currituck Sound Coalition include the Albemarle-Pamlico National Estuary Partnership, Audubon North Carolina, Coastal Studies Institute, Chowan University, Currituck County, Ducks Unlimited, North Carolina Coastal Reserve and National Estuarine Research Reserve, National Wildlife Refuge Association, North Carolina Coastal Federation, North Carolina Sea Grant, The Nature Conservancy, Town of Duck, U.S. Fish and Wildlife Service, and North Carolina Wildlife Resources Commission.
Located between the North Carolina mainland and the Outer Banks, Currituck Sound spans 153 square miles and hosts an incredible array of biodiversity, due in large part to its fresh water and shallow depth. But these attributes also make it vulnerable.
As seas rise and saltwater moves inland, it kills off marsh grass and other vegetation. At the same time, wind and waves drive erosion of the marsh. These destructive forces will only worsen as storms become more frequent and intense.
The coalition developed the Marsh Conservation Plan, with support from a $98,000 grant from the North Carolina Environmental Enhancement Grant (EEG) Program, to identify these threats and offer solutions. Many organizations and agencies are already doing important work to restore and protect the sound. The plan pulls together this existing work, and identifies new solutions and gaps in current knowledge.
Strategies include conserving existing marshes as well as identifying and protecting areas that could become wetlands in the future as seas rise and the sound changes. The technical term for this phenomenon is "marsh migration." These efforts should prioritize places that have the dual benefit of protecting communities from flooding and creating high quality wildlife habitat, according to the plan.
Developing innovative methods to revive degraded marsh is another strategy identified in the plan. Groups have already begun planning pilot projects for marsh restoration, including work at Audubon's Pine Island Sanctuary. These include using living shorelines to mitigate erosion and applying thin layers of sediment to the marsh surface to help it keep pace with sea level rise over time.
"Coastal ecosystems are dynamic by nature, and this is especially true for a freshwater sound separated from the Atlantic Ocean by a narrow barrier island," Bowler said. "We want to make sure Currituck Sound and the birds, fish, and people who depend on it are able to adapt to the changes that are coming, even as we work to reduce the most pressing and immediate threats."
"As our community faces the challenges of a changing environment and sea level rise, the Town of Duck has set a course to become a model for sustainability and coastal resilience," said Joe Heard, Director of Community Development, Town of Duck. "We greatly appreciate the support of the Currituck Sound Coalition and guidance from the Marsh Conservation Plan as our community designs and implements nature-based solutions that benefit the environment, economy, and social fabric of the community,"
"Loss of marshes and changes in uplands of Mackay Island and Currituck National Wildlife Refuges bordering the Currituck Sound reflects the changes driven by sea-level rise," said Mike Bryant, National Wildlife Refuge Association Regional Representative for NC & SC. "Sustaining the migratory bird habitat values associated with these refuges is essential to meeting both the refuges' purposes and the mission of the Refuge Association. We appreciate Audubon's leadership and the collaboration of the Coalition. Both the process and the product meet the need of bringing everyone together to form a practical, science-based plan of action to effectively deal with the challenges in our future. A resilient and sustainable Currituck Sound ecosystem will help ensure these refuges can meet their purpose."
"The creation of the Marsh Conservation Plan was truly a collaborative effort by many partners," said Sarah Spiegler, Coastal Resilience Specialist, North Carolina Sea Grant. "Continued coordination and collaboration will be crucial in protecting these special places in northeast North Carolina, and throughout our coast."
"Currituck Sound and its wetlands provide a unique ecosystem on the east coast, and Audubon and the Coalition members have made significant progress in the development of this plan to help protect and restore our Estuary of National Significance," said Dr. William Crowell, Director, Albemarle-Pamlico National Estuary Partnership.
"The Marsh Conservation Plan benefits the overall health and resilience of coastal marsh wetlands and habitats of Currituck Sound," said Rebecca Ellin, Program Manager, North Carolina Coastal Reserve and National Estuarine Research Reserve. "Understanding where and how this critical habitat is vulnerable, and developing a collaborative proactive approach to managing these resources, this plan and future practices will help counteract some of these vulnerabilities, ultimately resulting in a stronger more sustainable environment in the Currituck Banks Reserve and throughout the Currituck Sound."
"Currituck Sound's marshes are critical for sustaining the region's natural and human communities," said Dr. Bo Dame, Professor of Biology & Physical Science, Chowan University. "The natural environment that draws people to the area and is at the heart of the region's culture is fundamentally based on the persistence of an abundance of healthy marshes. Based on the most up to date science and understanding of coastal processes, this plan outlines the major threats, identifies gaps in knowledge, and provides recommended actions. It is a valuable resource for policy makers, resource managers, researchers, educators, and anyone interested in protecting and maintaining these important wetlands."
"By collectively working together to conserve and protect these important wetlands in Northeast NC we can retain this unique feature of Currituck Sound for future generations," said Lora Eddy, Community Resilience Specialist, The Nature Conservancy. "One organization or individual cannot tackle this alone and with this plan directing our work we can all contribute to preserving the sound's iconic feature— marshes waving green and golden along the shoreline as waterfowl glide overhead."
"The Currituck Sound and its marshes are tremendously important, not only to the history of Currituck County but also to its present and future generations," said Laurie LoCicero, Planning Director, Currituck County. "We are a coastal community with a dynamic environment and the Marsh Conservation Plan will provide valuable input for effective decision-making as the county continues to grow. The Currituck Sound Coalition is a great partner in helping us maintain the vitality of the Currituck Sound."
About Audubon North Carolina
Audubon North Carolina, a state program of the National Audubon Society, has offices in Durham, Boone, Corolla, and Wilmington. Learn more at www.nc.audubon.org and on Twitter, Facebook, and Instagram.​ The National Audubon Society protects birds and the places they need, today and tomorrow. A nonprofit conservation organization since 1905, Audubon works throughout the Americas using science, advocacy, education, and on-the-ground conservation. Learn more at www.audubon.org and on Facebook, Twitter and Instagram @audubonsociety.