Our coastal team is launching a new study to better understand the long-term impacts that forever chemicals might have on birds in the Cape Fear River, where Audubon manages and protects a network of nesting sanctuaries. We launched the PFAS study this summer with our partners, the U.S. Geological Survey's Eastern Ecological Science Center at Patuxent Research Refuge and UNC-Wilmington's Williard Lab.
PFAS, or per- and polyfluoroalkyl substances, are man-made compounds that have been widely produced by industry since the 1940s and used in products ranging from non-stick cookware to flame-retardant fire-fighting gear. Unfortunately, they do not break down in the environment, hence the moniker "forever chemicals," and are known to cause a variety of health problems in people and wildlife.
The Cape Fear River has been highly polluted by many different types of PFAS over the years—most notoriously by one called Gen X. These compounds were detected in several species of deceased chicks raised on the Cape Fear River in 2017, based on research undertaken in a collaboration with the University of Rhode Island Graduate School of Oceanography. To follow up, we are now looking at PFAS in living birds by taking blood samples from pelican chicks.
"We know that PFAS are in birds, but we don't know what that means for their health," Audubon Coastal Biologist Lindsay Addison said. "This is the next step in assessing what impact these chemicals may have on pelicans and other birds nesting on the river."
In addition to ongoing bird-banding efforts, our coastal team took blood samples from Brown Pelican chicks this summer to analyze them for the presence of PFAS and to assess potential effects on immune system function.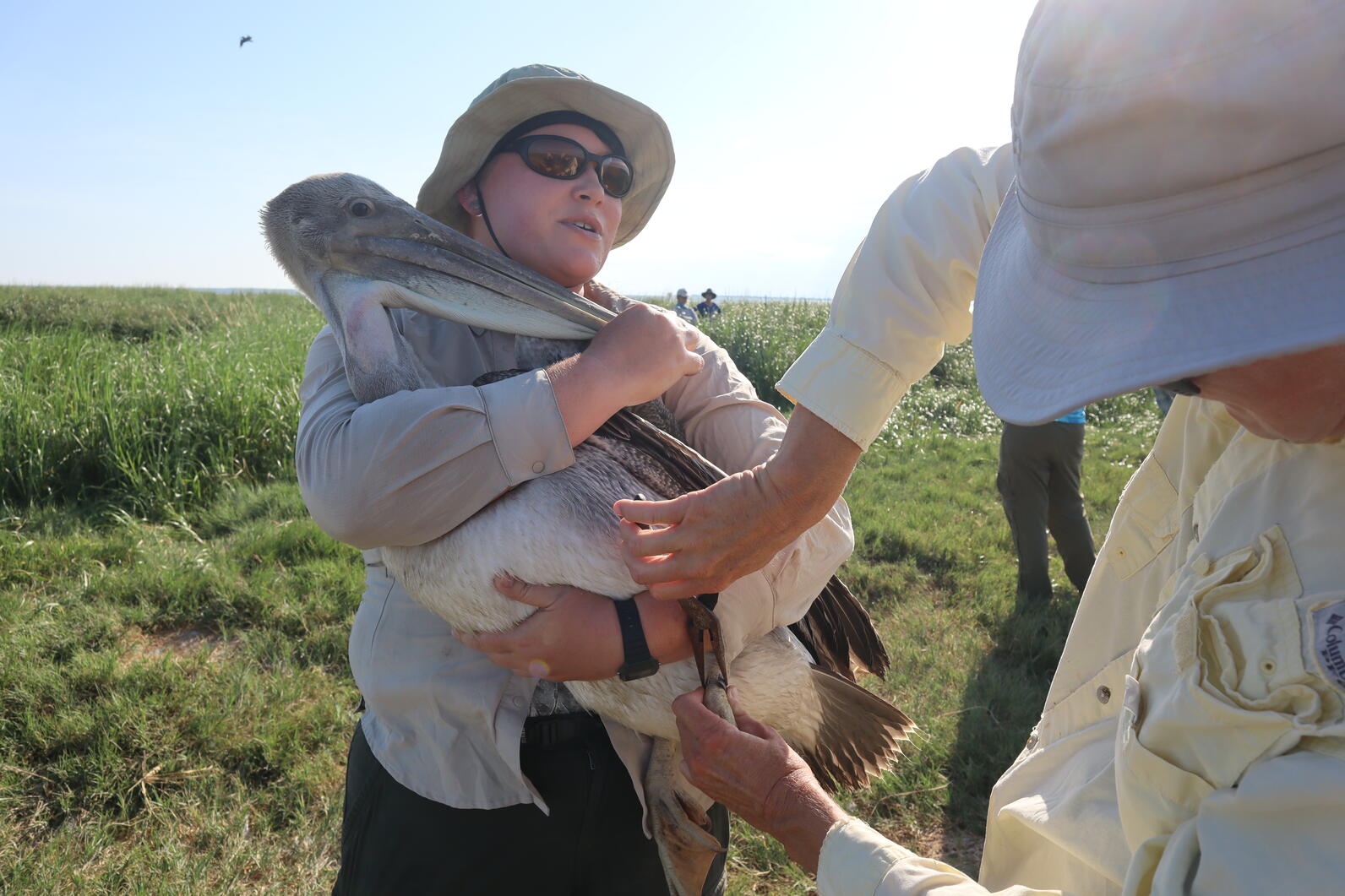 Audubon biologists chose pelicans for this research because they are the largest nesting waterbird on the Cape Fear River and are thus relatively easy to draw blood from. "Part of this project was learning to draw blood—thanks to training from another collaborator—and then we discovered that several of our volunteers were nurses so we had several folks who could provide coaching and empathy," said Addison.
Blood samples from pelican chicks on the Cape Fear River will be compared to those at a control site on Beacon Island in Ocracoke Inlet, where pelicans haven't been as exposed to PFAS.
Studies such as this one can serve as a starting point for understanding the health effects of PFAS exposure on Cape Fear River birds. "It's very difficult to do longitudinal health studies on wild animals, and we aren't trying to extrapolate to impacts on humans, but now that we know PFAS are in the birds we manage, we want to try to learn about how that could be affecting them," said Addison.
How PFAS ended up in the Cape Fear River
While PFAS have been used in industry and consumer products for over half a century, their health and environmental impacts are still being studied.
In a study published in 2016, NC State University researchers discovered the widespread presence of GenX and other PFAS near a water treatment plant along the Cape Fear River. The source of this contamination was determined to be the Chemours plant in Fayetteville. Formerly Dupont, the company had been discharging contaminated wastewater into the Cape Fear River since the 1980s. Hundreds of thousands of people in the Cape Fear region get their drinking water from the Cape Fear River, leading to public health and environmental concerns.
GenX and other newer PFAS present a unique challenge to environmental and water quality officials because the compounds are much harder to remove from water, compared to the older compounds GenX was meant to replace. That means this problem will be with the region for many years to come.
In 2017, with revelations coming out about PFAS contamination, Addison connected with Anna Robuck, then a PhD student at the University of Rhode Island, now an environmental chemist with the Environmental Protection Agency. The two knew each other through Robuck's previous work monitoring oystercatchers at Masonboro Island Reserve. Addison collected deceased chicks from the Cape Fear River that had died of natural causes and Robuck went to work analyzing them.
Tests on their organs showed that the chicks had high levels of PFAS in their system, higher than in other bodies of water, including the heavily industrialized Narragansett Bay. The question became, how might the PFAS have affected their health?
To start to address this question, our coastal staff and a bevy of volunteers banded and took blood samples from about 30 pelican chicks on the Lower Cape Fear River and 30 pelican chicks on Beacon Island.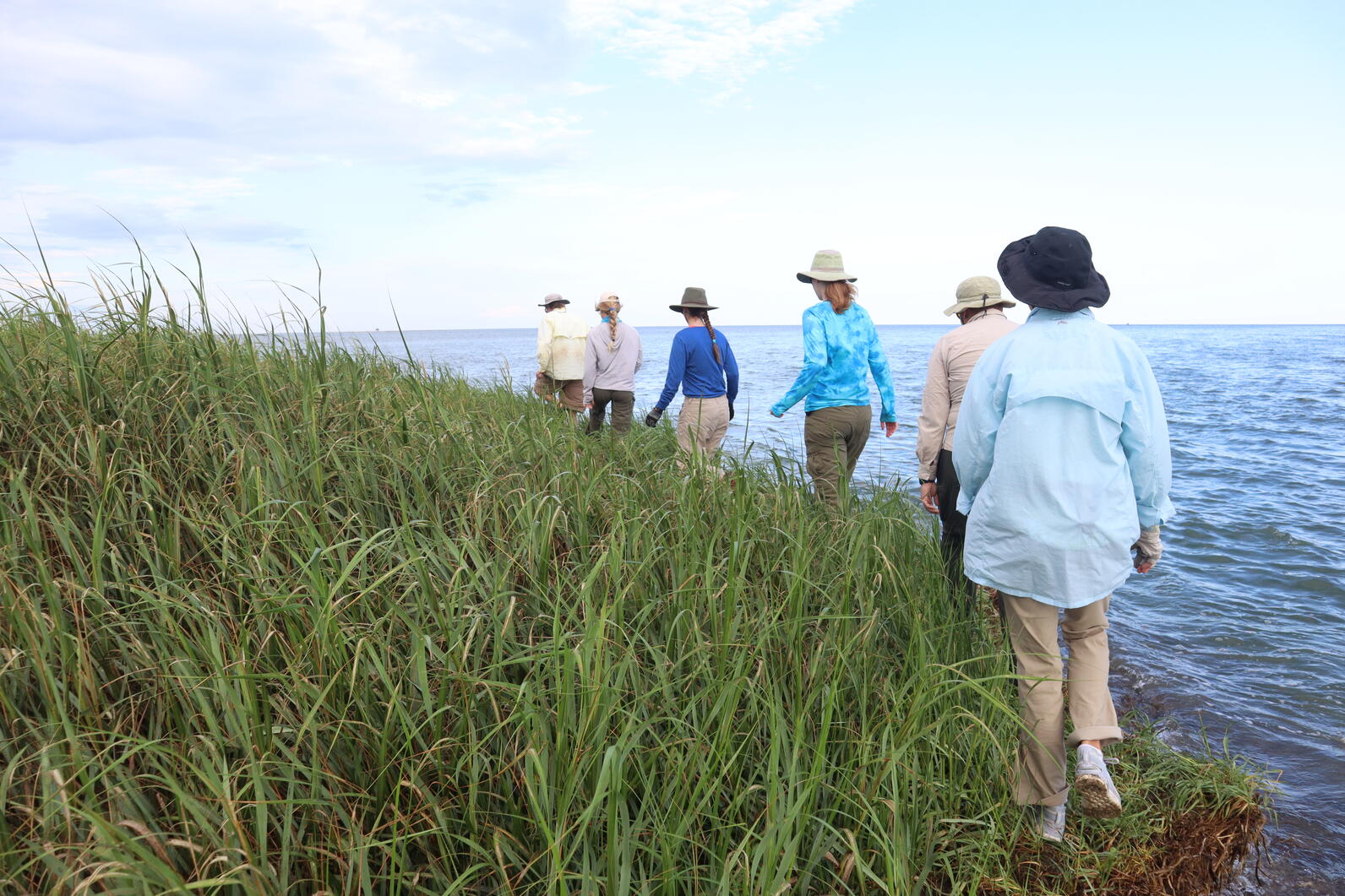 "This meant getting very dirty with the pelicans," Addison said. "They are on marshy islands, so there is a lot of mud as well as bird poop and fish vomit involved. In previous years, when we only banded pelicans, that would be the end of the day, but since we were collecting biological samples, we had to make sure the blood was handled correctly."
Dr. Amanada Williard from UNC-Wilmington came out with her students and trained volunteers on proper techniques. "It meant not shaking the vials of blood and keeping them at the right temperature until we could get back to a lab, all kind of hard when you're on a boat in the summer," Addison said. Once in the lab, each chick's sample was spun down to separate out the red blood cells so the samples could be stored while they await testing.
Once at the Eastern Ecological Science Center, the samples will be analyzed to determine the type and concentration of PFAS in the chicks' blood. Since there are thousands of different types of PFAS, the lab will look for select PFAS that are common in the Southeast or associated with the Chemours plant.
Because PFAS exposure is known to affect the immune system, the blood samples will also be used to assess how well the pelicans' immune cells are able to respond to infection. This involves exposing the cells to foreign or infectious agents to see how well they can mount an immune response. Depending on the results, more data may need to be gathered, but these first blood samples will begin to get a better picture of how pelicans on the Cape Fear River are responding to the contaminant.
"What most strikes me, other than the unintended human and animal health consequences of the unregulated discharges, is how much this study has relied on partnerships," said Addison. "We never would have had the chance to get 2017 samples back when they had just stopped dumping if Anna and I hadn't happened to have worked together and if she hadn't gone into the ecotoxicology field. Then we wouldn't have connected with the [USGS lab in] Patuxent if I hadn't met Dr. Williard at a sea turtle permit holders meeting. I wish it weren't necessary in the first place, but it's been a great experience meeting new collaborators and working on a different kind of project."
*Note that all banding, marking, and sampling is being conducted under a federally authorized Bird Banding Permit issued by the U.S. Geological Survey's Bird Banding Lab.