Baby oystercatchers and terns on the North Carolina coast are sporting new bling this summer, thanks to Audubon biologists and volunteers. Over the past few weeks and months, thousands of birds received new bands that include unique identifying number and letter combinations. As biologists and birdwatchers re-sight these birds and report their band numbers, we'll get a better understanding of where birds go and whether they are successfully fledging chicks.
The banding is just one part of a busy nesting season for our coastal team. Every year, they work to monitor and protect important nesting sites from the Cape Fear River to Pamlico Sound. This network of sanctuaries is home to 40 percent of North Carolina's coastal nesting waterbirds, giving terns, pelicans, and many other species safe places to hatch and raise their chicks. Here's some of what our biologists and volunteers have been up to this summer.
As summer heats up, many species are raising newly hatched chicks while our biologists conduct important monitoring and banding work.
Volunteers Rally to Tag Thousands of Royal & Sandwich Terns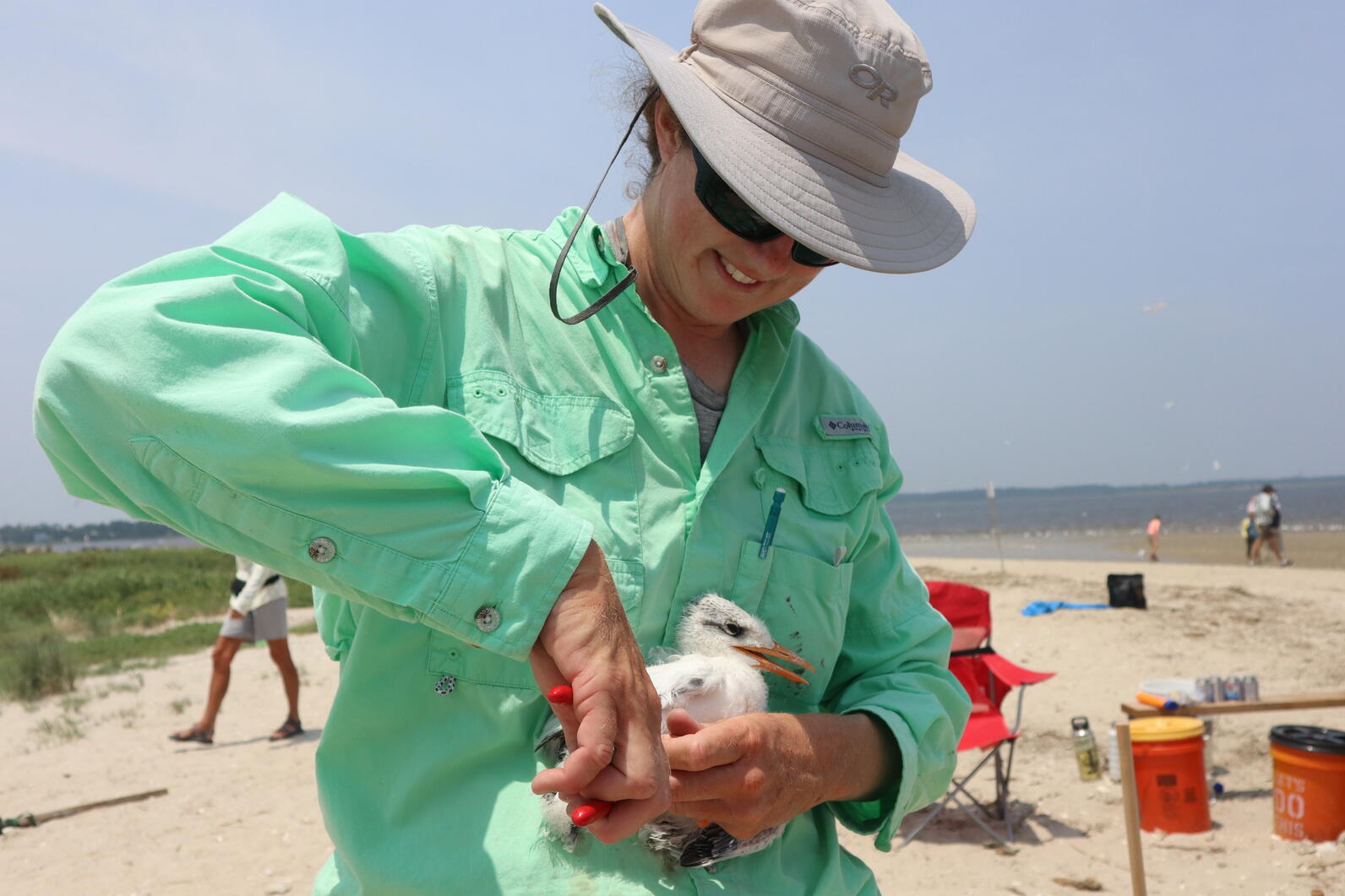 Earlier this month, over 30 volunteers flocked together to help our coastal team during this year's Royal and Sandwich Tern banding project. This is strenuous and uncomfortable work, led by our Coastal Biologist Lindsay Addison.
The goal was to band tern chicks hatched on the Cape Fear River, and over time gather insights into their movements and demographics. This is the first year that Addison and the volunteers applied field-readable bands, which are colored leg bands with large letters and numbers, in addition to traditional metal bands, which can only be read if a bird is re-captured or recovered after death. The field-readable bands allow anyone with binoculars to identify and report their sightings of these terns to the Bird Banding Lab.
Volunteers banded 2,654 Royal Terns with 326 (12%) of them receiving field readable bands and 712 Sandwich Terns with 108 (15%) of them receiving field readable bands.
"We had an amazing turnout this year," said Addison. "Without the help of volunteers and partner organizations, this large-scale effort wouldn't be possible."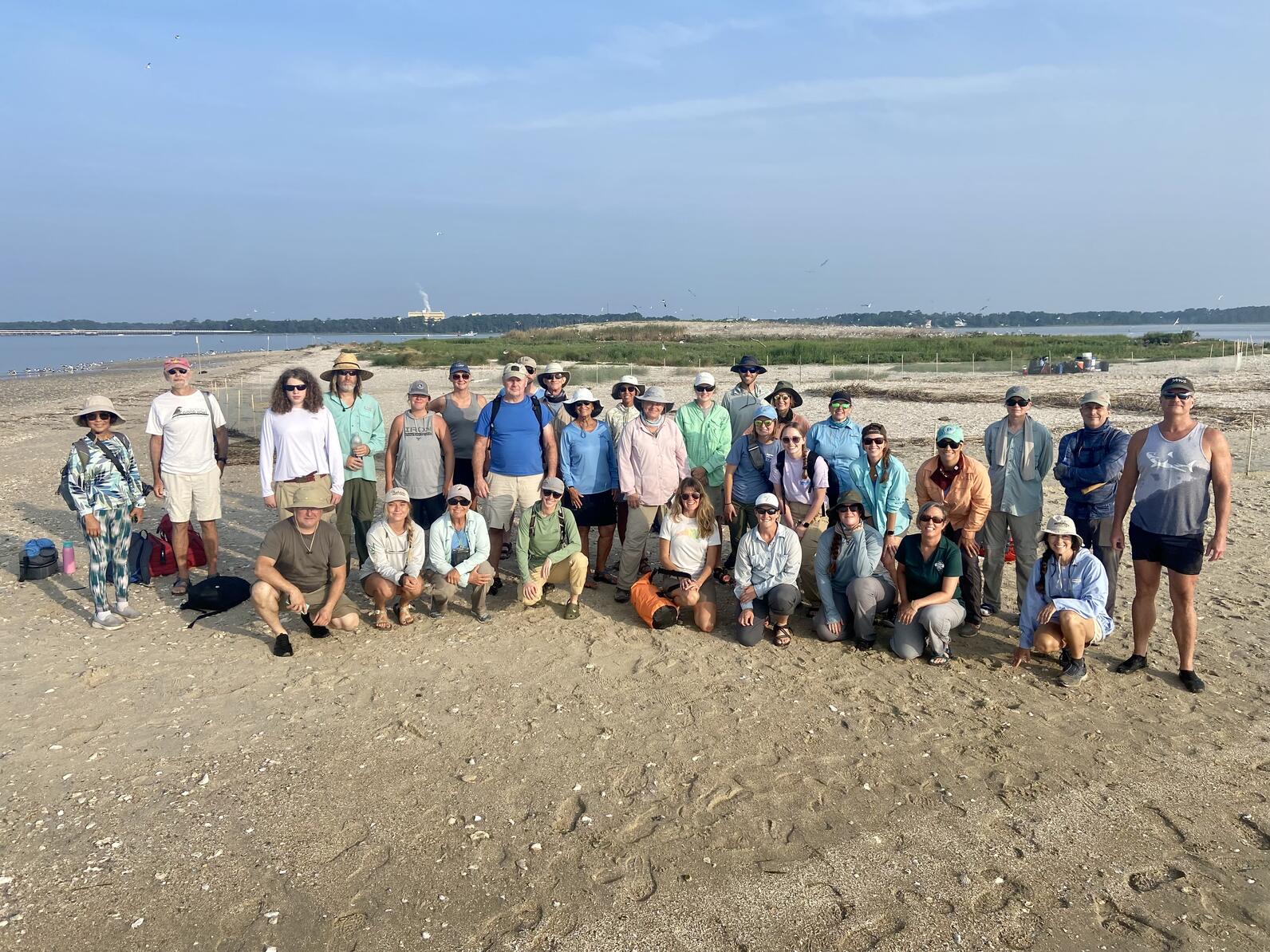 Addison and her team are hoping to determine how important the Cape Fear River is for Royal and Sandwich Tern populations and how unique these tern populations are. For example, if they are mixing with other colonies in North Carolina or if this is a more discreet population.
Only a handful of sites host Royal or Sandwich Terns during the nesting season, most of which are dredge islands. Two of the 5-6 sites are on the Cape Fear River. Tern colonies there face many threats including from erosion caused by large container ships that displace water and wash away nests close to the shore.
A proposed expansion project at the Wilmington Port could worsen this issue which is why we submitted comments to the U.S. Army Corps of Engineers to let them know just how critical the Cape Fear River is to birds. By applying field-readable bands to terns on the river we can collect more information about their movements and ultimately better protect them against threats like this one.
Over 30 American Oystercatchers Banded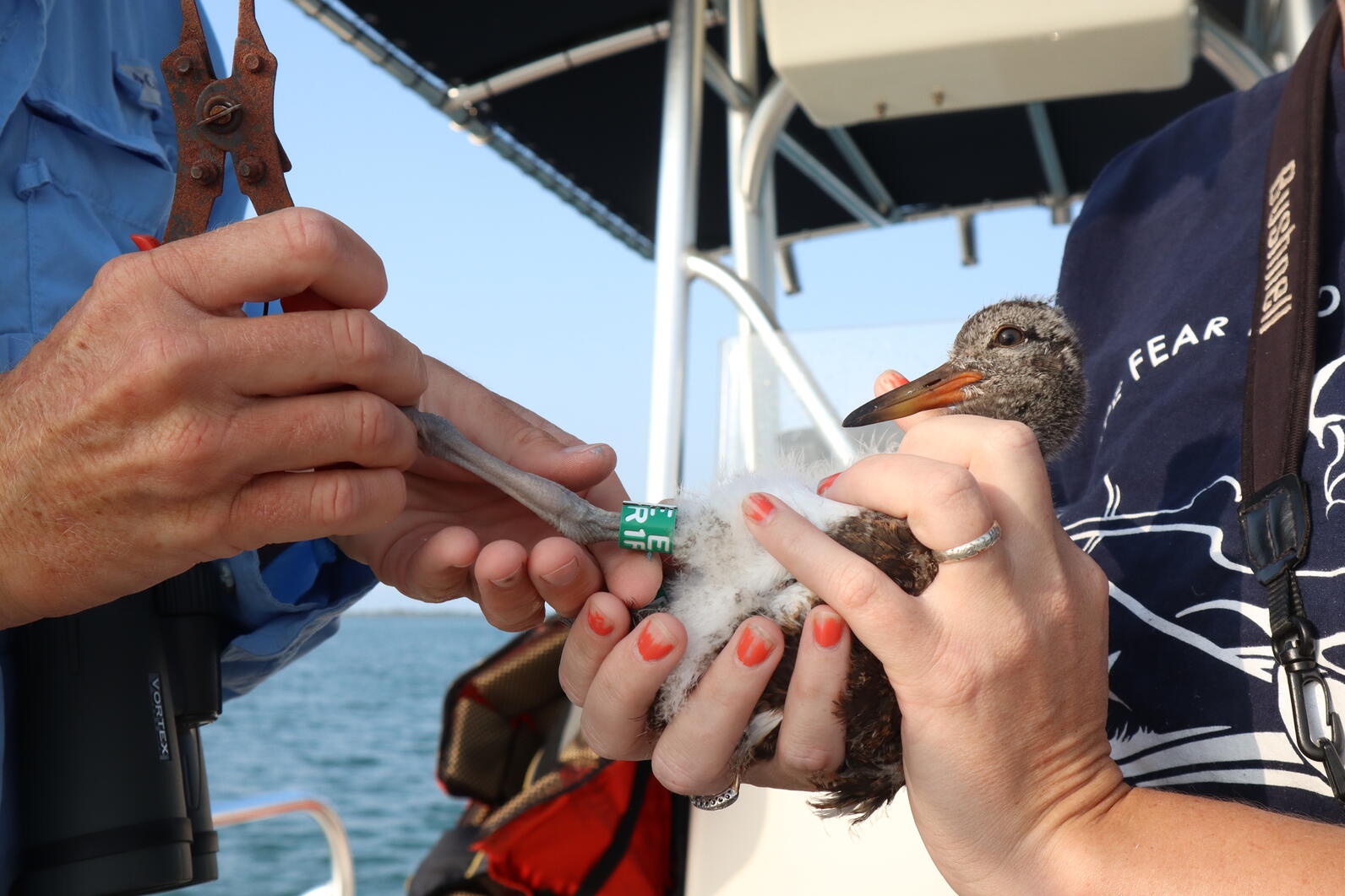 Since 2010, Audubon has worked with partners from the NC Wildlife Resources Commission, NC Coastal Reserve, National Park Service, U.S. Fish and Wildlife Service, U.S. Marine Corps, and NC State Parks to band American Oystercatcher chicks. This is one of the rare occasions in the life of an oystercatcher that managers get the chance to be up close and personal with these amazing birds.
Banding helps sanctuary managers monitor pairs, see how successful they are at hatching and raising young, and ensure they have the habitat they need throughout their life cycles, among many other things. In addition to banding, biologists will also weigh, measure, and pluck a few feathers from the chicks to learn more about their overall health.
Over 1,800 American Oystercatchers have been banded state-wide since the effort began. Unlike terns, oystercatchers are territorial and are much more spread out along the Cape Fear River, making banding trips quicker because only one or two are banded at a time, but also dependent on when Addison or the partners can get to them.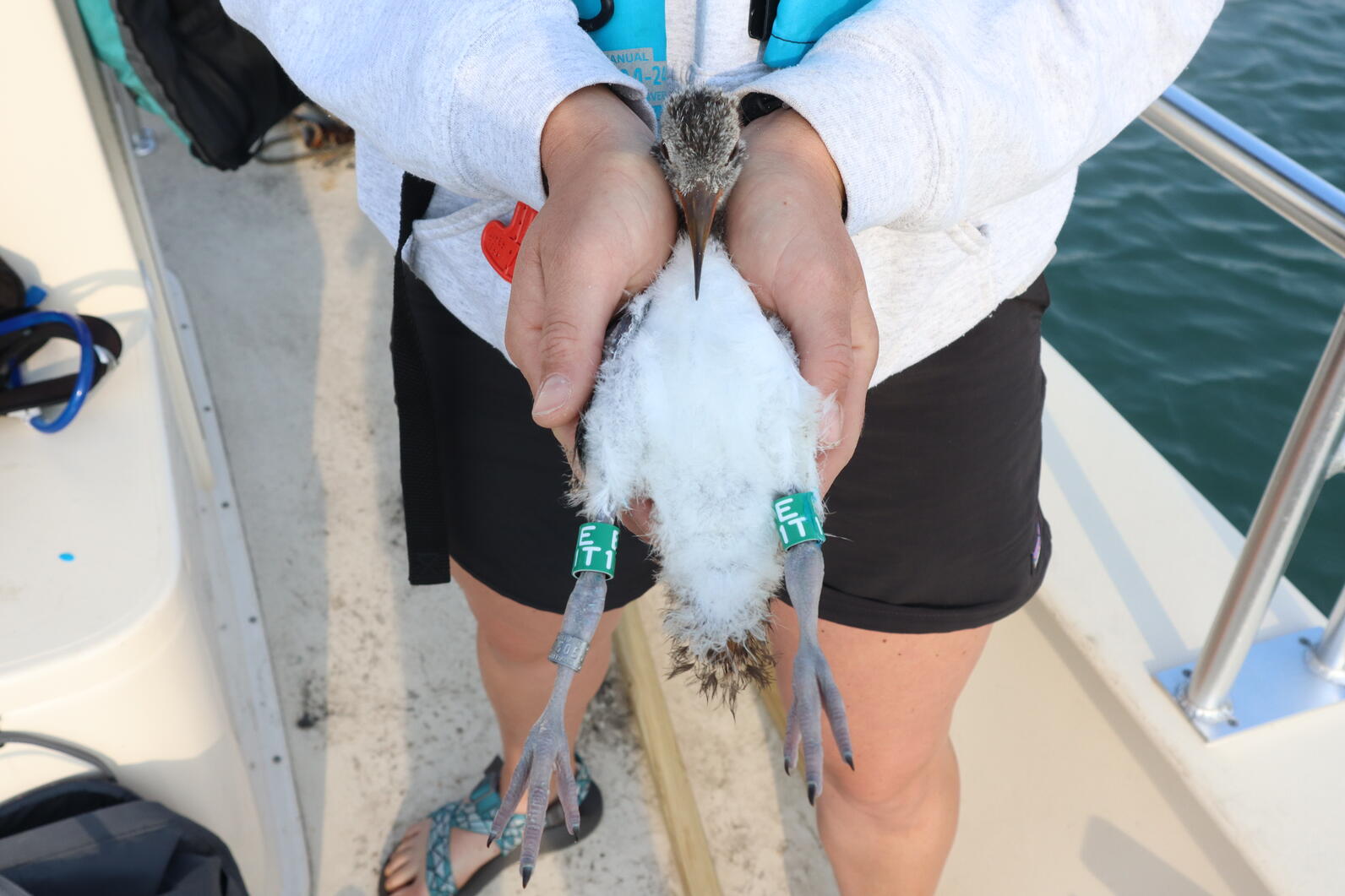 On a recent trip to Masonboro Reserve, Addison and three volunteers banded three chicks in just under an hour. They were hard to spot initially, nestled among dried twigs on the beach, but once they gathered them up, it was a quick process to get them banded, weighed, measured, and back to their parents.
The information we gather from tracking birds through banding and nest monitoring has helped biologists and site managers monitor the population and its demographics across the state over time.
"We've had many nests impacted by coyotes this year, especially on Lea-Hutaff and Masonboro Islands," said Addison. "We and our partners do everything we can to co-manage depredation at these very important sites, but some years are more challenging than others. That's why protecting and monitoring these sanctuaries is so important. We know what the factors limiting their success are right away."
This helps biologists and sanctuary managers adapt and make management decisions in real-time.
Thousands of Colonial Waterbirds Counted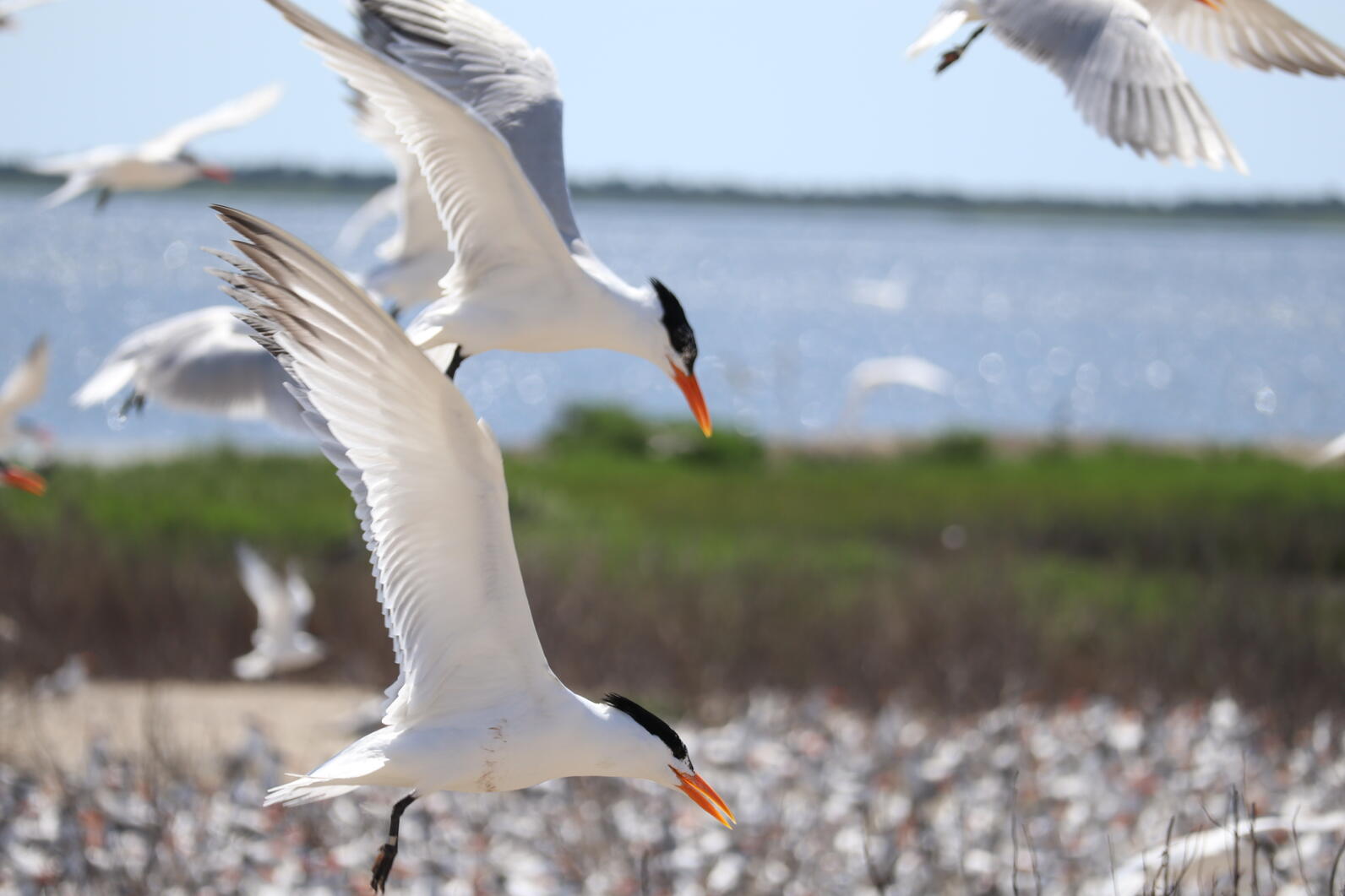 Audubon, along with other waterbird management partners across the coast, participates in the North Carolina Colonial Waterbird Census every three years. The census helps sanctuary managers get a larger picture of how birds are doing in our state.
This is a big job – much like many of the other bird monitoring projects conducted by Audubon. It requires a lot of time and attention to accurately count each individual nest so that we can estimate the number of breeding pairs of a particular species.
"We're still tallying our numbers for the year," said Addison. "We'll be looking at the numbers in a few different ways, such as total numbers of each species statewide, number of sites statewide, and also numbers of each species at our individual sites."
All of this work is vital to understanding bird population trends and maintaining the health of our coastal birds to ensure that North Carolina can continue to host these birds for many years to come.
*Note that all banding, marking, and sampling is being conducted under a federally authorized Bird Banding Permit issued by the U.S. Geological Survey's Bird Banding Lab.