Making your yard bird-friendlier is a worthwhile goal, and easier than you think!
Through their Bird-Friendly Habitat Certification Program, New Hope Audubon Society (NHAS) is working to restore native habitats by helping residents in Orange, Durham and Chatham counties take steps to make their property bird-friendlier.
When you plant native, you are creating spaces in your yard to help pollinators, birds and other wildlife exist. I have seen the diversity of species in my yard expand because we have the native plants to support them. We always tell people to keep their native trees which provide so much food for all phases of wildlife. A lot is going on up in the canopy that we cannot see to sustain our ecosystems. - Barbara Driscoll, co-leader of program
I like to think of a bird-friendly habitat in terms of both space and time. In terms of space, birds need all of the landscape layers to be present. The canopy trees, understory trees, shrubs, herbaceous plants, and even the ground layer of decaying leaves and organic matter are all essential; and birds specialize in each of these layers. It is also important to think about time and provide sustenance for birds and other wildlife throughout the four seasons. - Jim George, co-leader of program
How can YOU start the process, and even get officially certified?
Follow these five easy steps:
STEP 1- Know Why You're Going Native
Want to be able to easily explain to friends and neighbors why you're going native for birds, and they should too? Here are some talking points:
Native plants provide insects, fruits, nuts, and seeds not often found in landscaped areas. These high-fat foods provide birds with essential energy for migration season.
Non-native vegetation may become "invasive" by outcompeting local vegetation and disrupting the local ecology

New Hope Audubon Society Bonus Tip: Native plants are host to a large variety of insects, which are especially vital for chicks during nesting season. Nestlings can only eat insects and must consume large numbers (thousands) in their first weeks of life!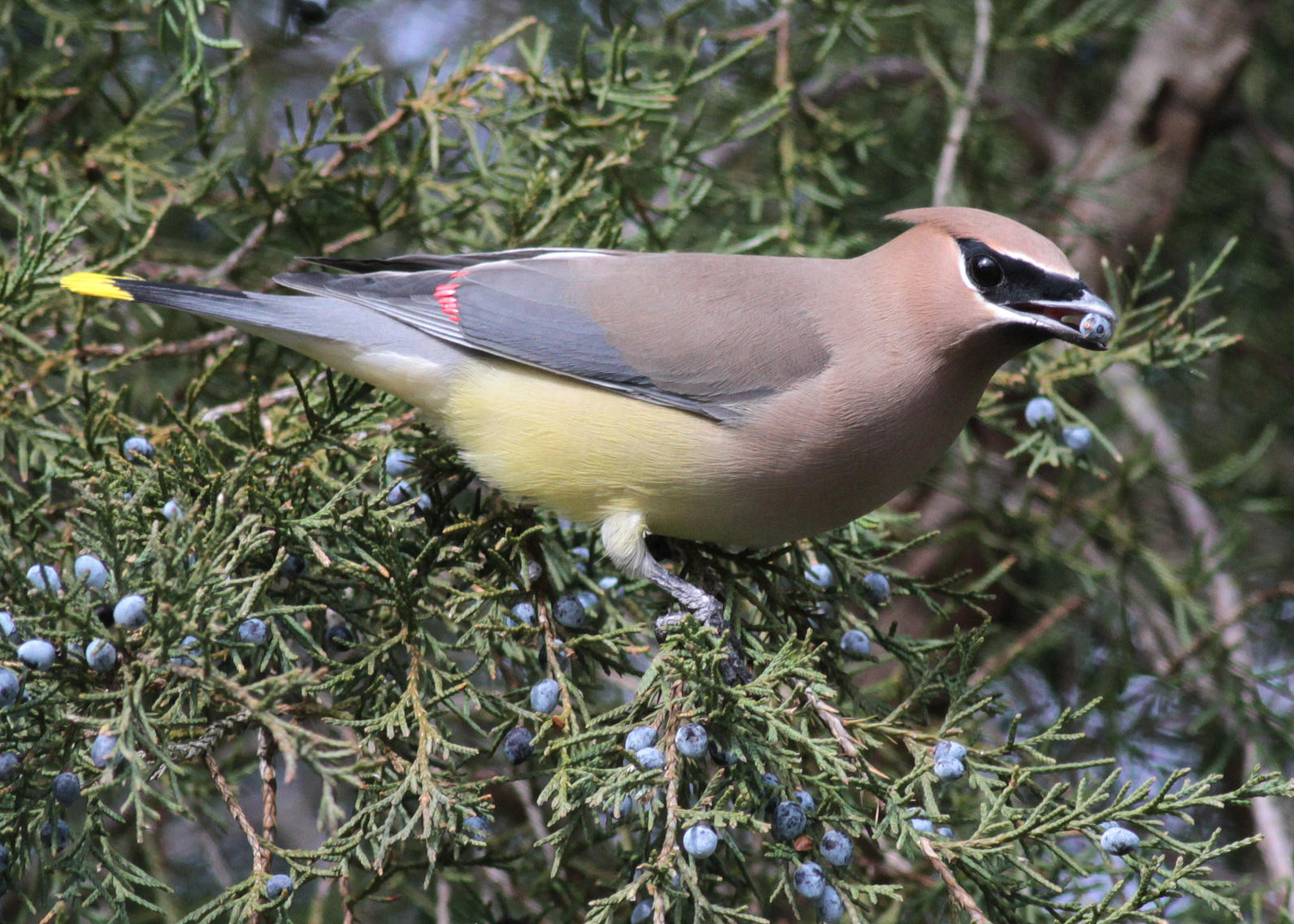 STEP 2- Stop the Invading Invasives
Before you can turn your yard into a bird-friendly habitat, you may need to do some prep work by removing invasive species. Invasive plants such as English Ivy, Chinese Privet, and Japanese Honeysuckle are of particular concern.
New Hope Audubon Society's Certification Program uses a tiered structure beginning with "Silver," the easiest to achieve, followed by "Gold" and "Platinum." To be certified, you will need to limit invasive plants to no more than 20% of your property for Silver, 15 % for Gold, and 10% for Platinum. The invasive plants that are a priority to remove are all of those listed as Threat Level 1 and 2 on the North Carolina Native Plant Society invasive lists. In addition to those mentioned above, other examples include: Mimosa and Bradford Pear trees, Japanese Stiltgrass, Thorny Olive shrubs, and Chinese and Japanese Wisteria vines (see the certification brochure here).
New Hope Audubon Society Bonus Tip: Winter through early spring is a good time to remove invasive plants as they typically stand out as the only green plants in your yard including privet, English ivy and Mahonia. Japanese stiltgrass, one of the most common invasive plants, is an annual which should be removed before it goes to seed in late September or October, as the seeds are viable for up to 6 years.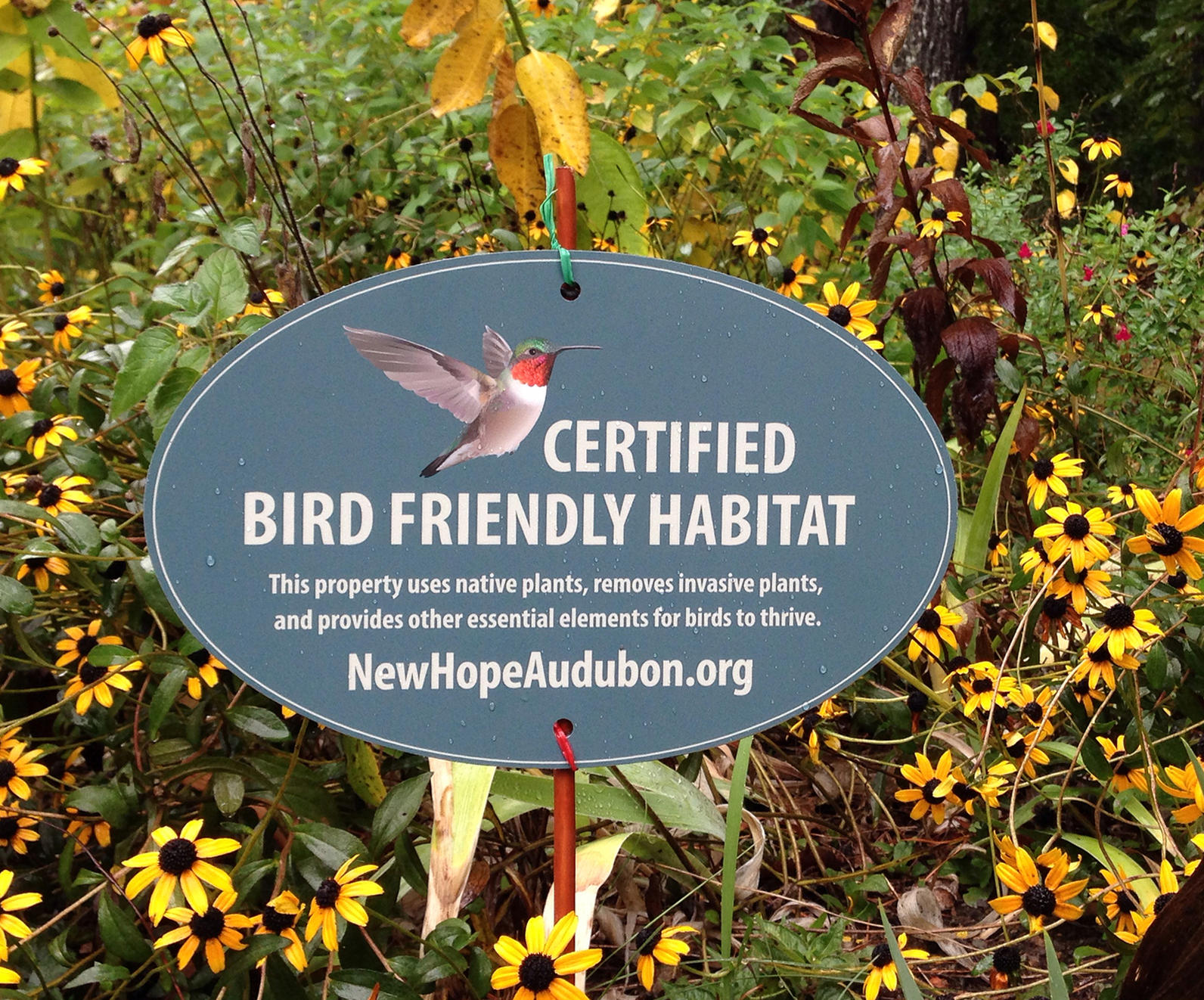 STEP 3- Add Wildlife Habitat Options
There are many fun and functional options for bringing life to your yard, and all will help you achieve a bird-friendly habitat (and potentially get certified too).
Attract more birds and diverse species by adding a wildlife water feature (ponds, bird baths, etc.) or by putting up functional nest boxes for birds like Bluebirds or the Brown-headed Nuthatch. Water is especially critical in the winter or dry summer months for birds and other wildlife.
You can also benefit birds by making your yard insect-friendlier: add rock piles, create a brush pile for birds to shelter in, or leave fallen leaves in your yard as mulch (many insect larvae such as fireflies rely on leaf litter).
New Hope Audubon Society Bonus Tip: Leave the leaves! Leaf litter provides nutrients for your trees and other plants while providing a place for insects which many birds depend on. You will see the Eastern Towhee, thrushes, American Robins and sparrows picking through leaf litter for the insects and larva they depend on.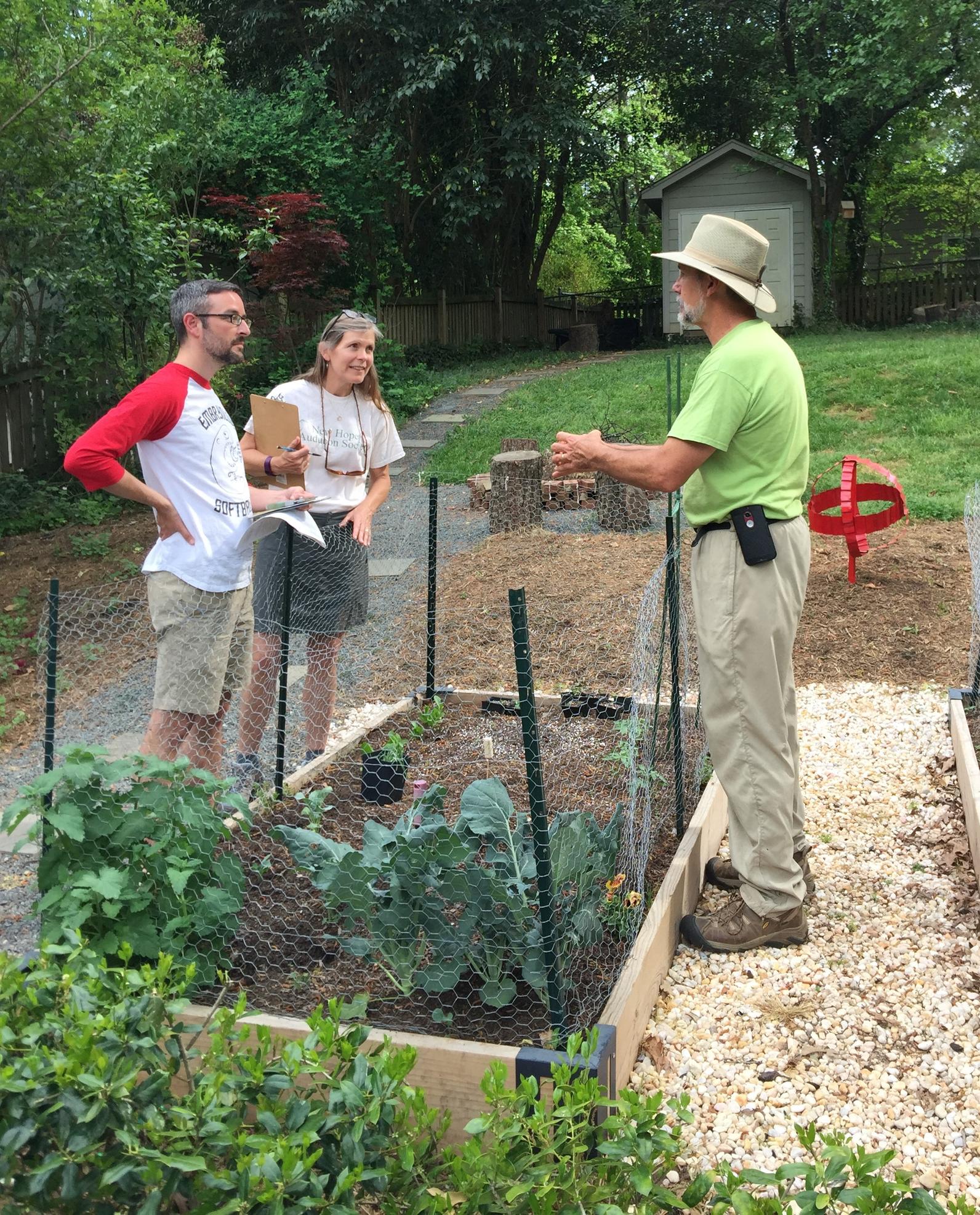 STEP 4- Plant for Birds!
There are many native plants that grow well across North Carolina, and many that grow better depending on where you live. Audubon North Carolina's Bird-Friendly Native Plants of the Year include Spicebush, Fringe Tree, Wreath Goldenrod, and Green-and-Gold.
To get a list of native plants that will thrive best in your area, enter your zip code in Audubon's database at https://www.audubon.org/native-plants. Explore New Hope Audubon Society's native plant growing guide for Orange, Durham, and Chatham county here. It's tailor-made for the region, and even includes a deer resistance category!
New Hope Audubon Society Bonus Tip: Our native oak trees are among the best insect host plants and support over 500 species of butterfly and moth caterpillars. This means lots of food for baby birds! If you have a large lawn with lots of sun, consider planting a native oak tree like our majestic white oak or red oak. These large trees are slow-growing, but their benefit to birds starts the day you plant one. If you're limited on space, plant a blueberry or a native Viburnum. These shrubs stay fairly small and provide great benefits to birds. They are both excellent hosts for caterpillars, and given enough sunlight, they will provide fruit for birds in the summer and fall. Not to mention their beautiful fall colors!
STEP 5- Get in Touch with New Hope Audubon Society
If you live in Orange, Durham, or Chatham counties, reach out to New Hope Audubon Society (NHAS) to inquire about becoming an officially certified Bird-Friendly Habitat!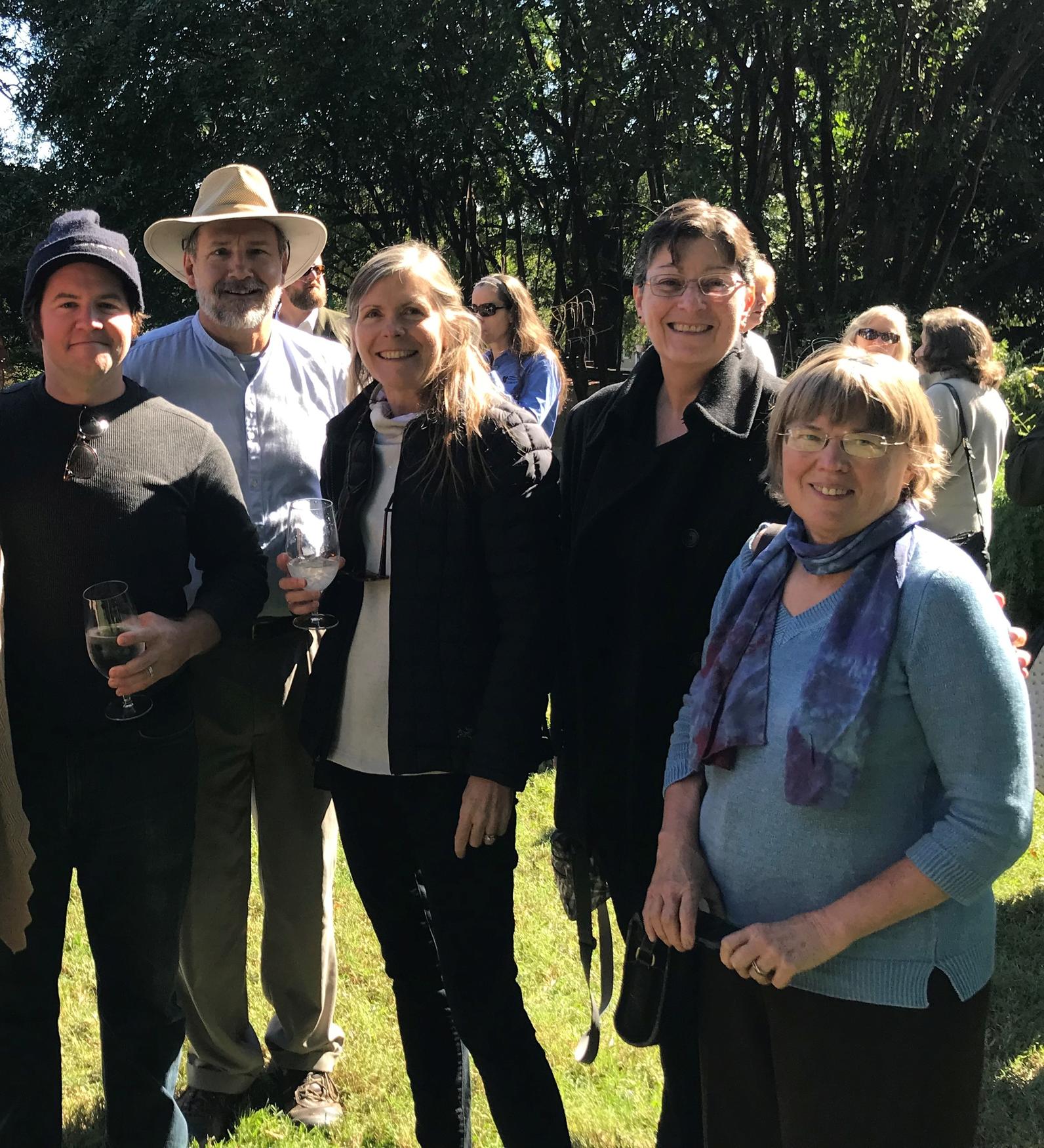 So far, NHAS has made site visits to 91 properties covering 367 acres, and certified 61 of those as Bird-Friendly Habitats. Each site visit lasts about 1 1/2 hours, and NHAS provides the homeowner a report including a list of native and invasive plants along with a list of recommendations for improvement. For those who did not yet qualify, NHAS provides education and next-steps to achieve certification.
Don't live in any of these three counties? Don't give up! You can still make your yard bird-friendlier and show off your work to friends and neighbors with an "Plants for Birds" sign from National Audubon.