Our local chapters are actively engaged in their communities, particularly when it comes to making local parks, schools and backyards bird-friendly!
Their initiatives often bring together multiple community-based partners to support local birds and the places they depend on.
Forsyth Audubon has been busy helping guide the restoration and renovation of Miller Park in Winston-Salem, one of five sites in Forsyth County on the NC Birding Trail. Forsyth Audubon has shared their expertise to help renew this park by helping guide the native-plant selection for Miller Park.
Miller Park is an urban park tucked into the Historic Ardmore neighborhood. It has walking trails, picnic shelters, a recreation center, softball fields and a playground. The park is a great spot for birding and a good stopover habitat for songbirds during spring and fall migration.
It is also a critical bird habitat, especially for the nesting Yellow-crowned Night-Heron.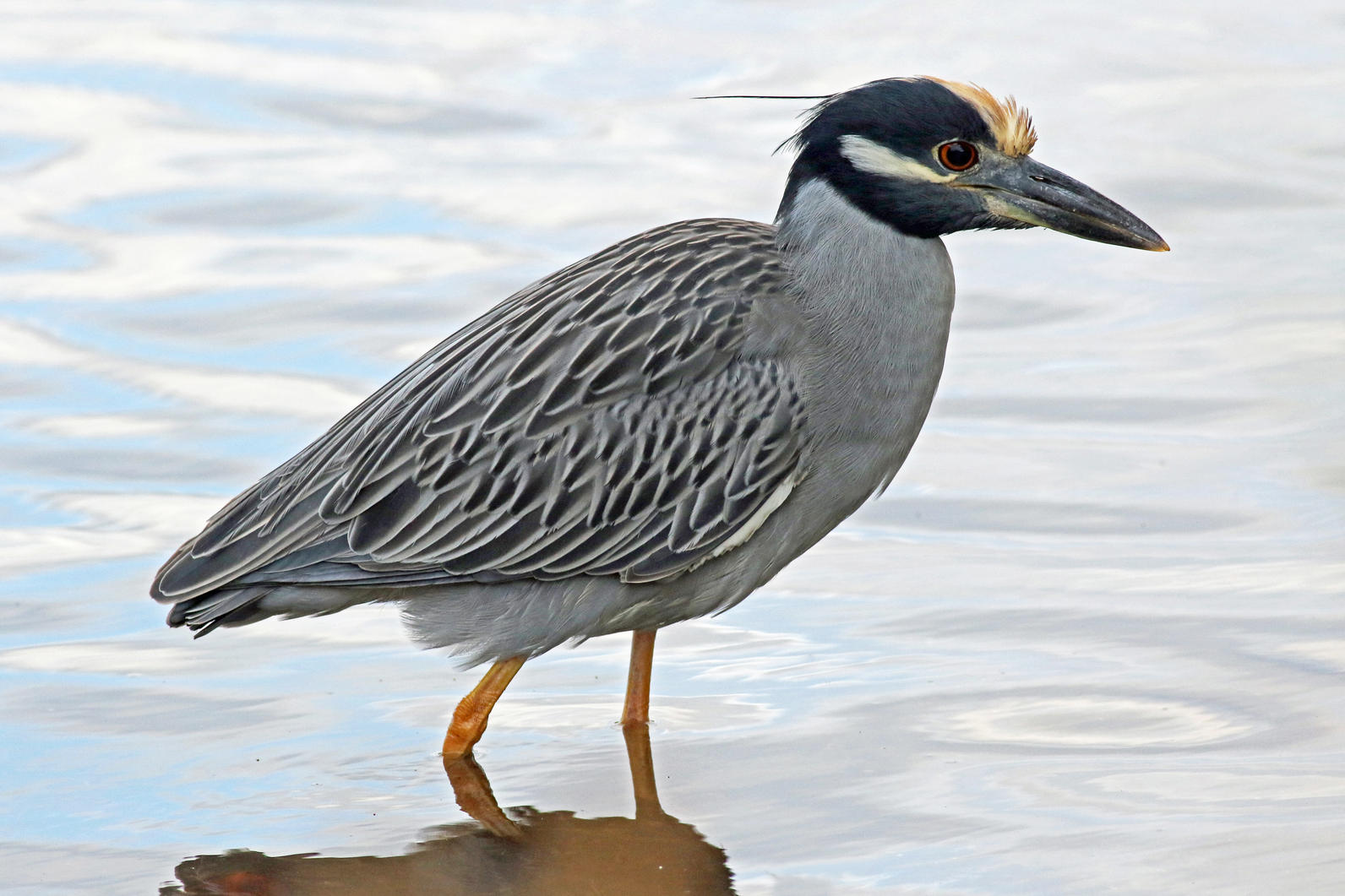 Three years ago, members of the Forsyth Audubon board attended public meetings about the restoration of Miller Park. Volunteers reached out to the City of Winston-Salem Parks and Recreation director to offer their assistance and to request a meeting and tour of Miller Park. Their request was enthusiastically welcomed!
On their tour of the habitat at the park, the volunteer group voiced concerns regarding construction during nesting season, as it could disrupt birds while nesting. "Miller Park is a nesting area for the Yellow-crowned Night-Heron," said Don Lendle, conservation chair of the Forsyth Audubon chapter. "We were concerned that if the city did the renovations during nesting time it would disrupt the nesting habits of the bird."
The City of Winston-Salem Parks and Recreation agreed that construction would not be done during nesting season, a big win for the local birds!
They also discussed the importance of restoring the habitat with native plants and removing the invasive species. Some Forsyth Audubon members, including Susan Andrews, Lisa Gould, Deanna Moss and Don Lendle, met with Stantec, a landscape architectural firm, and presented their list of desired native plant species.
Andrews and Gould carefully selected a list of 15 native plants species. These native species would be used in different planting areas in the park as well as in the stream restoration.
The following winter, North State Environmental worked on removing invasive plants to help restore the stream.
"The stream was eroding and had really steep banks, making it a fall and public safety hazard," said Melissa Ruiz, senior environmental scientist at Stantec. "We made the stream more stable by putting in structures to change its shape, including boulders and logs to help slow down the water in certain places and control the flow of water."
In March, Forsyth Audubon, Stantec, North State Environmental and the City of Winston-Salem came together at Miller Park during "Creek Week," a week-long series of events highlighting water in Forsyth County, to celebrate all they had accomplished. A group of about 15 people assembled for socializing, congratulatory speeches and photos. They had come a long way restoring the park and the designers and contractors were proud to display their work, but they weren't finished yet!
"The full effect of this project will take several years to reach maturity," Lendle said. "But we feel certain it will add, and improve, habitat for birds and other wildlife and be a highly desirable environment for human visitors."
This past fall, Andrews and Lendle joined Linda Pass from Stantec to check back on the garden. Pass is lucky enough to live within a block of Miller Park. They noticed that there was some loss of plantings, an overgrowth of Cocklebur (Xanthium), a need for shortleaf pine plantings and unwanted pedestrian traffic near the plantings. They were very pleased to find that the stream restoration was still in excellent condition. Since then, the Cockleburs have been removed and a soft surface path has been constructed to direct traffic away from the plantings.
The second round of park renovation started this winter, and the City of Winston-Salem and Stantec are still working together with Forsyth Audubon to ensure that Miller Park remains a safe place for wildlife.
"We're looking forward to a return of the Yellow-crowned Night Heron, which hasn't nested at Miller Park in the last two seasons," Lendle said. "This park has a lot of historical significance and we hope bird species will continue to use this park as a special birding area."
If you live in Forsyth County and are interested in getting involved, Forsyth Audubon has meetings every fourth Tuesday of the month in the Visitor Center at Historic Bethabara Park on Bethabara Road starting at 7 p.m. Click here for more information.