Black Skimmers are a familiar sight on North Carolina's beaches during the spring and summer, but a new banding project will give us insights into where these birds spend the rest of the year.
Last year, Audubon North Carolina biologists and our partners started the project by clasping tiny black bands to the legs of 101 Black Skimmer chicks in Pamlico Sound and at the south end of Wrightsville Beach, where Audubon protects and manages a nesting waterbird sanctuary. The bands allow birdwatchers to identify individual birds in the field, even if they've flown to a different state.
About half of the banded skimmers were spotted again after the summer, many of them far from their nesting grounds in North Carolina—some birds as far away as southwest Florida.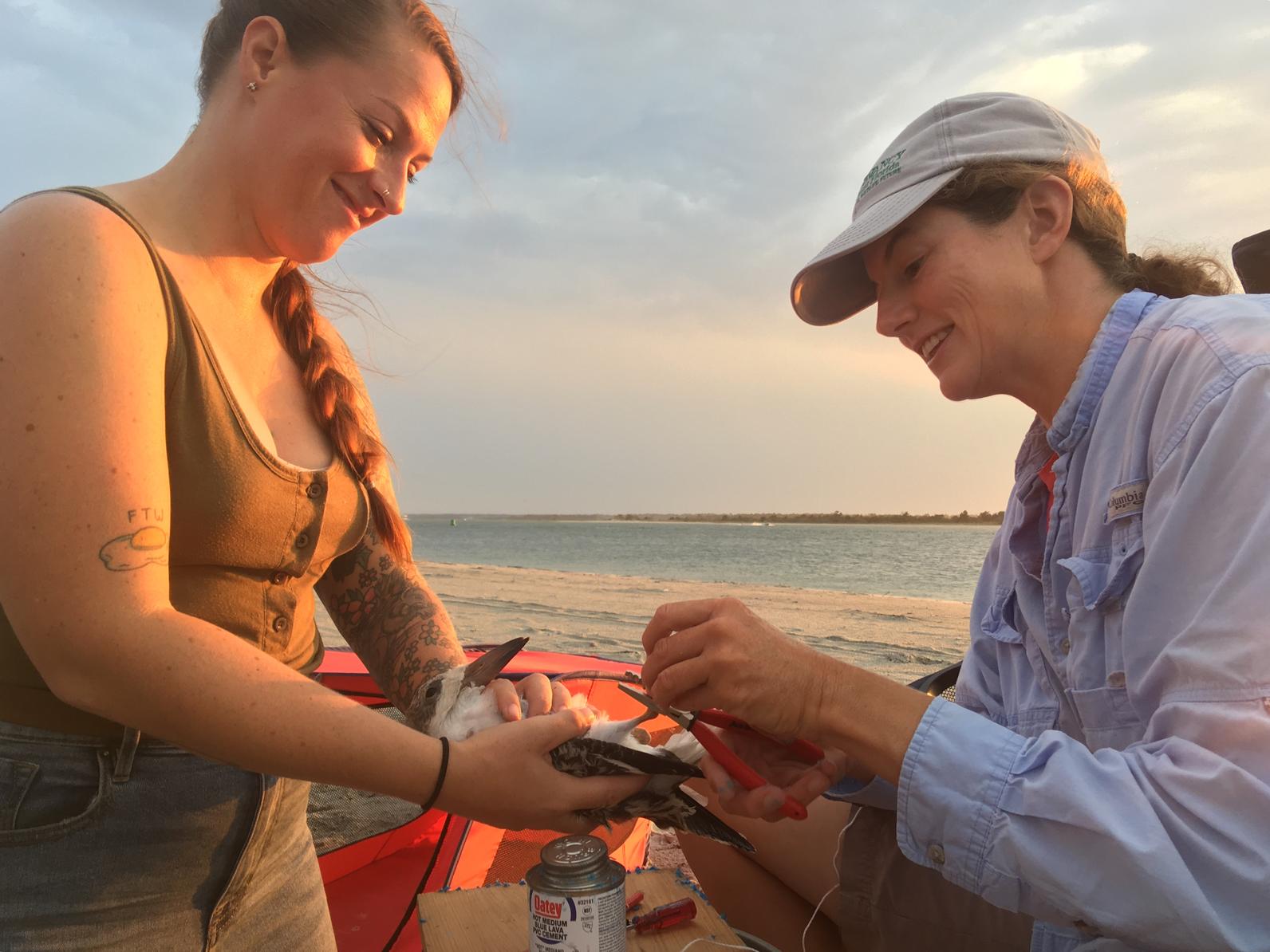 After a successful first year, biologists have once again begun banding skimmers at the south end of Wrightsville Beach. Skimmer chicks are beginning to fledge, meaning they are big enough to leave their nests and strike out on their own.
Other skimmers are nesting again, after failed attempts earlier this season, likely due to nests being washed out by several days of heavy rains in May. All told, biologists counted 134 pairs of Black Skimmers at the sanctuary, making it among the largest skimmer colonies in the state once again.
Other species of note at the south end of Wrightsville Beach include Gull-billed Terns, which are fledging chicks. This is the first time they've nested successfully on a barrier beach in southeastern North Carolina in over a decade.
In other nesting news, sea turtle nesting is well underway on Lea-Hutaff Island, where about 16 turtles have dug nests thus far. We're watching our first nest closely, as it's due to hatch soon.
On the island sanctuaries of the Lower Cape Fear River, baby Brown Pelicans and White Ibis are beginning to fledge. While we're still waiting to do a final account, bird populations appear robust this year. Boaters in the area help the birds finish raising their families by not landing on nesting islands from April to August and spreading the word to others.
The network of coastal sanctuaries that Audubon protects and manages are home to 40 percent of all nesting waterbirds in the state.