If at first you don't succeed, try again. And again. And maybe even a third time.
That's the lesson from the 2021 nesting season on North Carolina's coast, where Audubon protects and manages bird sanctuaries from Pamlico Sound to the Cape Fear River and provides refuge for 40 percent of our state's coastal nesting waterbirds.
Species like Least Terns and American Oystercatchers faced multiple dangers as they raised their babies, from storms and king tides to predators and disturbance by people and dogs. For many species, when nesting didn't work out the first time, they tried again or even several times, and this persistence paid off.
By working on the ground to protect birds—posting signs and fencing, educating beachgoers, and monitoring and managing their nesting sites—Audubon staff gives these birds the space they need to bounce back. And that's just what they did. Despite trials and tribulations, bird populations held strong at our sanctuaries on the coast.
Let's take a look back at the entire 2021 coastal nesting season.
South End of Wrightsville Beach
Determination and grit came into play early in the nesting season at the south end of Wrightsville Beach, where the tern and skimmer colony got off to a great start, with 259 pairs of Least Terns and 166 pairs of Black Skimmers tending to nests at the site.
However, a group of Gull-billed Terns had other plans. These unorthodox terns don't catch fish like other terns. Instead, they target intertidal or land-based prey, such as crabs, lizards, and (to our dismay) Least Tern chicks. The first wave of Least Tern nesting was wiped out, but over half of the Least Terns stuck it out, perhaps remembering better years, and in the second wave of nesting, 133 pairs produced at least 103 fledglings.
Meanwhile, the Black Skimmers at the same site were safe from the hungry Gull-billed Terns because their chicks are too large to be an easy meal for them. The number of nesting skimmer pairs was up from last year (166 compared to 130), and they fledged at least 102 fledglings, 33 of which were banded as part of ongoing work by the Audubon team and our partners. The south end of Wrightsville Beach is typically home to one of the largest skimmer colonies in the state, and this year was no different.
The other species that nest at the site—Common Terns, American Oystercatchers, and Gull-billed Terns—all averaged about one fledgling for every pair, which is considered good success for beach-nesting birds.
Cape Fear River
Turning southward, on the Cape Fear River, monitoring efforts in 2021 focused on American Oystercatchers, which nest on both natural and dredged material islands just off main river channel.
Here, the challenge facing the 90 pairs of oystercatchers is limited nesting habitat that is often subject to flooding from king tides, storms, and ship wakes. For those eggs that hatch, gulls pose a serious threat to small chicks. As a result of these factors, the Cape Fear River oystercatchers struggled to hatch and raise chicks, averaging fewer than one fledgling for every five pairs. That's well below the threshold that would sustain the population, which is about one fledged chick for every two pairs.
These challenges are why Audubon continues to seek funding avenues to restore nesting habitat to safe elevations above the high tide line and permit the expansion of dredged-material islands so that oystercatchers and other species will have better nesting habitat.
When we succeed, the birds will be waiting. Oystercatchers live to be over 20 years old, and take as long as five or six years to secure a territory and begin to nest. One such example was a chick we banded on the river in 2013 with the bands CFU. It returned to the same island to nest in 2018 and each subsequent year, and this year was the first time it fledged a chick. Its persistence paid off at last.
Over 20 species of waterbirds make their homes on the Cape Fear River islands, and though these species' nests aren't rigorously counted each year, Royal Tern, Sandwich Tern, Brown Pelican, and egret and heron fledglings were abundant at all but one nesting island. Brown Pelicans even expanded from their usual sites to Battery Island, a first for them.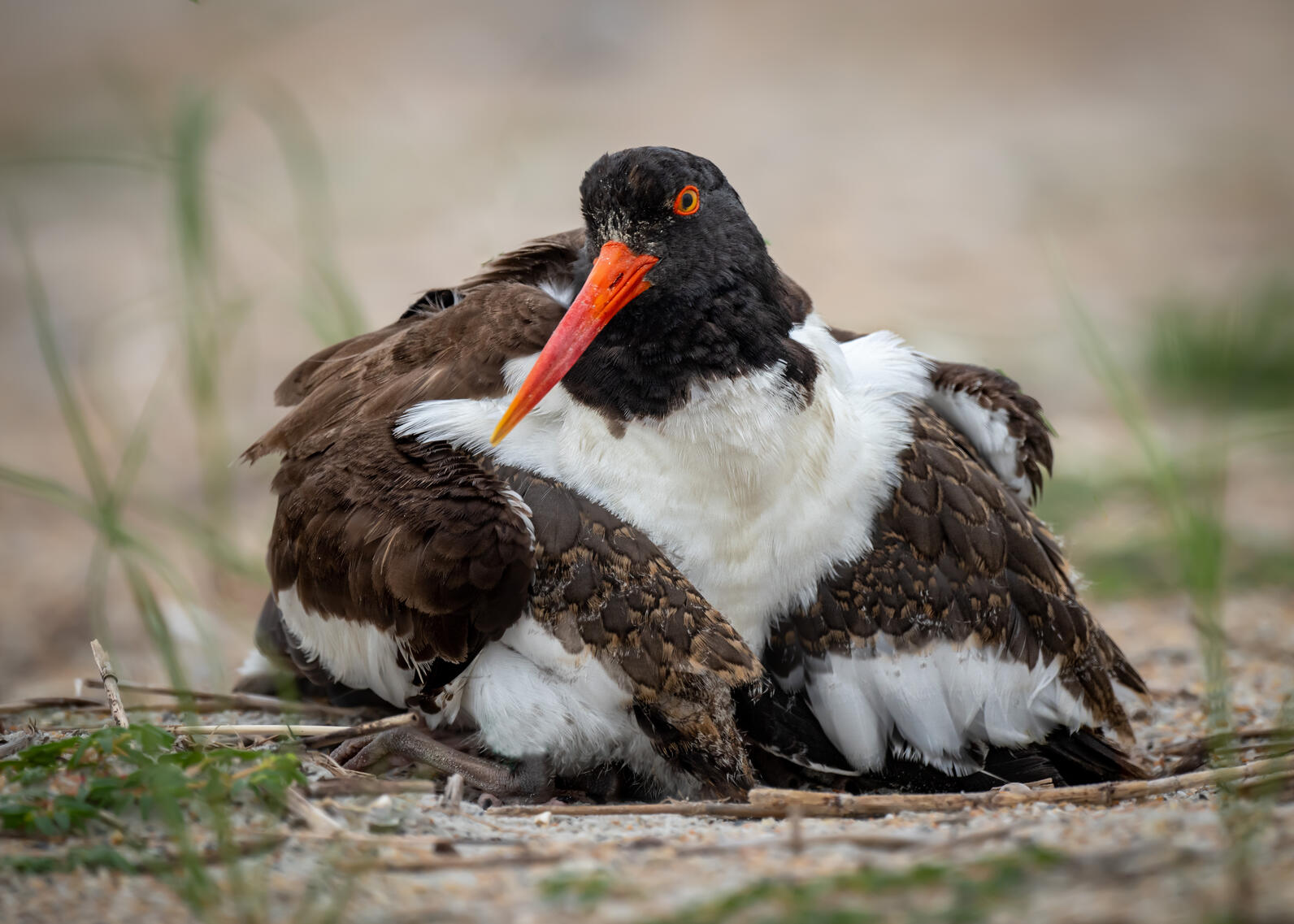 Lea-Hutaff Island
Lea-Hutaff Island, an unbridged barrier island managed by Audubon North Carolina for the state Natural Heritage Program and the Coastal Land Trust, continues to be one of the most important sites for Least Terns in the state and was, once again, home to North Carolina's largest breeding site. This year, 801 pairs nested across several colonies on the island, along with over 40 pairs of Wilson's Plovers and 24 pairs of American Oystercatchers.
Oystercatchers struggled to raise chicks this year, with the total number of fledglings dropping from 13 last year to 7 this summer, due primarily to predation. But two pairs demonstrated that long-term management, and persistence from the birds, pays off.
A bird known by the band code CRH hatched from a nest near Lea-Hutaff Island in 2015, and last year he (we have sexed many oystercatchers using DNA in feathers) found a nesting territory with an older bird on Lea-Hutaff. They weren't successful, but this year they reunited and fledged a chick, CRH's first offspring.
Similarly, oystercatcher CTU was banded as a chick on Wrightsville Beach in 2016, where staff and volunteers protected it from people in a precarious, high-disturbance area. This year was his very first nesting attempt, also with an older bird, and they also fledged a chick.
Pamlico Sound
Elsewhere around Audubon's sanctuaries, Beacon Island in Ocracoke Inlet hosted a large and successful colony of Brown Pelicans and Great Egrets in 2021. It's faced challenges in recent years, having been battered by a parade of hurricanes and tropical storms, but it continues to provide isolated, safe habitat for these species.
Now that these persistent parents have entered the non-breeding part of their year—and Audubon staff are still resighting them at important roosting sites around the state—we have a moment to reflect on the effort and timescale needed to realize conservation results.
Oystercatcher chicks protected by Audubon North Carolina five to eight years ago are just now starting to contribute to the population, at the same sites we still protect today. For Least Terns, it took a few tries in a single summer to fledge chicks. The lesson is that birds are resilient. They can survive, thrive, and overcome obstacles, if we give them the space and habitat they need.