On a perfect spring afternoon in Boone, second-grade students, teachers, parents, elected officials, and other fans of birds and native plants gathered to celebrate a school garden that will offer up food for birds and butterflies – as well as food for thought for the students who will study there.
"With a growing body of research showing that regular interactions with nature improves brain function, now is the right time to join with the National Audubon Society's Coleman and Susan Burke Center for Native Plants so that plants, birds, butterflies and children can be together to make a better life for all of them. I look forward to seeing the students watch nature grow as they grow," said Mary Smalling, principal of Hardin Park School in Boone. (Mary is also the wife of our own Director of Conservation Curtis Smalling, in case you're wondering!)
High Country Audubon Society members turned out too, including President Debbie Shetterly, who led the project and applied for the National Audubon Society and Native Plant Society grants that funded the garden.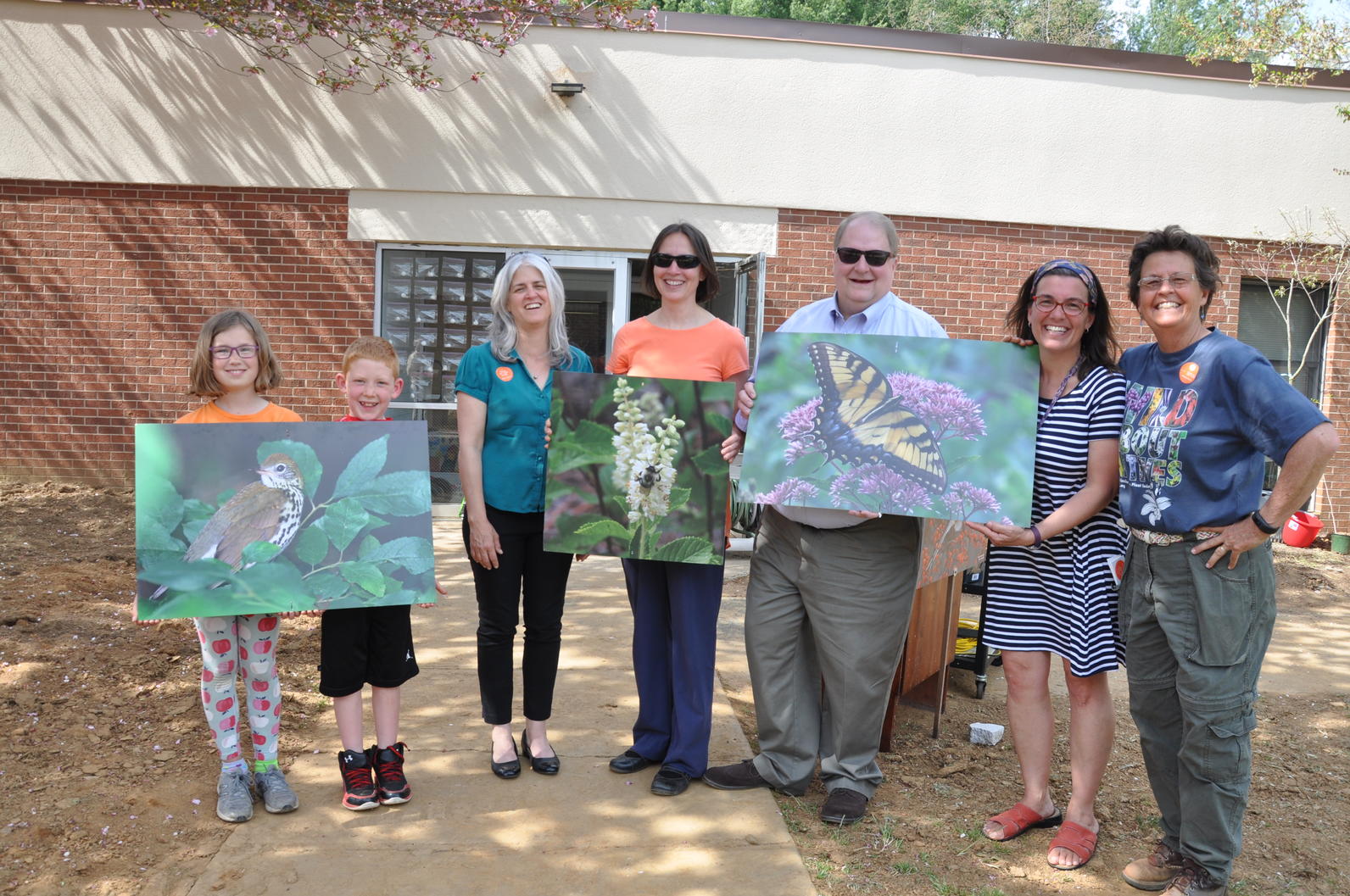 Our own Curtis Smalling, director of conservation, stepped up to the podium, noting that this was the first time both he and his wife Mary Smalling had ever spoken at the same event. He spoke directly to the kids:
"It's really important for you guys to watch and learn. I was your age, 7, when I got really interested in birds. I had a teacher, Lucy Luther, for third grade here in Watauga County, and she encouraged me to do what I could with birds. Every project was about birds. When I got my job with Audubon, she called me and said that was the best fit for me ever, because in third grade all I talked about was birds."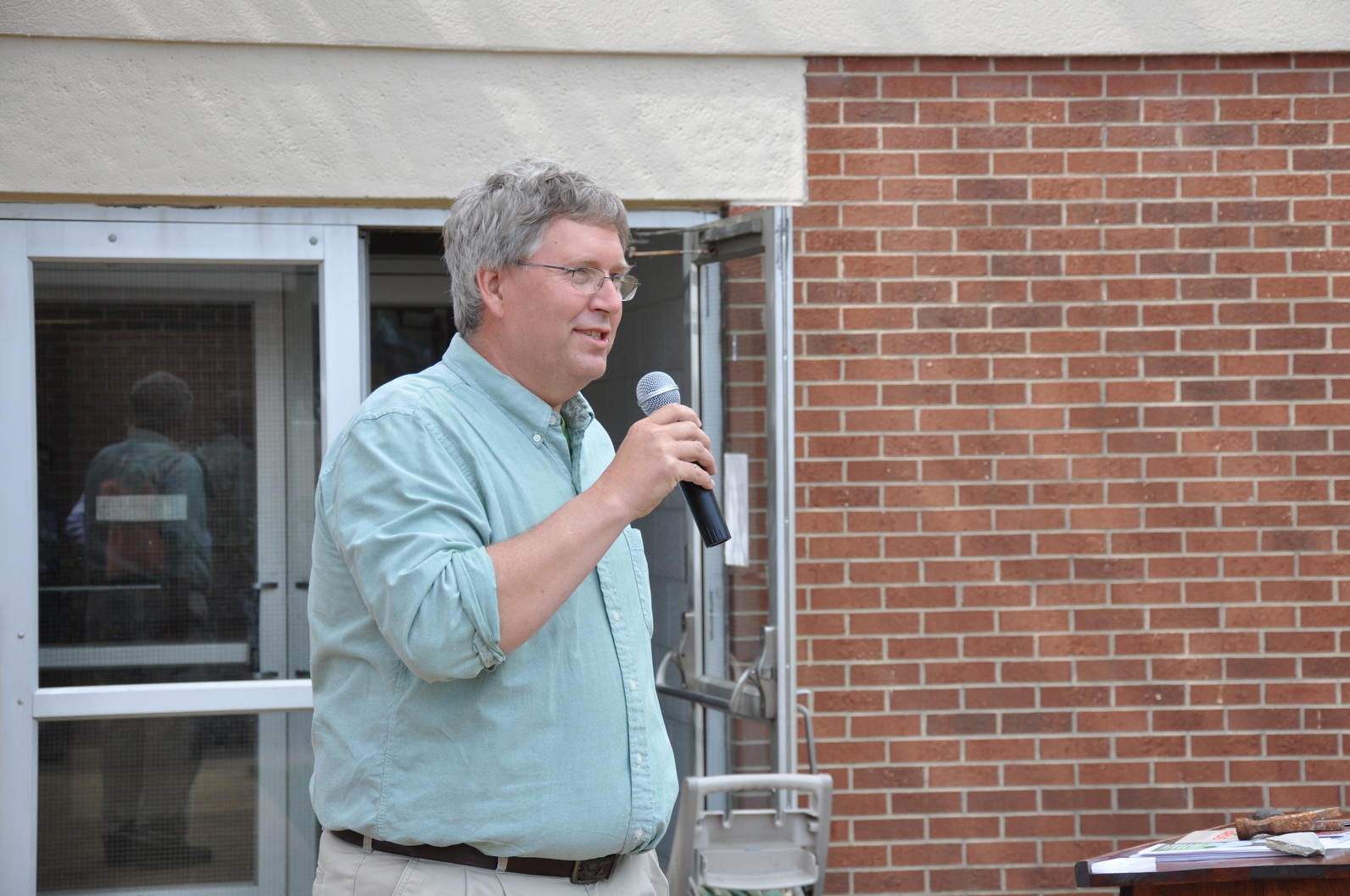 Representative Jonathan Jordan, who represents Watauga County at the NC General Assembly, also shared a passion for nature that dates back to his childhood – only it was butterflies and moths that sparked his interest. He brought his first childhood field guide to moths and butterflies to show to the kids.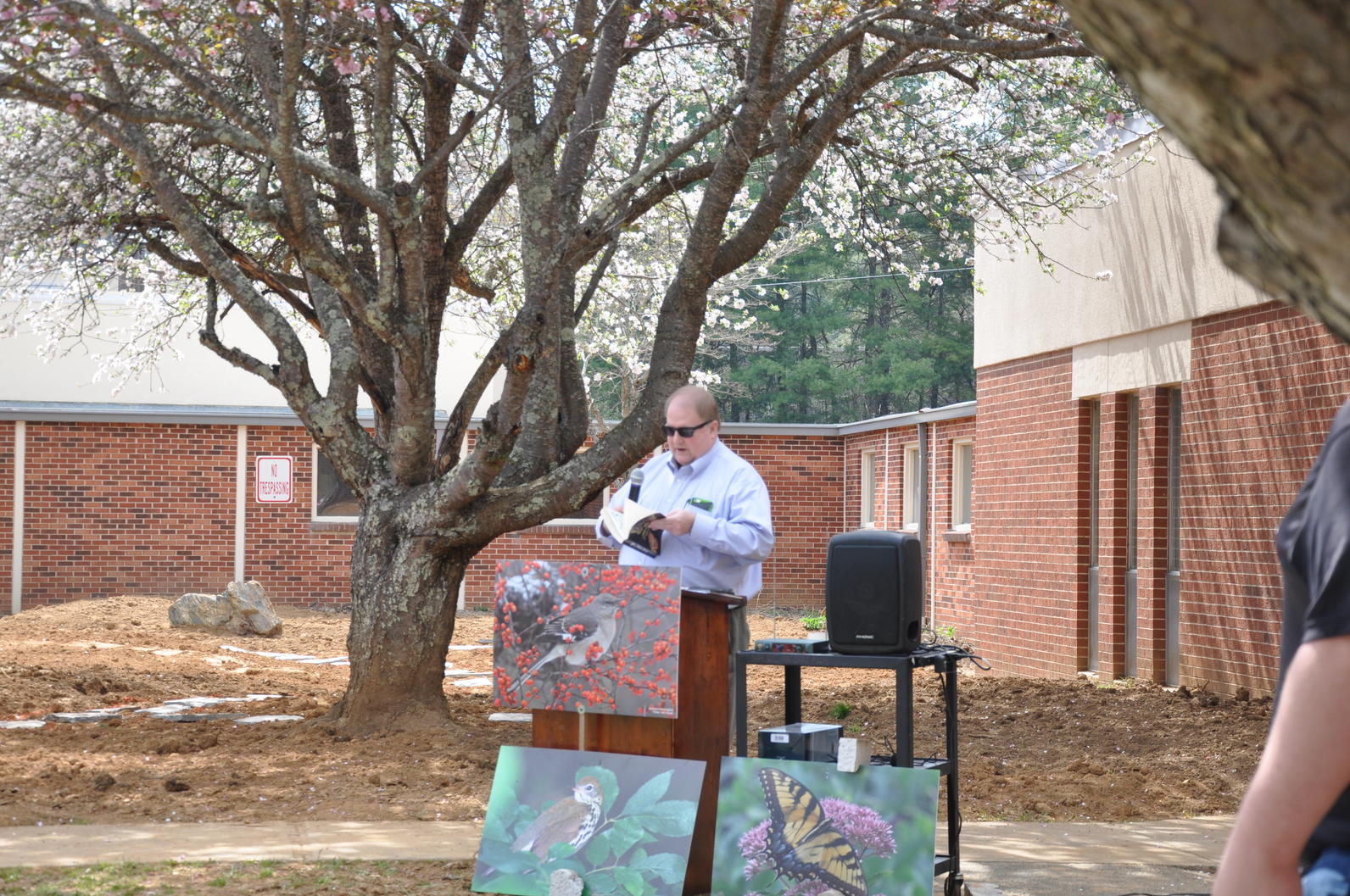 "I got interested in nature, and everything in nature – my interest is butterflies and moths -- when I was your age," he said. "When you like insects, you also learn about trees and plants, because what are butterflies before they become butterflies?"
"Caterpillars!" shouted the kids.
"Caterpillars eat trees and leaves. When you're catching butterflies, and looking for caterpillars, you learn all the different trees and things that they eat and it all connects."

About the Bird Garden
This project will transform a school courtyard into a colorful garden full of plants that will produce flowers, seeds, and berries that will in turn attract birds and other pollinators.
Hardin Park School students, teachers, and parent volunteers; Appalachian State University botany students; High Country Audubon Society volunteers; and members of the Blue Ridge Chapter of the NC Native Plant Society will plant 20 species of native plants including:
Berry-producing plants – serviceberry, blueberry, viburnum, holly
Species that attract hummingbirds – columbine, bee balm, butterfly milkweed, Virginia sweetspire, flame azalea
Perennials that attract pollinators and provide seeds for birds – black-eyed Susan, purple coneflower, golden aster, goldenrod, ironweed
Showy grasses and sedges – little bluestem, Appalachian sedge

High Country Audubon Society will work with Hardin Park School faculty to develop a curriculum for the bird garden, which will serve as an outdoor classroom. Students will observe pollinators and birds in the garden using binoculars from benches placed beneath windows. Older students at the school will conduct research projects in the garden.
Debbie Shetterly, president of High Country Audubon, thanked the National Audubon Society's Coleman and Susan Burke Center for Native Plants and the B. W. Wells Grant of the NC Native Plant Society for funding and recognized local companies that donated materials for the project: Foggy Mountain Nursery and Highland Landscaping.
Plants were purchased from Foggy Mountain Nursery and New Moon Nursery.