In Cary, NC, Nicolette T. is excited to see what birds her new native plant-filled garden attracts. In the meantime, she proudly displays her Plants for Birds yard sign to share her excitement with her friends, neighbors, and Instagram followers.
Nicolette's enthusiasm is catching, and her locally-focused advocacy offers tremendous support to our bird conservation work. Three times as many native plants were sold by local nurseries in 2016 thanks to local efforts!
Get YOUR yard sign here, and help spread the word about how planting native species benefits birds!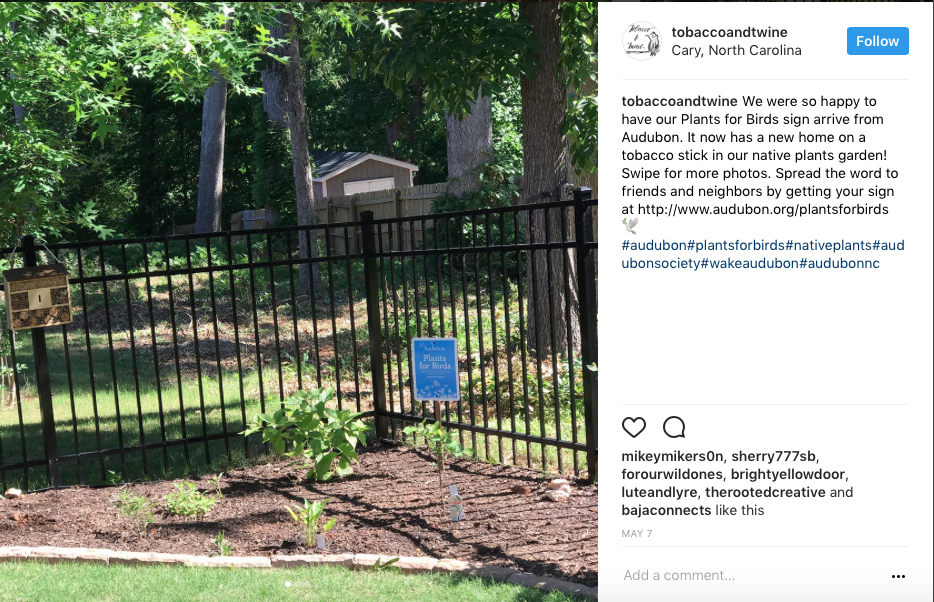 An artist and trained Audubon Ambassador, Nicolette is so enthusiastic about supporting our local birds that she has filled her garden with six different types of native plants:
"Here are the native plants in our bird friendly garden so far: on the left is Lavender Bee Balm (Wild Bergamot), Prairie Coneflower, and Butterfly Weed. On the right is American Beautyberry & Coral Honeysuckle. All are from Niche Gardens in Chapel Hill except for the Coneflower, which came from Field to Cottage Nursery. We also have lots of Pokeberry growing outside of our fence!"
It's never too late to become an advocate for birds, or to plan a bird friendly native plant garden. Spread the word in your local community with a yard sign of your own!