Jeff Lewis woke up Saturday morning with flamingos on his mind.
The iconic pink wading birds would be an exceedingly rare sighting on the Outer Banks, where Jeff lives and has been birding for 35 years. But reports had been trickling in that Hurricane Idalia had blown small flocks of flamingos into Florida. Then on Friday, sightings popped up in Virginia and, of all places, Ohio. Maybe North Carolina could be next?
Jeff headed to Pea Island National Wildlife Refuge south of Nags Head, where extensive salt flats and shallow ponds often host large flocks of wading birds. Standing in an observation tower, Jeff settled in to scan the refuge's southern-most pond. "There were some pink birds way out there and I thought, 'Oh my God,' my heart started thumping," he said.
The birds were indeed flamingos: eleven of them, three adults and eight immature birds feeding in the shallows. Jeff sent out an alert to birders across the state. "It was heart-stopping," Lewis said. "My fingers were hitting all the wrong keys on my phone."
In the past few days, individuals and small flocks have shown up in a growing list of states, which now includes Alabama and Tennessee. By one tally, more than 150 sightings have been recorded across the Southeast in the last four days. The vast majority are being spotted in Florida, where, despite the bird's cultural cache, it remains rare.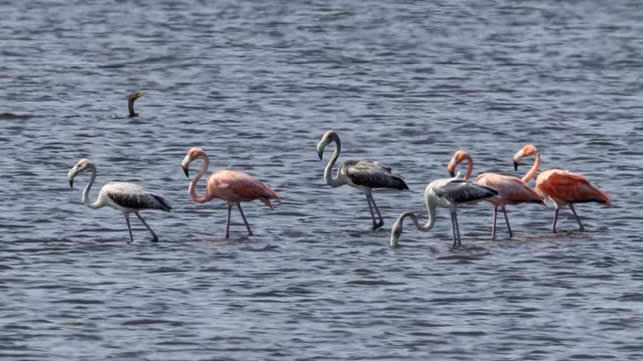 American Flamingos breed in the Caribbean and Mexico. They were once more numerous in south Florida, but their numbers petered out nearly a century ago, alongside the decline of many wading birds, due to over-hunting for the feather trade and habitat destruction.
Read more about the history of the flamingo in Florida and the work being done to restore the Everglades by our colleagues at Audubon Florida.
In modern times, individual flamingos have been known to show up after storms in places like Texas and Florida, most famously a flamingo named Pinky that arrived at St. Marks National Wildlife Refuge after Hurricane Michael in 2018 and has appeared every year since.
But the post-Idalia movement of flamingos is different. "The numbers involved here and how widespread they are, it's unprecedented," said Kenn Kaufman, renowned author and birder who has been tracking the post-storm movement of flamingos.
Large breeding colonies in Cuba and Mexico's Yucatan Peninsula may be the source. One post-storm bird photographed in the Florida Keys had yellow bands on its leg, the same type of band used by researchers to track flamingos at a colony at Rio Lagartos on the north coast of the Yucatan, Kaufman said. The Yucatan is also where Hurricane Idalia lingered for days before heading toward the Florida Gulf Coast.
As for the fate of the wayward birds, it's anyone's guess. But Kaufman is optimistic. Flamingos have been documented flying in large flocks over the open ocean. "If I had to guess, I would imagine some of them would find their way back south," he said. Others might remain, like Pinky.
In North Carolina, the flamingos were still present Monday morning, delighting birders who traveled across the state to get a glimpse. Tourists also stopped to see what the crowds were looking at.
Jeff Lewis's hope is that the sighting might convert a few new birders. "That would be quite the spark bird," he said.
How to help the American Flamingo:
If you are lucky enough to see one, remember to keep a safe distance. Here's Audubon's Guide to Ethical Bird Photography.
Report your flamingo sightings on eBird and to Jerry Lorenz, Audubon Florida's Director of Research. Jerry is a leading expert on Florida's flamingos. Email sightings and photos to jerry.lorenz@audubon.org.
Help Audubon Florida advocate for Everglades restoration and improved water quality. If American Flamingos have healthy places to live and raise their families, their Florida population numbers can improve. Sign up for their Advocate newsletter here.