News
Record Least Tern Colony Nests near Wilmington
Growing population highlights the importance of habitat management for North Carolina's beach-nesting birds.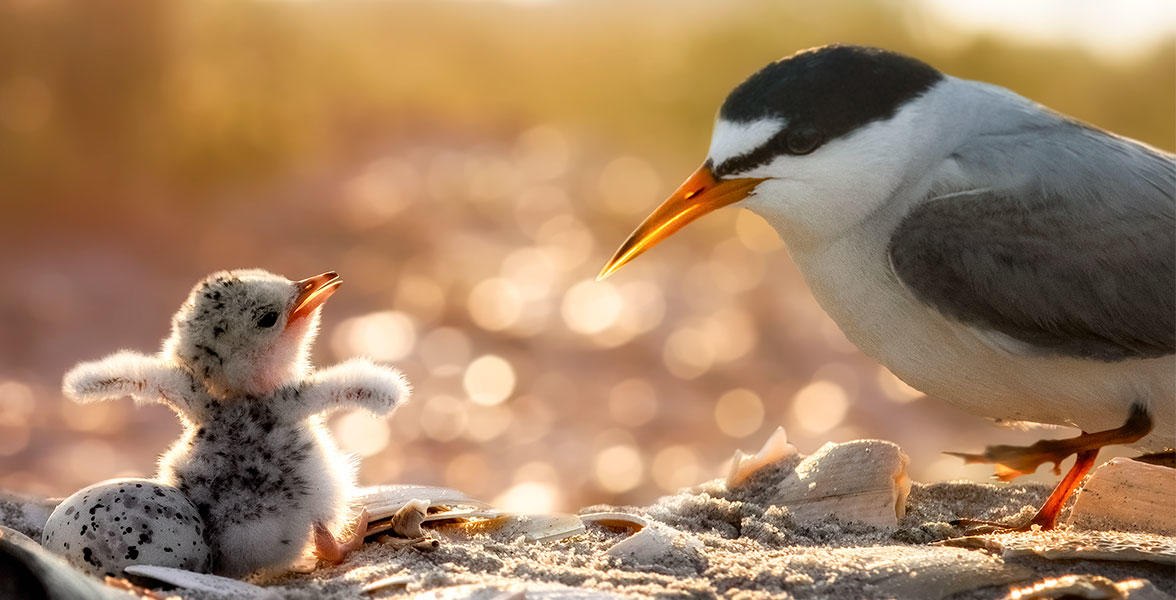 DURHAM, NC – More than 1,000 Least Tern pairs are nesting at the north end of Lea Island, making the colony the largest for this climate-threatened species in North Carolina since researchers began tracking the data more than 40 years ago. The terns are raising young in an area protected and managed by Audubon, south of Topsail Island.
Audubon staff counted 1,034 nests in early May, many of them with eggs and newborn chicks. For perspective, a statewide Least Tern census in 2016 found 2,388 pairs across all of North Carolina. The booming population at Lea Island is great news for a species that is declining in pockets across its range.
Weighing in at about an ounce – or the equivalent of five quarters – Least Terns are the smallest species of tern in the United States and can often be seen flying low over North Carolina's coastal waters in search of fish. But despite the birds' visibility along our coast, Least Terns are facing the dual pressures of development and a changing climate.
Warming temperatures and more extreme weather are expected to reduce the Least Tern's summer habitat by 82 percent by 2080, according to Audubon research. The birds are also vulnerable to pressures from beachgoers, largely due to the bird's nesting habits. Mating Least Terns dig shallow scrapes in the sand of open beaches to lay their eggs, but avoid areas frequented by humans. Audubon protects Least Terns at Lea Island by posting signs and roping off nesting areas on the beach, ensuring the birds have a future in North Carolina.
"Just like North Carolina vacationers, Least Terns depend on our beaches for respite in the spring and summer," says Lindsay Addison, Audubon coastal biologist based in Wilmington. "Without posting to minimize human disturbance, this colony would not be successful. That's why we post barrier island nesting sites, and why we continually monitor and do outreach."
Lea Island is part of the Lea-Hutaff Island complex, a 5,641-acre undeveloped barrier island and marsh system that remains largely undisturbed by development, dredged sand and off-road vehicles. Still, the island is frequented by beachgoers, but Audubon's work to educate the public is evidence that, with proper management, birds can thrive alongside people.
The National Audubon Society protects birds and the places they need, today and tomorrow, throughout the Americas using science, advocacy, education and on-the-ground conservation. Audubon's state programs, nature centers, chapters and partners have an unparalleled wingspan that reaches millions of people each year to inform, inspire and unite diverse communities in conservation action. Since 1905, Audubon's vision has been a world in which people and wildlife thrive. Audubon is a nonprofit conservation organization. Learn more at www.audubon.org and @audubonsociety. Audubon North Carolina, a state program of the National Audubon Society, has offices in Durham, Boone, Corolla, and Wilmington. Learn more at www.nc.audubon.org and on Twitter at @audubonnc.​
Media contact: Ben Graham, ben.graham@audubon.org, 919-880-3793
How you can help, right now
Donate to Audubon
Help secure the future for birds at risk from climate change, habitat loss and other threats. Your support will power our science, education, advocacy and on-the-ground conservation efforts.
Sign Up For Our eNewsletter
Keep up-to-date on all that happens with Audubon North Carolina's research, events and volunteer opportunities.