Please welcome Audubon North Carolina's Bird-Friendly Communities Coordinator Kim Brand. Launched in 2013, Audubon North Carolina's Bird-Friendly Communities initiative is a partnership program involving more than 20 organizations with a vision for creating a more bird-friendly North Carolina. This vision statement guides the goals and projects of the group: "Bird-friendly communities give birds the opportunity to succeed by providing connected habitat dominated by native plants, minimizing threats posed by the built environment, and engaging people of all ages and backgrounds in stewardship of nature."
When I talk to people about planting a bird-friendly yard, I always promise them one thing: Plant an American beautyberry, and you WILL get a Black-throated Blue Warbler in your yard.
This little blue, black and white songbird migrates through North Carolina every spring and fall. And in fall, the beautyberries, in all their purple glory, are ready to attract hungry migrating warblers.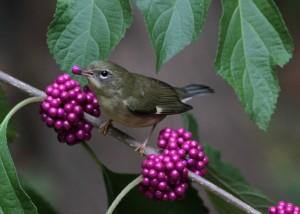 Of all the warblers you can see in North Carolina, the Black-throated Blue is among the easiest to spot. It likes to forage at eye-level rather than high in the treetops like many other warblers. And it's a kid-friendly bird! On a lovely Mother's Day morning a few years ago, my daughter Eliza got one to come closer to us by squeezing her Audubon stuffed plushy Black-throated Blue Warbler to make it sing. We call it the "Zhee zhee zhee bird" after its song.
On my beautyberry, strategically placed right outside the dining-room window, I've also seen Gray Catbirds, Northern Mockingbirds and the charming but often overlooked Hermit Thrush, which joins us only in late fall and winter.
American beautyberry is native across NC from the mountains to the piedmont and coastal plain. It produces small pink flowers in June and July and purple berries from August through October or even as late as November. Berries last for a while after the leaves drop. It can grow 3 to 8 feet tall and 3 to 6 feet wide. Plant one in part sun to shade, and in moist to average soil. It will even tolerate seasonal flooding, making it a nice rain-garden plant.
Callicarpa americana is available at many nurseries across North Carolina. I bought mine at Old Salem Museum and Gardens in Winston-Salem; the nursery manager there told me they sell many beautyberries every fall because of their bright berries. This is one well-named plant – Callicarpa means beautiful fruit. To have the best impact for birds and other wildlife, make sure you buy American and not Japanese beautyberry (Callicarpa japonica). The Japanese beautyberry has smaller, narrower leaves, and the berries are on stems away from the main stem, while berries surround the main stem on the American beautyberry.
Plant an American beautyberry and I promise you a Black-throated Blue Warbler next year!
To learn more about creating a bird-friendly backyard with native plants, visit the Audubon NC website.