Now celebrating its fifth anniversary, the Bird-Friendly Communities effort in North Carolina is checking in on the progress of one of our signature efforts – "Nest Boxes for Nuthatches!"
"Each year Mrs. Bluebird lands on one of our houses with the sized hole suitable for the Brown-headed Nuthatch. She desperately tries to squeeze in as her male partner looks on. You can almost hear him muttering, 'What's wrong with the house we used last year???'" – Mary, Garden Club of NC member
Eastern Bluebird houses have been wildly popular in North Carolina for decades, thanks to Frank Newell and the Eastern Bluebird Rescue Group in Warrenton as well as the State Employees Credit Union, which sells the houses at branches across the state.
In 2013, our newly formed Bird-Friendly Communities team set a goal to help another species that stood to benefit from bluebird houses – the Brown-headed Nuthatch!
"10,000 Nest Boxes for Brown-headed Nuthatches" became our mantra, inspired by the research of Dr. Mark Stanback, which demonstrated that bluebird houses with smaller holes would allow nuthatches to get in while keeping nuthatch-bullying bluebirds out.
"The nuthatches tried forever to build a nest in our bluebird box. We had a nuthatch house in the back of the yard but they ignored it. We finally moved the boxes and the nuthatches were happy. We didn't have bluebirds this year." – Carolyn, Raleigh
That same year, Eastern Bluebird Rescue Group began building Brown-headed Nuthatch boxes – identical to bluebird houses, but with a 1" hole instead of 1 ½". And the rest is history! Audubon chapters across the state led the charge to champion the nuthatch and put up nuthatch boxes…
And we're now over 12,000 nuthatch nest boxes installed across the state!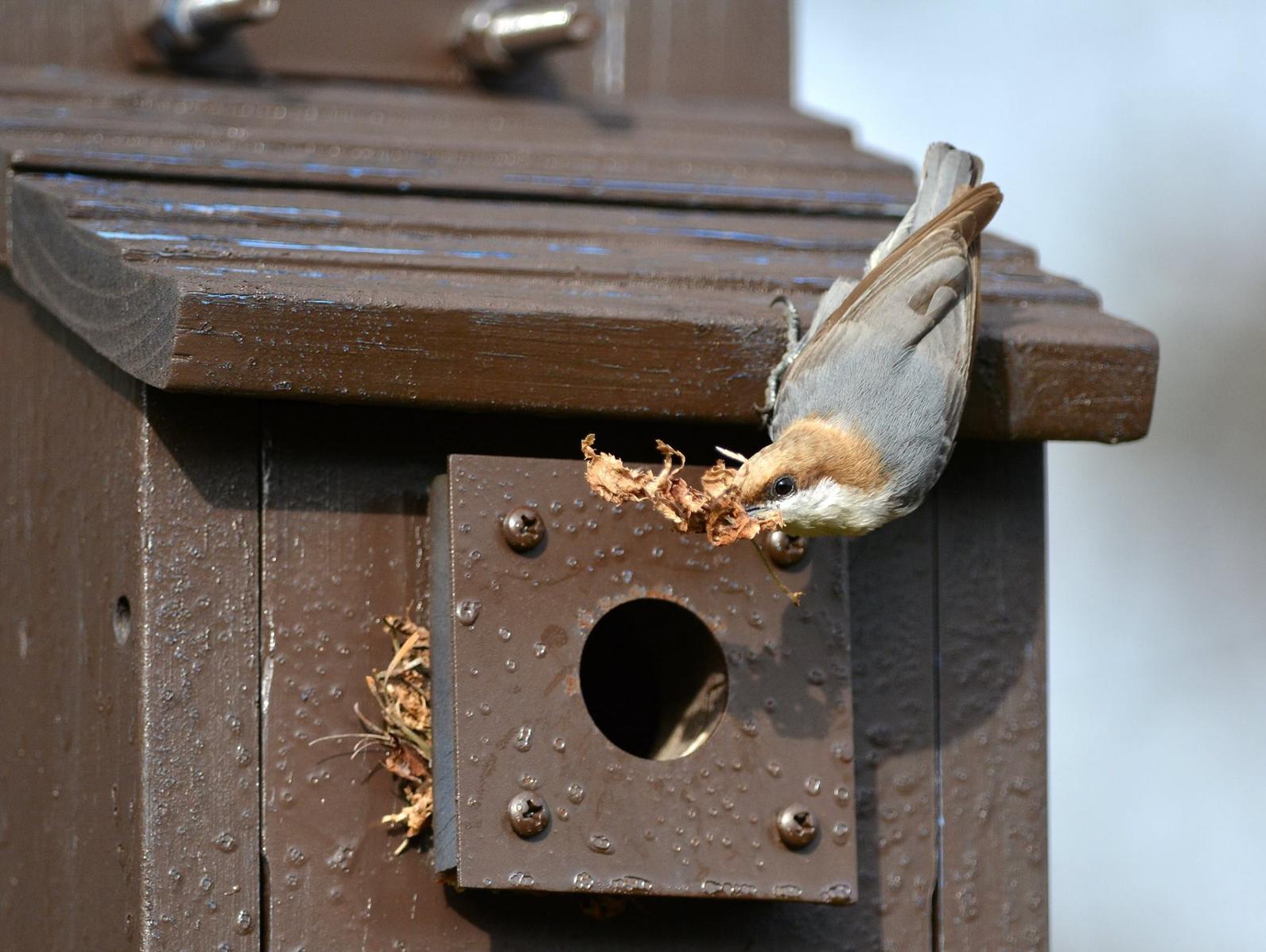 Occupancy rates have crept upward since our first survey of nuthatch nest boxes in 2014.
That year, our supporters reported 38 nesting attempts in 272 boxes they checked – so, nuthatches used roughly 14 percent of the boxes (in some cases, there were multiple nesting attempts in the same box, so the number is less than 14 percent, but it's a good measure for comparison purposes).
"Brown-headed nuthatches live in our yard but prefer nesting in the holes they make in our redwood house, not in the house put up for them. They are so charming we tolerate the intrusion." – Betty, Greensboro
In 2017, folks reported 133 attempts in 547 boxes checked – roughly 24 percent occupancy by Brown-headed Nuthatches. Carolina Chickadees remain the most common occupants, with roughly 44 percent of boxes occupied by chickadees at some time during the 2017 nesting season. House Wrens, the third of three species that fit into boxes with nuthatch-size holes (1" to 1 1/8") occupied nearly a fourth of boxes checked in 2017.
In addition to the nesting data, we heard lots of great stories from nuthatch boosters in our 2017 survey. Here's a few of them. Thank you, nuthatch fans, for giving the little squeakers so many places to live!
Bluebirds are still confused about the boxes with small holes
"Just last week, I visited a nuthatch box during a Climate Watch survey, and though nuthatches have nested in it for a several years straight, sitting on the box when I arrived were a pair of bluebirds and a pair of Brown-headed Nuthatches. The bluebirds left, but the nuthatches stuck around!" – Kim in Winston-Salem
Nuthatches sometimes ignore a nice new nest box in favor of other "options" so make sure to keep your snags (dead limbs still in the tree) available and work to keep mature pines in your yard and neighborhood.
"Sometime last year, a tall pine snapped at its top during a very bad storm. The remaining, tall, dead pine still stands. Brown-headed Nuthatches 'flocked' to this dead tree almost immediately! So, over this past year, I've watched a pair nest at the top of that dead tree, in a hole/nest that they excavated! I'm thinking that they are my pair that nested in my Brown-headed Nuthatch house last year!" – Ann in Cary
"We also noticed a Brown-headed Nuthatch (target species) who tried but failed to drill a hole in our next door neighbor's house instead of nesting in the box in our backyard." – Lisa, Durham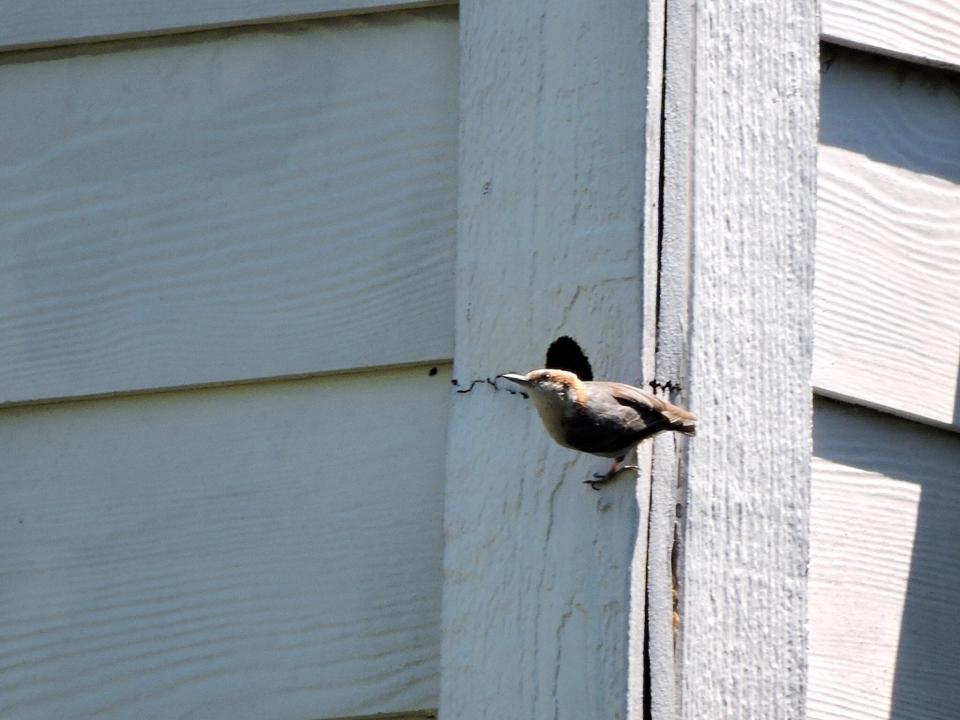 "At one location, a Brown-headed Nuthatch pair built a nest in a hole in the siding of the human house. The BHNU had made the hole and pulled insulation out to make room for nest. Carolina Chickadees used the bird house that was for the BHNU and even used the insulation that had been pulled out of the other by the BHNU. How is that for gratitude!" – Stella, Greensboro
House Wrens don't get as much love as nuthatches
"We were excited to see Brown-headed Nuthatches entering and exiting from our nuthatch box... but in the end, we didn't see any eggs, much less fledglings, and soon after, found the nest box crammed full of twigs and sticks. How disappointing. Checked on the wrens once after but didn't see any fledglings fly out of the box." – Ernie, Raleigh
Nuthatch fans will go to great lengths to protect them
"For two years in a row, Brown-headed Nuthatches have nested in my bluebird box, so that is what I'm reporting on. I tacked on a piece of hard plastic in which I'd cut a hole to make the hole smaller because, without that, bluebirds bullied the Brown-headed Nuthatches and got into the house after the nuthatch nest was built. Ironically, I also have an actual Brown-headed Nuthatch box near the woods in my backyard, but the nuthatches seem to prefer the bluebird box which is in the front yard right next to my driveway near the street in my suburban neighborhood. The Brown-headed Nuthatches are now extremely plentiful in our yard, almost as common as the Carolina Chickadees. I remember the first time I saw one about three years ago: I'm so glad they have taken up residence here." – Janet in Winston-Salem
Folks are passionate about their nuthatches! Our numbers keep getting better as birds find and defend their favored places. More nestbox options means better success, even if it takes a few years for them to sort out where and how they use a box. Don't forget, they will also use a box for roosting in the winter! Even if a chickadee or wren eventually nests there, nuthatches may use it from time to time the rest of the year, or eventually nest in it. So keep those boxes up and those reports rolling in!