Please welcome Audubon North Carolina conservation biologist Aimee Tomcho. As part of the Putting Working Lands to Work initiative, Aimee is engaging landowners across Western North Carolina to develop and restore habitat for the Golden-winged Warbler.
Recently, a group of 15 volunteers gathered in in Burnsville to learn more about how to help restore habitat for the Golden-winged Warbler (GWWA). Braving an early Spring snow, a new group of passionate Audubon volunteers dug into the science of this imperiled warbler, learning about its unique biology, habitat management and conservation programs. These programs aim to help fund projects to restore early forest successional habitat to private lands across western North Carolina.
Diversity of Support for the GWWA
The group was comprised of many talents and backgrounds, which is the dream of any coordinator! We had artists and gardeners, secretaries and engineering salesmen, bookkeepers and biologists, representing all ranges of ages (students to retirees) and of knowledge of birds. As I learned more about our new team, I was charmed by the fact that we also had three couples participating in the training together.
Travelling to Burnsville from as far as Todd to the north, Mt. Holly to the east, and Knoxville, Tenn. to the west, the Working Lands Golden-winged Warbler Restoration Program just got a whole lot stronger!
Support From Our Partners
Thanks in large part to a grant from National Fish and Wildlife Foundation, we have been working to enlist early successional habitat management in Western North Carolina private lands.
To date, 120 landowners have indicated some level of interest in this program that pairs with Natural Resources Conservation Service (NRCS) to provide financial assistance to those who wish to restore wildlife habitat on their parcel.
Last September, Audubon NC trained a team of professional land managers about early successional habitat restoration best management practices. In order to maintain the positive momentum this program has generated, the added capacity of this volunteer team will help keep each piece of this moving puzzle flowing.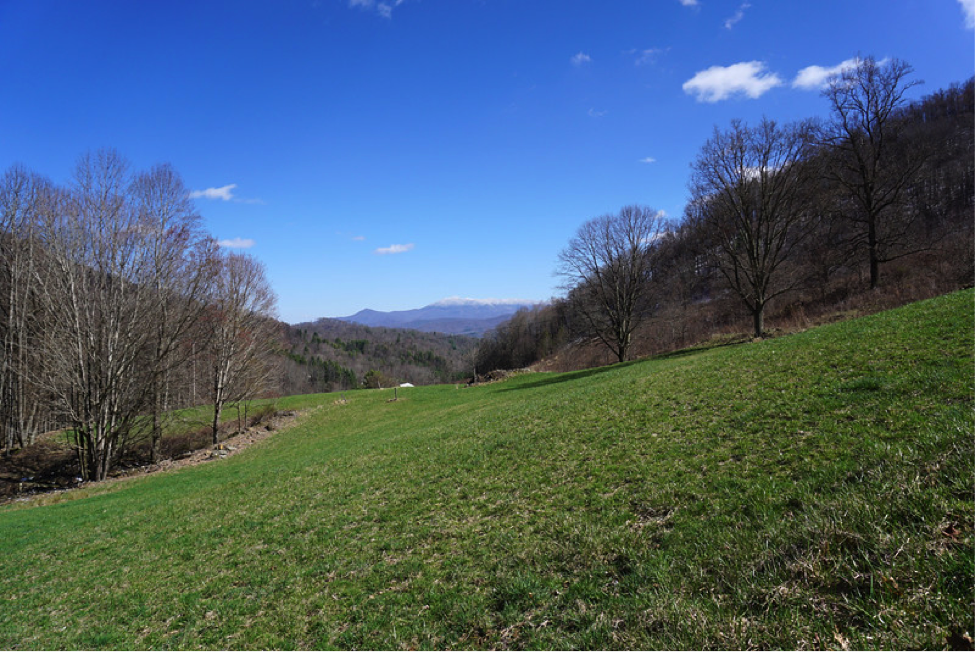 How It Works
In addition to receiving training about Golden-winged warbler biology and habitat preferences, two technical assistance biologists from the North Carolina Wildlife Resources Commission (NCWRC) also shared their knowledge with this volunteer group about the steps necessary to enroll land in a land conservation program. Patrick Farrell, who has assisted Audubon in application process progression for receiving Farm Bill funds, presented a historical overview of the funding process through the Farm Bill's Environmental Quality Incentives Program, highlighting the program goals, application review and funding allocation.
Stephen Thomas (NCWRC) presented information about the state's Wildlife Conservation Land Program. This underutilized program can not only provide tax-incentives to landowners for Golden-winged warbler habitat restoration but also for habitat protection of many other species of wildlife across North Carolina.
Finding Inspiration through Conservation
Two of the volunteer trainees have been through the NRCS's funding assistance application process themselves. One said the process inspired him to not only actively manage his own land but to help at a landscape level.
"Aimee and Patrick are very knowledgeable about Golden-winged Warblers and have been great to work with! My wife and I are very excited about the prospect of undertaking habitat management actions that will help the species. So often, we can only bear witness to species declines. The NC Audubon Golden-winged Warbler initiative provides landowners with guidance and support that enables us to actually do something that directly helps these critically threatened birds. Plus, by becoming a volunteer and taking the GWWA management training, we can spread the word and potentially help other landowners benefit the warblers on their property. Fantastic!"
The other participant believed he understood the application and management process better by experiencing it firsthand. Though both have a background in biology, they agreed they learned new things about the conservation possibilities in Western North Carolina.
Fun In The Sun
We spent the last couple hours of our team training outside basking in what had warmed to be a sunny and glorious day in the mountains to practice the skill acquired in the classroom. A Yancey County landowner kindly allowed us to explore her private land for potential Golden-winged warbler habitat.
As I quizzed the team on what their management recommendations might be, I was impressed with their abilities to quickly pick up on the skills they needed to recognize early successional forest habitat even in winter. We talked about how, very soon, a pair of golden-wings may choose to nest in the very location we observed that day.
As the day ended, I appreciated that we had taken time to get to know one another. I have always shared openly how lucky I feel to work in bird conservation. Some reasons to me appear obvious, such as time spent in nature working to preserve something that I believe to be larger than ourselves. But as I stood among this wonderful group, I was reminded that it also the people I enjoy, sharing passion for a cause and teaming to create a driving force, and inspiring each other in the process.
Thank you to our new team and all of our volunteers out there! As David Yarnold likes to say, "You are what hope looks like to a bird"!
For more information on Audubon North Carolina's Working Lands program, visit our website. If you are interested in getting involved with Golden-winged Warbler research in the mountains, contact atomcho@audubon.org.