By Jamie Harrelson, Private Lands Technician who joined Audubon North Carolina in 2019.
Russ Oates spent much of his childhood exploring the cypress swamps of eastern North Carolina with his father. Pocket field guides in hand, Russ observed animals that likely go unnoticed by the average person. His love of the outdoors blossomed in those wild places.
After retiring from a distinguished career as a wildlife biologist for the US Fish and Wildlife Service in Alaska, Russ and his wife Stacy purchased property in Yancey County in hopes that they could protect the land's conservation value in perpetuity.
The property, a section of which had been recently logged, needed a bit of restoration work. Russ was up to the task!
Now, the Oates property—with its rich, moist soil and resulting diverse plant communities—is a haven for birds and other wildlife and is protected under a conservation easement.
Hardwood forest on the property serves as habitat for many climate-vulnerable species, including Blue-headed Vireo, Wood Thrush, Blackburnian Warbler, and Rose-breasted Grosbeak.
With help from Audubon North Carolina, Russ has been working to restore habitat for Golden-winged Warblers by encouraging the kind of vegetation structure—typically found in shrubby fields and young forests—that the birds require for nesting and foraging.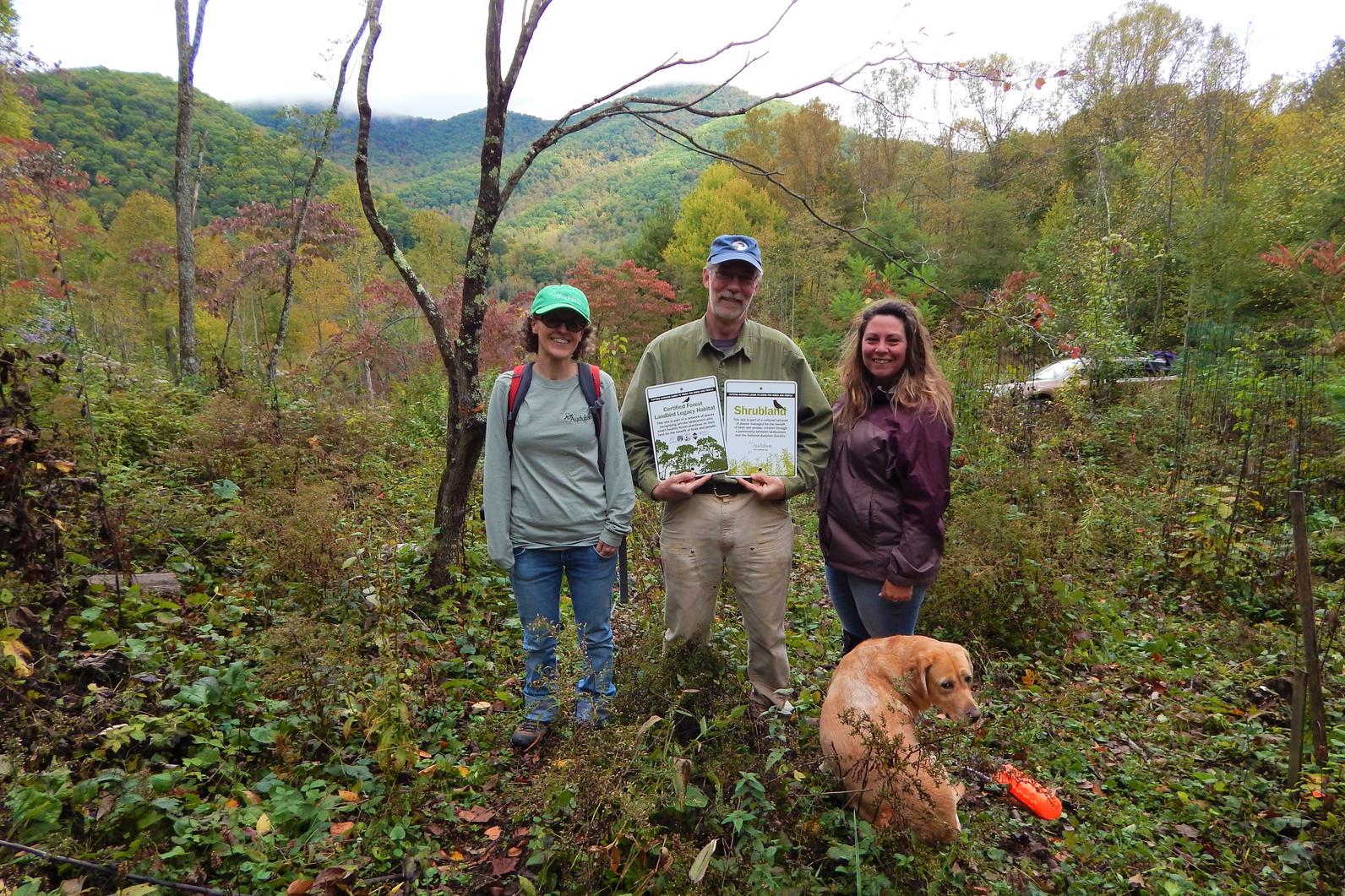 The area is full of native wildflowers that support a diverse array of pollinators. Russ has also planted native fruit trees that provide food for the insects on which warblers depend—and food for people, too!
This tract of early successional habitat—nestled within hardwood forest—is an ideal spot for a pair of Golden-winged Warblers.
Russ has long been an integral part of Audubon North Carolina's volunteer network: He was one of the first members of the Land Bird Stewards and helped document new Golden-winged Warbler locations in and around Yancey County.
He was also the first landowner to be recognized in the Forest Landbird Legacy Program for his efforts to conserve a contiguous stand of hardwood trees with birds in mind.
Not only does Russ work to restore habitat for birds; he also assists with advocacy and community science. He is an Audubon Ambassador, contacting legislators about issues that impact birds and participating in climate marches alongside Audubon staff.
Russ coordinates the High Peaks Birders' Christmas Bird Count and Climate Watch bird surveys in Yancey County, supporting crucial citizen science projects that broaden our knowledge of bird populations and the effects of climate change on the birds we love.
When not working out in the field, coordinating bird counts, or contacting legislators, Russ can be found building wooden birdhouses in his workshop.
Through all of his efforts, Russ epitomizes Audubon's mission to protect birds and the places they need, today and tomorrow.
Please join us in thanking Russ for his admirable commitment to bird conservation!
You can help with landowner outreach and bird surveys by becoming an Audubon Land Bird Steward. Contact Aimee Tomcho, Conservation Biologist, for more information: aimee.tomcho@audubon.org.