Please welcome Audubon North Carolina conservation biologist Aimee Tomcho. As part of the Putting Working Lands to Work initiative, Aimee is engaging landowners across Western North Carolina to develop and restore habitat for the Golden-winged Warbler. This month, she participated in Yancey County's Audubon Christmas Bird Count.
On December 27, a group of North Carolina birders gathered for the Audubon Christmas Bird Count (CBC) in the rural mountain county of Yancey, which lies along the Tennessee state line. Yancey County is home to Mount Mitchell, the highest peak east of the Mississippi River at 6,684 feet. Yancey is known for its beautiful natural places, farming persistence, and the value it places on maintaining the "old" way of life.
Although, now developing a thriving art community with more young people moving in, the families who settled this land long ago still reside in the area. What a wonderful place to add to the list of more than 2,300 CBC participating locations!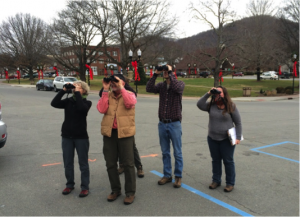 Surprise CBC History
This year marks the 115th year of the Audubon CBC, continuing the largest and longest-running international citizen science bird database. With more than 50 counts organized throughout North Carolina, a group of birders near Burnsville, NC, led by Bob Repoley and Laura Seelbach, hoped to initiate another local count this year. Yancey organizers believed this to be the 1st annual CBC in Yancey County, NC…until they sent their new circle registration to CBC Director Geoff LeBaron.
"That's interesting," LeBaron said, "our records indicate there was a CBC in Yancey County 60 years ago that lasted for 12 years' time". Archived records revealed a surprising result – counts were conducted in Windom, NC from 1943-1954, the 44th-55th annual Audubon CBCs.
As we processed the "new" 15-mile diameter circle registration, we discussed the fact that CBC counts often showed trends of tapering off during years of war. Our 12-year time frame for the historical Yancey counts overlapped two: World War II (1941-1945) and the Korean War (1950-1953). Fanciful stories appeared in my head about ladies conducting counts while their husbands were at war…. Surely I could locate someone who might know more information.
Records of participants' names during those times are limited to historical print journals. With the help of Elisha Mitchell Audubon Society member Marilyn Westphal, we were able to determine the names of those trendsetting bird counters from six decades ago! Alas, I found my fanciful story about women leading the charge was untrue. However, the surnames were easily recognizable as present-day Yancey residents. Quick mathematical equations indicated that the first participants would be around 80 years old and yes, two of the original Yancey CBC participants still live in Yancey County today! Although they didn't wish to speak of their experiences, it is great fun to know the legacy continues with one of their sons who went on to have a successful career in avian virology.
Furthermore, it seemed that everyone we spoke to about the original participants' names recognized someone in their family or with whom they were once acquainted. Even though memories about the count itself do not persist, relatives and friends were excited to know that they too held some link to the historic counts.
Conversations were initiated, including with the Yancey History Association that tied birds to brothers!
Explore Your Own CBC History
Do you wonder about your count's history? Land use changes are plentiful and widespread, even in rural western North Carolina. Data collected throughout 115 years of the Audubon CBC show the strength and value of citizen science at its finest. Even without landscape-level mapping, much knowledge can be gleaned from the species composition changes over time.
Did you know you can find all 115 years of CBC data online?
In Yancey County, comparisons among years uncovered some interesting species diversity and abundance numbers. For example, American Crows have persisted across the landscape in strong numbers for 60 years: 250 (12/22/1943), 108 (12/28/1954), and 156 on 12/27/2014). Relatively abundant in 1954 (27), Vesper Sparrows were not detected in this year's count, and are classified "significantly rare" in North Carolina. Current surveys suggest they prefer the higher elevation balds to the presumably previously occupied lowland farms. Characteristics like these have led Audubon scientist Gary Langham to formulate questions about their range shift in relation to climate change.
Other historical species not detected this year (although believed to still be present in smaller numbers) included Northern Bobwhite, and Wilson's Snipe. Yellow-rumped Warblers were seen during the Yancey CBC, including this one seen by a feeder-counting family.
2015 Results – What Was Counted
This year in Yancey County, 41 participants counted 2,278 birds of 51 species. However, more than birds were identified that day. People made new friends who share the common interest of what is now one of America's fastest-growing outdoor activities: birdwatching! According to a survey by the U.S. Fish and Wildlife Service, approximately 50 million Americans report that they watch birds. Tying in to Yancey's new hiking club, High Peaks Trail Association, CBC participants met in mid-January to create a bird club in this rural Appalachian town. From downtown's Town Square and Appalachian Java coffee shop to cattle fields near Carolina Native Nursery and the forests of the Black Mountain range, Yancey County is officially back on the birding map after a 60 year hiatus and groups of birdwatchers will again traverse this land the way their ancestors did decades ago.
To learn more about citizen science opportunities throughout the year, visit the Audubon NC website.