Last year, you took swift action to share your home with the Chimney Swift by providing them a place to nest in your chimney. This "near-threatened" urban bird is also very thankful that some of you built your own Chimney Swift Towers in your yards as an alternative to older chimneys, which are being closed or removed.
This year, we ask you to make room in your hearts for the 2017 Bird of the Year.
We would like to introduce you to the Prothonotary Warbler!
Unfortunately since 1966, Prothonotary Warblers have declined in total population by 42 percent. While in the United States they are considered a priority bird, in Canada, they are officially endangered. By protecting stream buffers, building nest boxes, prioritizing conservation of their habitat, and surveying for Prothonotary Warblers across the state, we can ensure that this jaunty, yellow bird is around for years to come.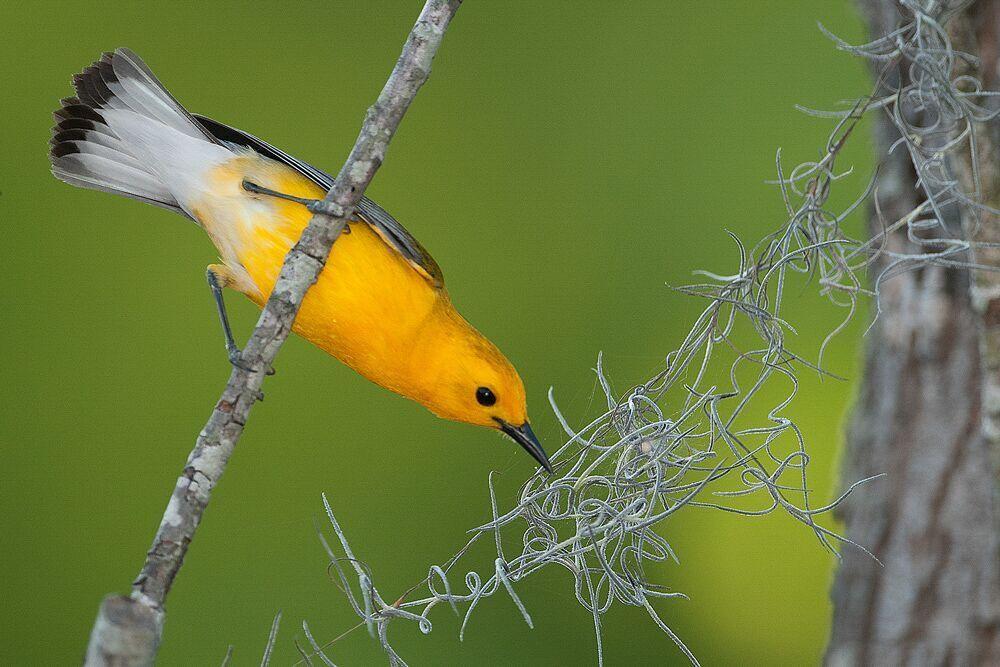 One of the easiest ways to help these birds in 2017 is to provide nesting sites for them by building nest boxes. With just a few pieces of lumber and some nails, you are well on your way to creating your very own Prothonotary Warbler nest box. For a more detailed guide on how to build nest boxes, go here. And don't forget to tell us where you put up your nest boxes by emailing kbrand@audubon.org!
Prothonotary Warblers nest in tree cavities or nest boxes. In fact, they are the only eastern North American warbler to do so. It is important to put nest boxes within 16 feet of slow-moving or still water. Prothonotaries can be found in forested borders of streams and lakes and wooded areas along greenways across much of North Carolina's Coastal Plain and Piedmont regions, and increasingly in higher-elevation areas, too. To see if Prothonotary Warblers nest in your area, visit this map.
Another way to help this cool bird is to report your observations at ebird.org. Your sightings will help us understand the bird's range expansion westward and at higher elevations in North Carolina.
Although Prothonotary Warblers defend a small territory during the summer while they raise babies, they are definitely not sedentary birds. These birds only weigh around half an ounce, but this does not stop them from their long winter migration journeys. Thanks to advances in technology, we are now able to record these birds' annual expeditions. One warbler was recorded to have flown 5,000 miles – from Baton Rouge to Colombia. Traveling through seven different countries, this little bird is quite the world traveler, to say the least.
There are many ways you can help this year to ensure that the Prothonotary Warbler is around for generations to come. Email kbrand@audubon.org for more information.
Bird-Friendly Communities is a partnership program that focuses conservation efforts where most people live - in cities and towns. To learn more about this program, click here.