Launched in 2013, Audubon North Carolina's Bird-Friendly Communities initiative is a partnership program involving more than 20 organizations with a vision for creating a more bird-friendly North Carolina. This vision statement guides the goals and projects of the group: "Bird-friendly communities give birds the opportunity to succeed by providing connected habitat dominated by native plants, minimizing threats posed by the built environment, and engaging people of all ages and backgrounds in stewardship of nature."
Please welcome Audubon North Carolina's Bird-Friendly Communities Coordinator Kim Brand.
Scouting groups have been great supporters of Eastern Bluebirds, building nest boxes to help them out of their long-term decline. In recent years, similar efforts have been championed to help the Brown-headed Nuthatch.
The Brown-headed Nuthatch is one of 170 climate-threatened species found in North Carolina and a priority species for Audubon. In 2014, ANC set a goal to distribute 10,000 nest boxes for nuthatches in an effort to stop their decline. Bennett David of Asheville is on a mission to galvanize scouts to take action and show their support for the lesser-known Brown-headed Nuthatch just as they have done for the Eastern Bluebird.
A 14-year old Eagle Scout, Bennett began this project close to home, organizing a nest box building day at the North Carolina Arboretum. Boy Scouts of Troop 91 built 22 nest boxes. All of these homes for nuthatches are now installed at local schools to be used in their science curriculum. Students are monitoring the boxes this spring, and will enter their data at www.NestWatch.org.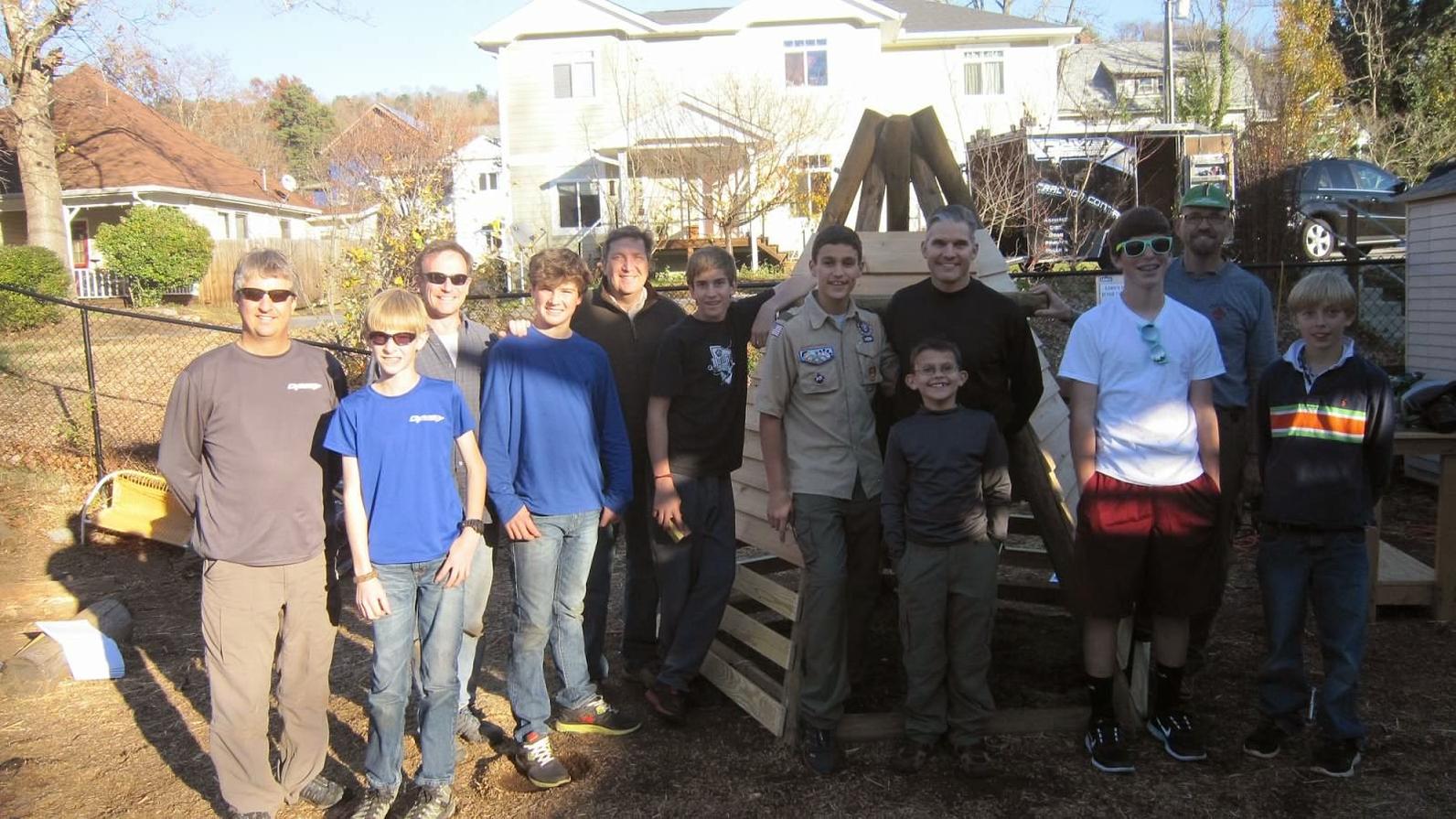 These 22 nest boxes were just the beginning of a greater effort to raise awareness about our quintessential southern bird and the homes they need to thrive.
Taking Flight for the Nuthatch
After the success with his local troop, Bennett hit the road to tell scout leaders and scouts about the plight of the Brown-headed Nuthatch. He has already made presentations to North Carolina leaders at regional meetings in Clyde, Asheboro, Albemarle, Jamestown and Spruce Pine, doing everything he can to help Audubon North Carolina reach our goal of distributing 10,000 Nest Boxes for Nuthatches.
He's even seen success spreading the news to neighboring states including seven South Carolina gatherings and one meeting in Tennessee.
Additionally, Bennett has reached out to Girl Scouts, as well, with great success. More than half of the 18 Girl Scout Councils he contacted promised to spread the word about Brown-headed Nuthatch nest boxes!
But Bennett's not done yet – he's already planning visits to summer camps later this year.
About Bennett's Nuthatch Nest Box Campaign
Bennett encourages everyone he meets to post information about helping the Brown-headed Nuthatch on their websites, on their email distribution lists, and in their council newsletters.
For anyone out there looking for a great Eagle Scout project, Bennett says Brown-headed Nuthatch nest boxes are a great one!
Bennett became an Eagle Scout at age 12. His work to promote Brown-headed Nuthatches is part of a William T. Hornaday Conservation Project. Hornaday Projects tend to be larger in scope than Eagle Projects and have the added requirements of educating others, and publicizing environmental issues and solutions based on scientific principles and research.
For more information on this project, visit Bennett's website.
To learn more about Audubon North Carolina's efforts to distribute 10,000 Nest Boxes for Nuthatches, visit our website.