In early 2017, North Carolina's First Lady Kristin Cooper reached out to Audubon North Carolina with an exciting opportunity—the chance to help establish a bird and pollinator-friendly garden
at the Executive Mansion in Raleigh
.
The original Victorian garden at the Executive Mansion, planted by Dottie Martin, had become overgrown over the years with privet (Ligustrum) hedges and lost much of its original color and vibrancy. Audubon played a lead role in designing and fundraising for the refreshed garden, which now benefits pollinators, birds and other wildlife.
After the bird-friendly garden in Raleigh was revealed last fall, the First Lady and Governor invited Audubon to refresh the Governor's Western Residence in Asheville as well!

Once again, Ben Skelton, owner of Skelton's Landscaping Service and New Hope Audubon Society Bird-Friendly Habitat Certification team volunteer, created the design for the bird and pollinator-friendly garden, drawing from Audubon North Carolina's Bird-Friendly Native Plants list.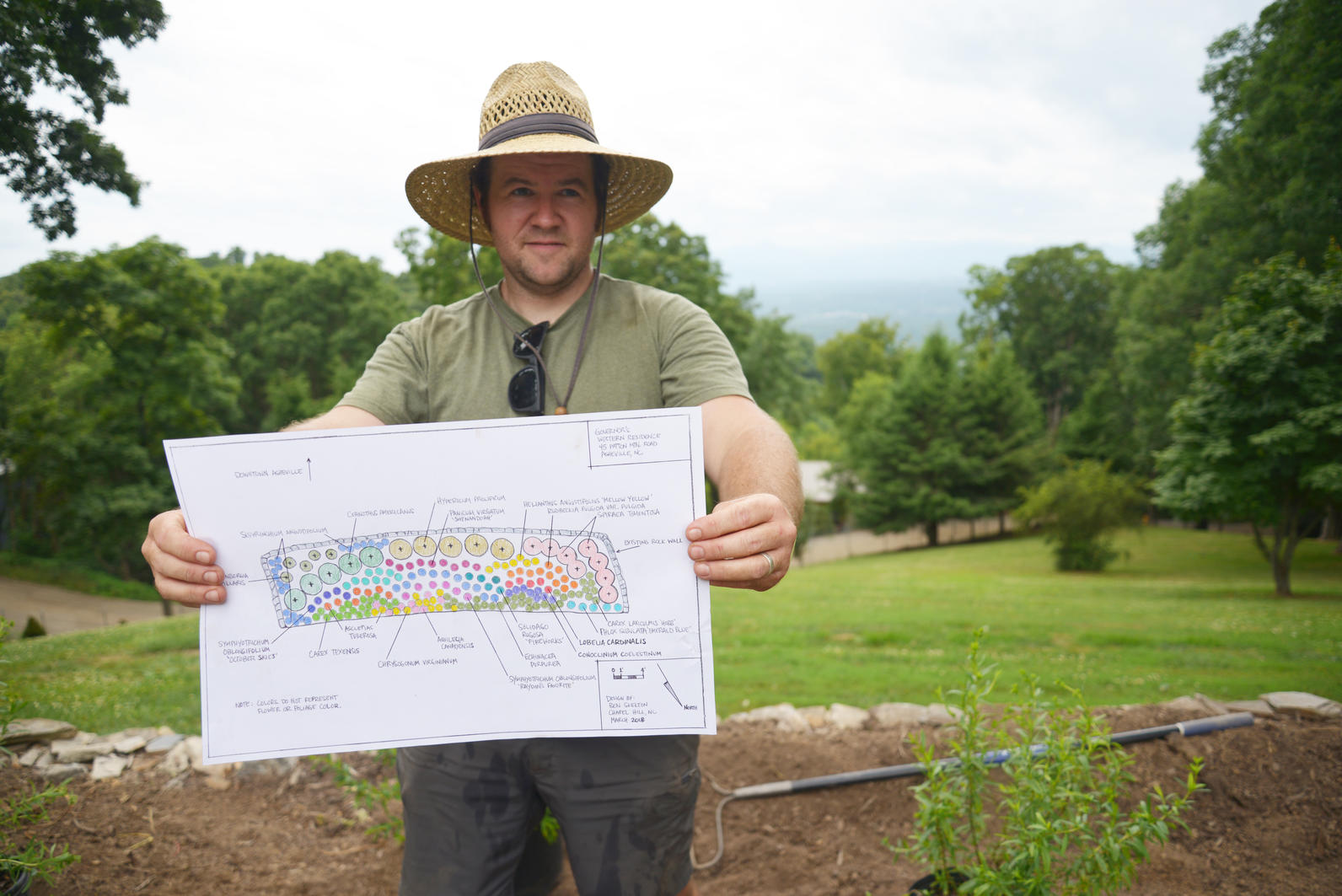 Thanks to volunteers from Elisha Mitchell Audubon Society of Asheville and the Western Residence ground crew, 500 individual plants - 30 total species of beautiful native flowers, shrubs, and grasses - were added to the front and back gardens of this idyllic residence!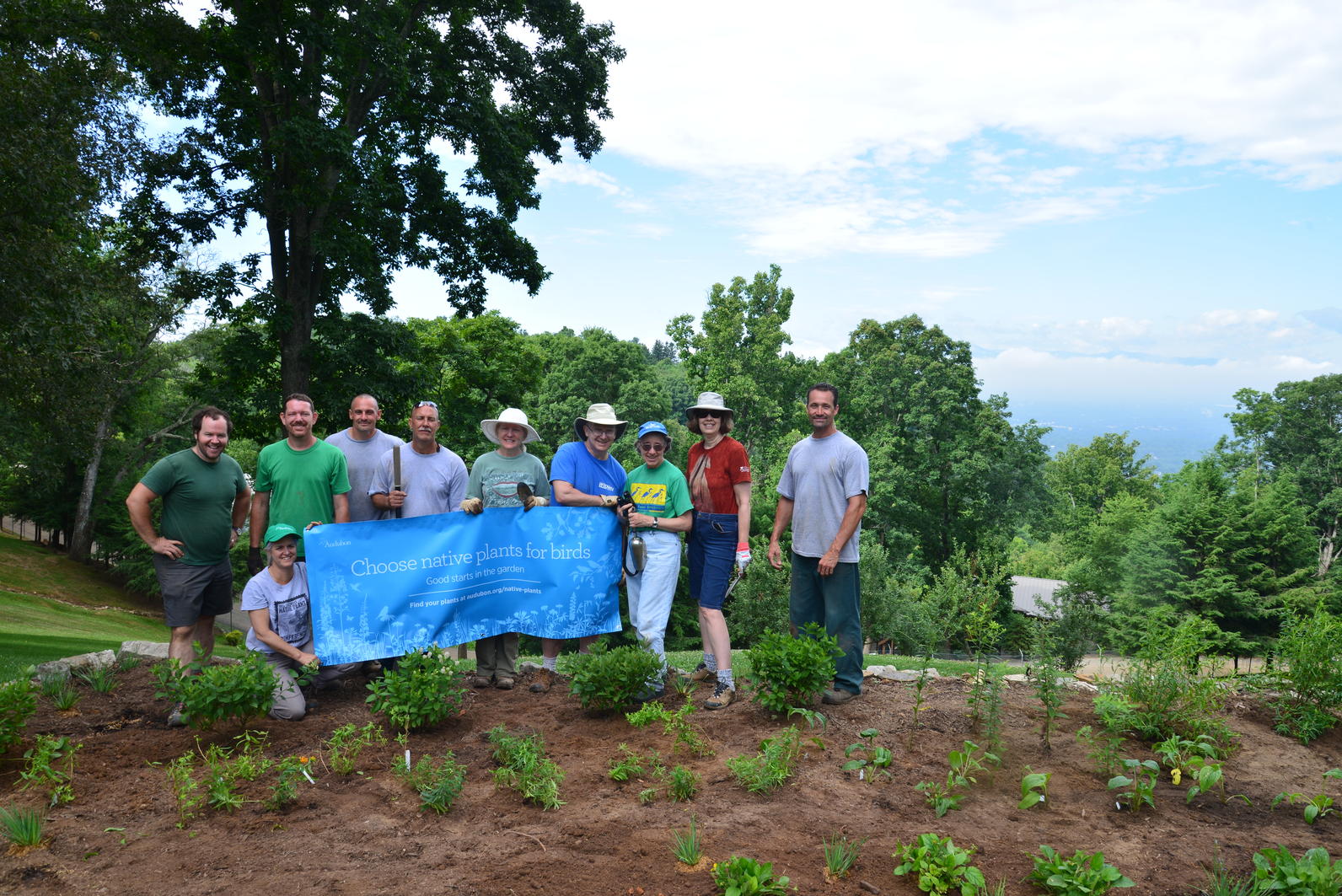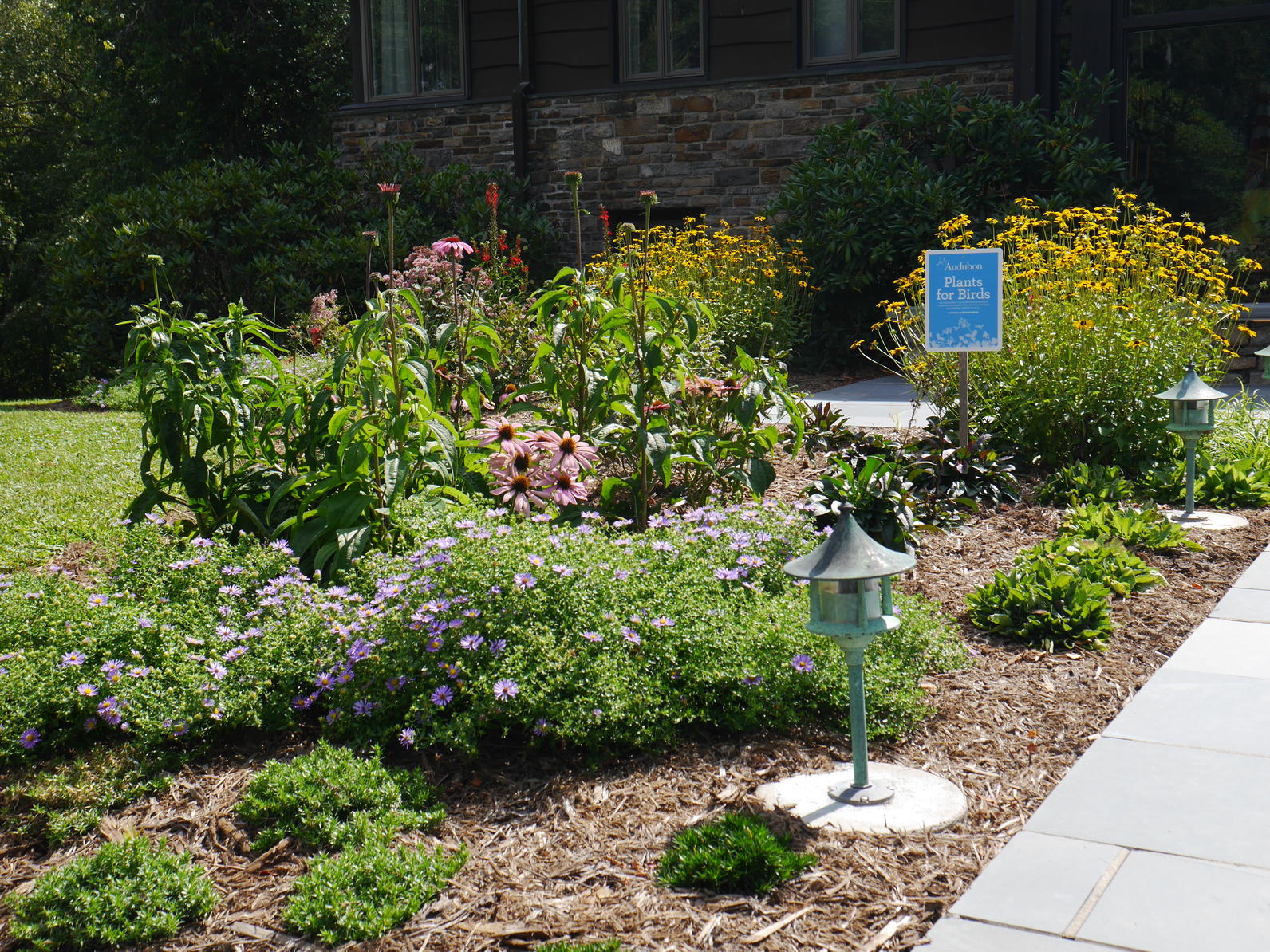 A complete list of the nurseries involved and the plants they provided for the Western Residence is available below.
Consider adding any or all of these species to your own bird-friendly garden!
WESTERN NORTH CAROLINA
(For full availability, visit their websites)
Carolina Native Nursery – Burnsville, NC
New Jersey Tea, Ceanothus americanus
Green & Gold, Chrysogonum virginianum
Bee Balm, Monarda didyma 'Jacob Cline'
Penstemon digitalis, 'Husker's Red'
Phlox divaricata, 'Blue Moon'
Black-eyed Susan, Rudbeckia fulgida var. fulgida
Blue-eyed Grass, Sisyrinchium angustifolium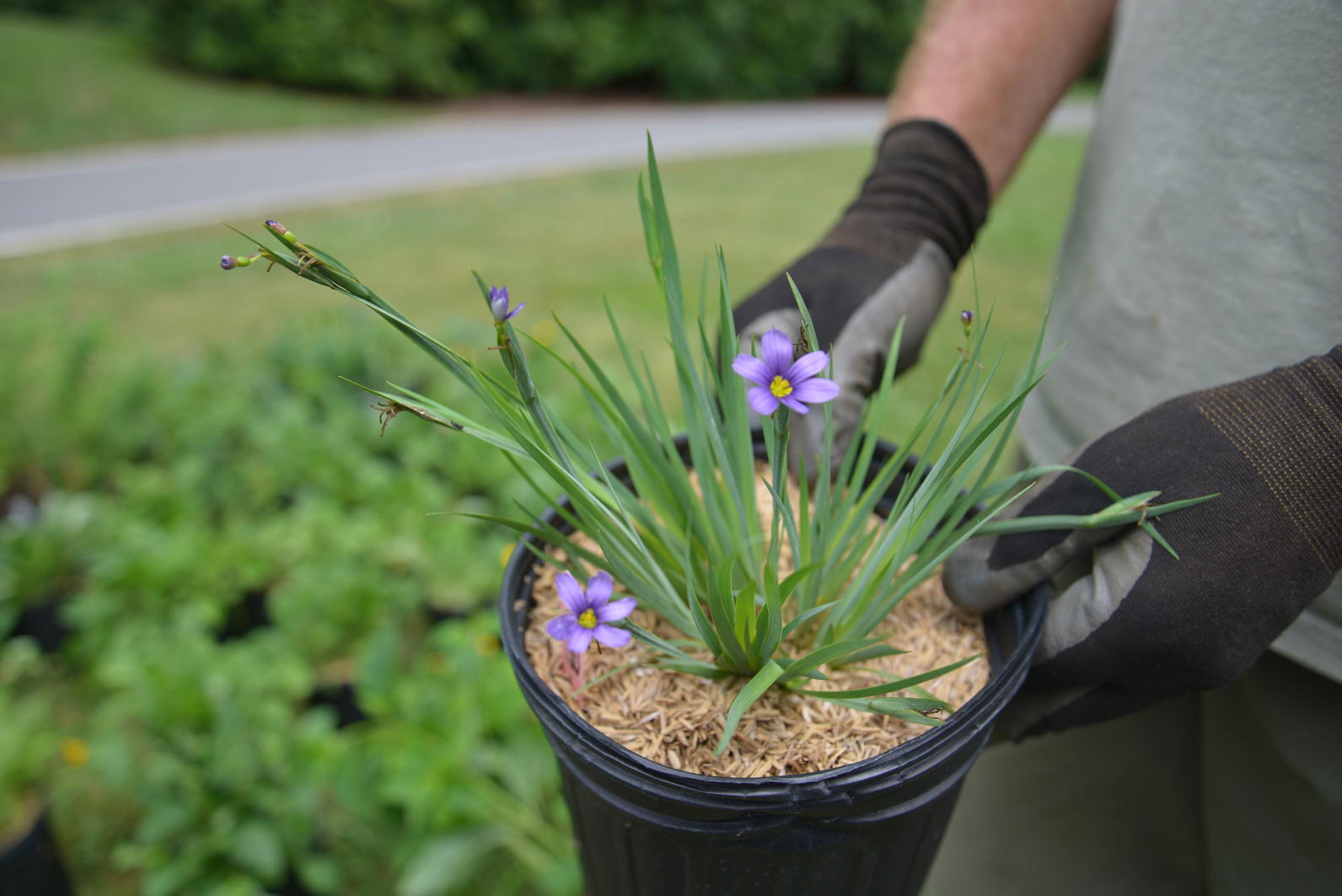 Southeastern Native Plant Nursery – Candler, NC
Mountain Sweet Pepperbush, Clethra acuminata
Shrubby St. John's Wort, Hypericum prolificum
Spiraea tomentosa
Blueberry, Vaccinium corymbosum (3 different cultivars)
Mapleleaf Viburnum, Viburnum acerifolium
Southern Arrowwood Viburnum, Viburnum dentatum 'Blue Muffin'

Painters Greenhouse – Old Fort, NC
Butterfly Milkweed, Asclepias tuberosa
Purple Coneflower, Echinacea purpurea
Joe Pye-Weed, Eutrochium dubium 'Little Joe'
Cardinal Flower, Lobelia cardinalis
Fireworks Goldenrod, Solidago rugosa 'Fireworks'
Aromatic Aster, Symphotrichum oblongifolium 'October Skies'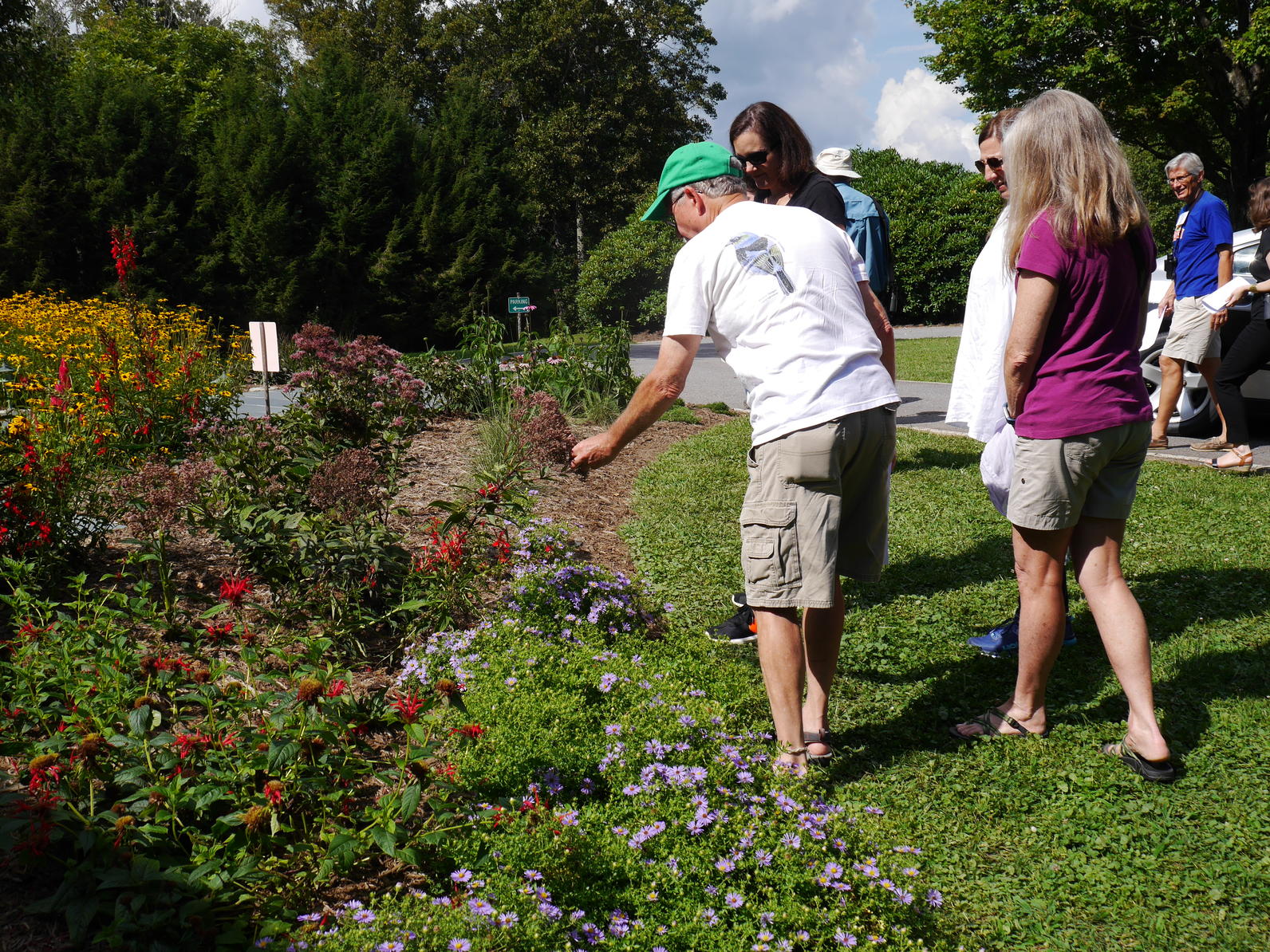 Red Root Native Nursery – Barnardsville, NC
Dwarf Crested Iris, Iris cristata
White Wood Aster, Eurybia divaricata

PIEDMONT NORTH CAROLINA
(For full availability, visit their websites)
Hoffman Nursery – Rougemont, NC (sells wholesale only; home gardeners may purchase via a landscaping or landscape-design company)
Seersucker Sedge, Carex plantaginea
Creek Sedge, Carex amphibola
Texas Sedge, Carex texensis
Pink Muhly Grass, Muhlenbergia capillaris
Shenandoah Switch Grass, Panicum virgatum 'Shenandoah'

Cure Nursery – Pittsboro, NC
Swamp Sunflower, Helianthus angustifolius 'Mellow Yellow'

Blue Mistflower,

Conoclinium coelestinum

Plantworks – Rougemont, NC (sells wholesale only)
Moss Phlox, Phlox subulata 'Fort Hill'
Moss Phlox, Phlox subulata 'Emerald Blue'