Audubon North Carolina has 10 amazing chapters across the state that help put a local focus on bird preservation and conservation issues. In this special blog series, we'll focus on a chapter each month to learn more about their history, what they are working on, and to increase the statewide understanding of special ecosystems and habitats. Each month will include a series of posts about each chapter including a post from our biologists that will share a unique research project that is happening in the chapter's geographic footprint.
This month, we get to know the Highlands Plateau Audubon Society (HPAS). Please welcome Russ Regnery, President of HPAS, to learn more about our chapter serving parts of Western North Carolina.
As dead wood is trimmed from trees, and as we continue to decrease the number of trees in developed areas, cavity-nesting birds have fewer naturally occurring potential nest sites. The resurgence of the Eastern Bluebird, as a direct consequence of installing Bluebird boxes all over the eastern U.S., is "proof of concept" for the significant difference that providing suitable nesting boxes can make to the well-being of a bird species.
It is now estimated that there are as many or more Eastern Bluebirds as at any time in history!
A Community-wide Experiment
The Highlands Plateau Audubon Society (HPAS), in combination with local schools, public areas and more interested folks, has embarked on an experiment with newly installed bird boxes. We know for a fact that bird boxes work well for Bluebirds when the boxes have entrance holes 1 ½" in diameter, and this is the size of almost all bird box entrances today.
We suspect that some of our smaller cavity-nesting birds might actually nest more successfully in boxes that have smaller entrance holes (e.g., 1 1/8" in diameter). Smaller holes should preclude some of the larger bird species from competing for the same nest site and ultimately drive away the smaller bird species.
But is this actually the case or not?
To find out, HPAS, with a generous grant from the Mountain Garden Club, is providing pairs of bird boxes, one box with a large hole (suitable for example for Bluebirds) and one box with a smaller entrance (suitable, for example, the Chickadee) to test whether providing two sizes of entrance holes enhances nesting success for local cavity-nesting birds.
The boxes went up all around the community last fall; so cavity-nesting birds can check out and compare their potential digs well in advance of next spring. The boxes will be carefully monitored through next summer.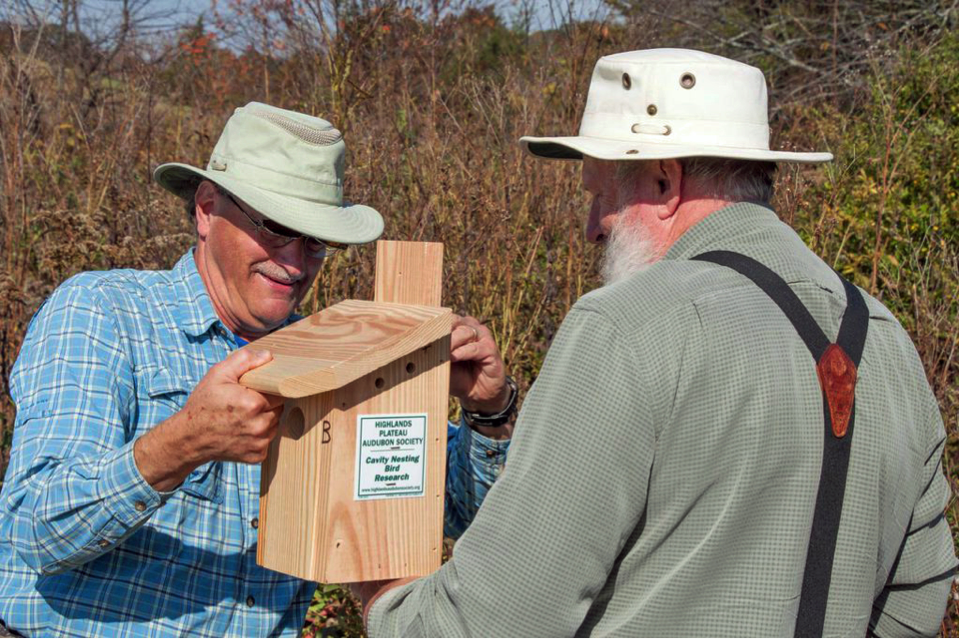 Spot the Nest Boxes
If you are in the Highlands-Cashiers area, keep an eye out for pairs of the new nest boxes around public areas such as our local schools, the public libraries, the Highlands Biological Station, The Bascom, the Peggy Crosby Center, Cowee Mounds and people's yards!
Hint: most of the HPAS boxes are attached to metal poles, are about 5 feet off the ground, and at least 50 feet distant from the other box of the same pair.
If you find a box, carefully observe which size entrance hole that box represents, and then perhaps search for the other box of that same pair. Time will tell whether "one size fits all" in the world of bird boxes, or whether the "not so big house" concept is attractive to some birds as it is to many humans.
Next fall we hope to publish the results for the first year of this citizen science project.
To learn more about citizen science opportunities through Audubon North Carolina, visit our website.