Audubon North Carolina hosted our first-ever Virtual Chapter Day earlier this month, gathering together chapter leaders, advocates, and staff to share successes and plan for the next year.
The pandemic continues to disrupt our daily lives, but Audubon keeps showing up! With nearly 100 of us meeting on Zoom, we smashed our previous Chapter Day attendance record of 49.
From growing native plants gardens at local schools to meeting with lawmakers and recruiting new advocates, chapter leaders have led the charge, speaking up for birds.
As Audubon North Carolina Executive Director Andrew Hutson reminded us, chapters are the backbone of Audubon. The stories shared by attendees were powerful reminders of the strength of the Audubon network to connect people and inspire action, even in the midst of shutdowns and stay-home orders.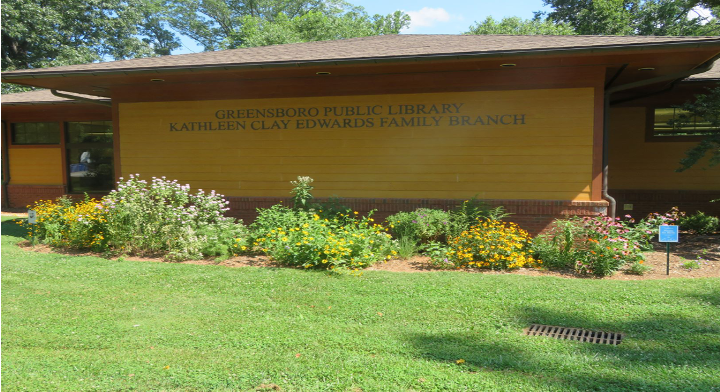 "Americans have never been hungrier for nature," Hutson said. "The demand for collective climate action has never been greater. And we know that equity and justice must be our path to the future. I believe that this is Audubon's moment—this is our moment—as community builders, as advocates, as conservationists."
Chapter leaders similarly emphasized the importance of investing in online engagement and advancing equity, diversity, and inclusion. Audubon staff from across the state also gave updates on their work, such as this video recording from Conservation Biologist Aimee Tomcho.
Read on for a highlight of chapter successes from the past year.
Blue Ridge Audubon got a brand new name! The chapter also created its first Equity, Diversity, and Inclusion Committee and celebrated the 30th anniversary of the Beaver Lake Bird Sanctuary in Asheville with an event that drew 125 people and local and state elected officials (this was pre-pandemic, of course). Other notable successes included a new Chimney Swift tower at an elementary school and a strong showing at Advocacy Day.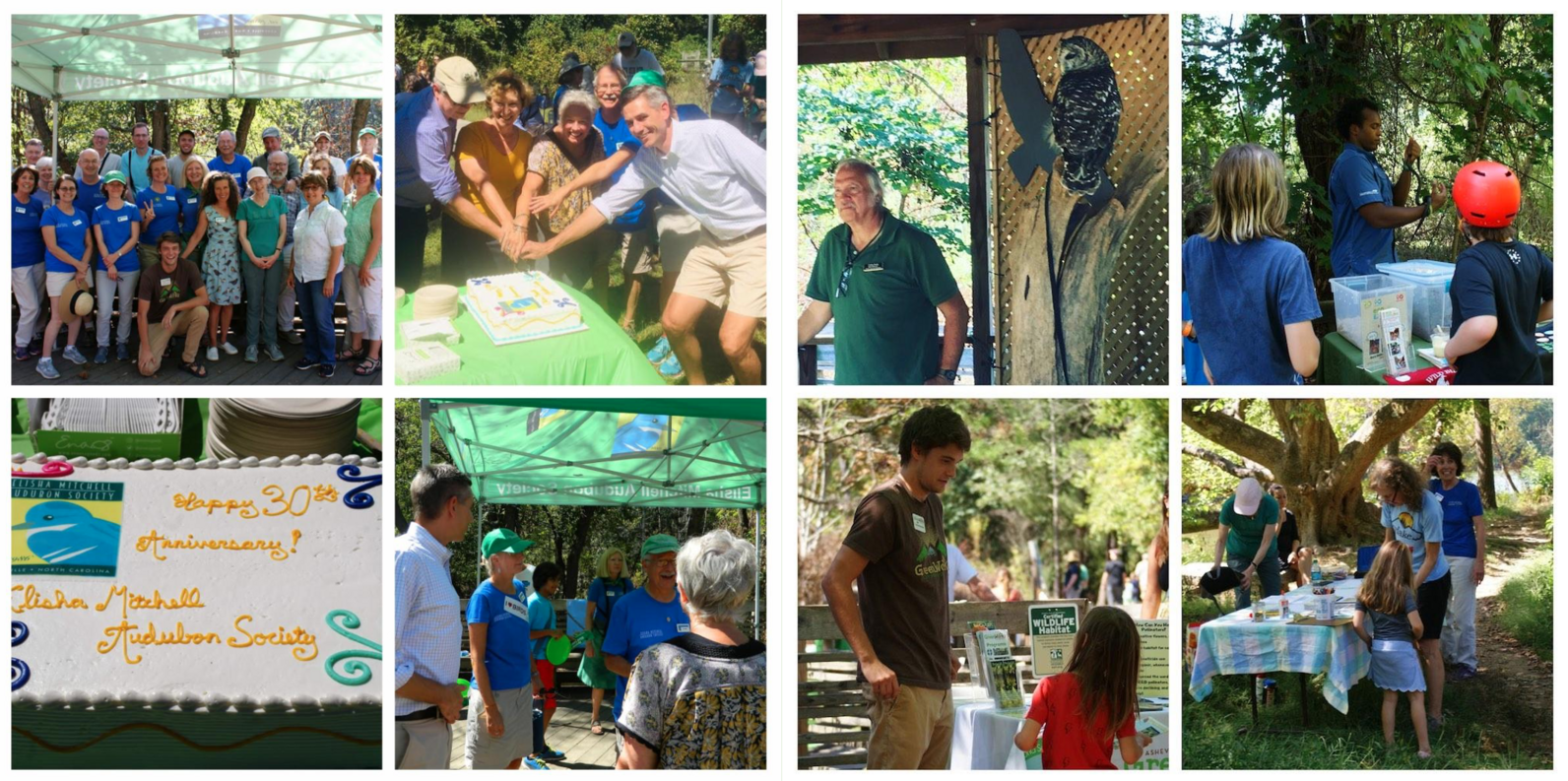 High Country Audubon finished up its long-term restoration work at Green Valley Park outside of Boone and completed another wetland restoration project in Watauga County, which was followed by one of the best spring migrations for waterfowl at the site in recent memory. The chapter also received a Burke Grant from National Audubon for a restoration project on land owned by the city of Boone.
Mecklenburg Audubon embraced this new era of virtual engagement by hosting many online events and implementing a new slideshow format for monthly meetings, engaging new and longtime members alike. The chapter also ran a fun and successful social media campaign in the lead up to the Global Big Day in May and awarded three grants to undergraduate and graduate student researchers. As the host of the Audubon North Carolina Summit, the chapter planned a weekend of social events and stellar field trips for April; due to the pandemic, we will get to enjoy those events in April 2022.
Forsyth Audubon increased participation at its events this year, both pre-pandemic in-person events and virtual gatherings since the spring. The chapter has also succeeded in diversifying its board—half of all board members are younger than 60—and appointed the chapter's first Equity, Diversity, and Inclusion chair.
New Hope Audubon has successfully transitioned the enthusiasm for its in-person events and bird walks to virtual gatherings (be sure to catch a hummingbird talk co-hosted with the North Carolina Botanical Garden this weekend). The chapter has also partnered with local conservation groups to form the new Durham Environmental Consortium to advocate for conservation locally. The chapter's residential bird-friendly certification visits have restarted as well.
T. Gilbert Pearson Audubon has helped fund and grow native plants gardens at the Kathleen Clay Edwards Family Branch Library and Congregational United Church of Christ in Greensboro. The chapter also partnered with Waste Management to conduct two years of bird surveys at the company's 650-acre landfill property in Randolph County. Those surveys wrapped up this year and will inform the chapter's habitat-management recommendations to the company.
Wake Audubon continues to grow its advocacy strength. The chapter showed up in big numbers to Advocacy Day, meeting with the many local lawmakers and welcoming new advocates to the flock. Volunteers also made the journey this summer to Emerald Isle to help monitor the resident Least Tern colony. Before the pandemic, Wake Audubon continued to spread the word about Chimney Swift conservation and organized an event at Transfer Co. Food Hall in Raleigh[BK2] last fall to commemorate a protected swift roost, including a guest appearance and speech from North Carolina First Lady Kristin Cooper.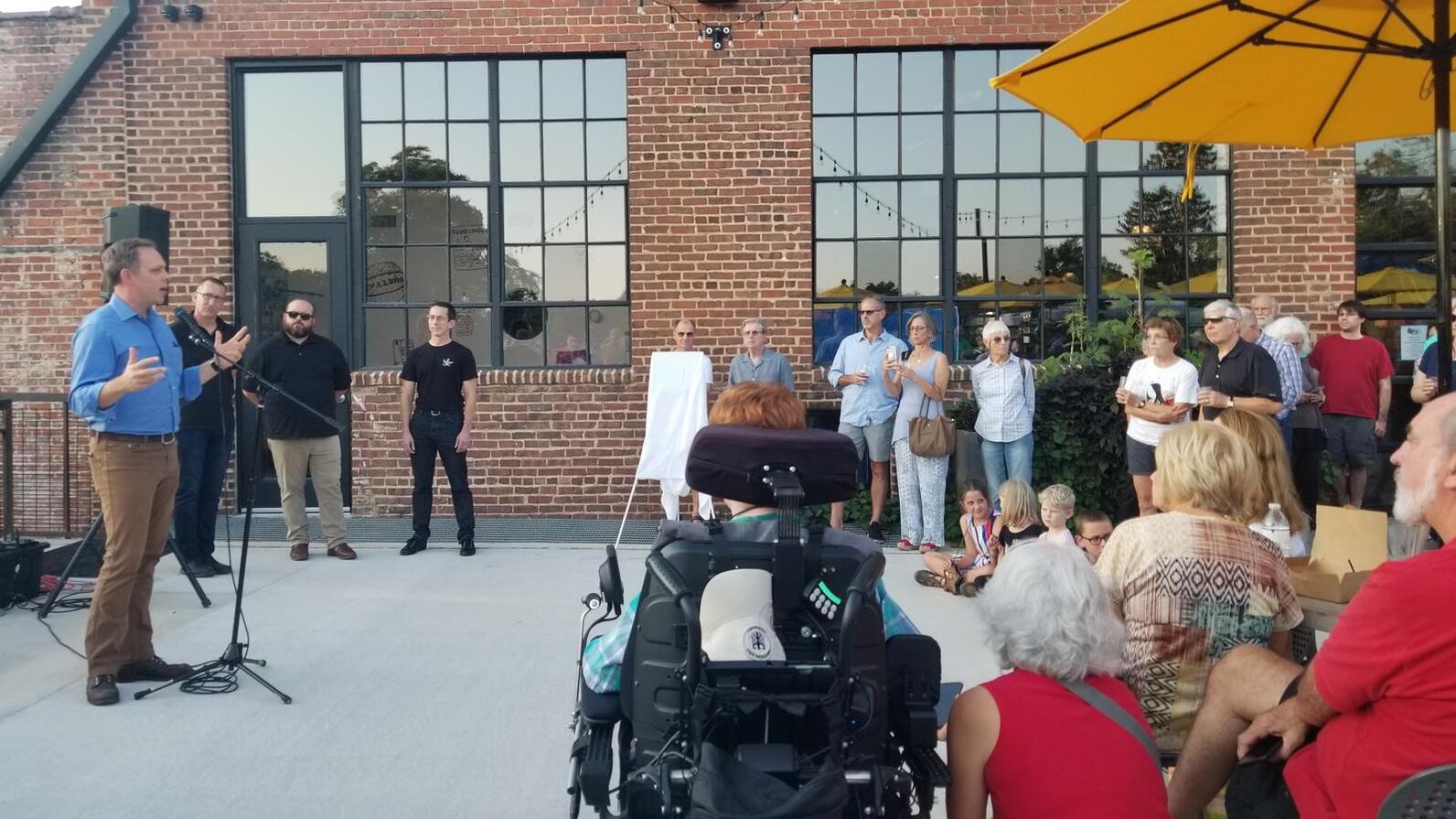 Cape Fear Audubon is stepping up its advocacy! The chapter has dedicated a board member to be in charge of all advocacy activities. Cape Fear Audubon is also adapting to the times by filming its annual Discover the Wonder of Birds event, instead of hosting it in person, and will share the program virtually with local school children. The chapter is launching a new, modern website as well and has successfully made the switch to virtual events, hosting many engaging presentations this summer.