In the gap between the crowded development of Wrightsville Beach and the blue waters of Masonboro Inlet sits a patch of open bare sand, a habitat vital to our beach-nesting coastal birds.
The 4-acre sanctuary is the most accessible and visible throughout our network of coastal sanctuaries, which makes monitoring for disturbances during nesting season all the more important. That's why Volunteer Coordinator Marlene Eader and Coastal Biologist Lindsay Addison developed the Wrightsville Beach Bird Steward program in 2013.
For 10 years, volunteer Bird Stewards have dedicated their time and energy educating the public about coastal birds that nest on the open sand, right next to one of our state's busiest beaches. Along the way, we've built a community of bird lovers who come back year after year to volunteer.
"In many ways, Bird Stewards are on the front lines for Audubon," said Eader. "They are out there having one-on-one conversations with people every day, exposing them to the wonders of bird migration and of beach-nesting birds and the challenges they face."
Ten-year Bird Steward Mary Austin Smith remembers the first time she met Marlene. It was a summer day shortly after she retired as a medical professional, and she was walking down the beach with a pair of binoculars in her hand.
"Marlene came up to me and started talking about the amazing birds I was seeing," Mary Austin Smith said. "I told her I had just retired and didn't know what I was going to do with all my free time, so she suggested joining her small group. I said yes immediately and am so grateful that I did."
The Bird Stewards on the beach contribute directly to nesting success. Many like Mary Austin Smith have joined the ranks over the years. Since 2013, we've had an average of 55 Stewards per year, led over 150 bird walks, and helped usher thousands of baby birds into the world. Twenty-one Bird Stewards have been participating for more than five years and three have been stewards all 10 years.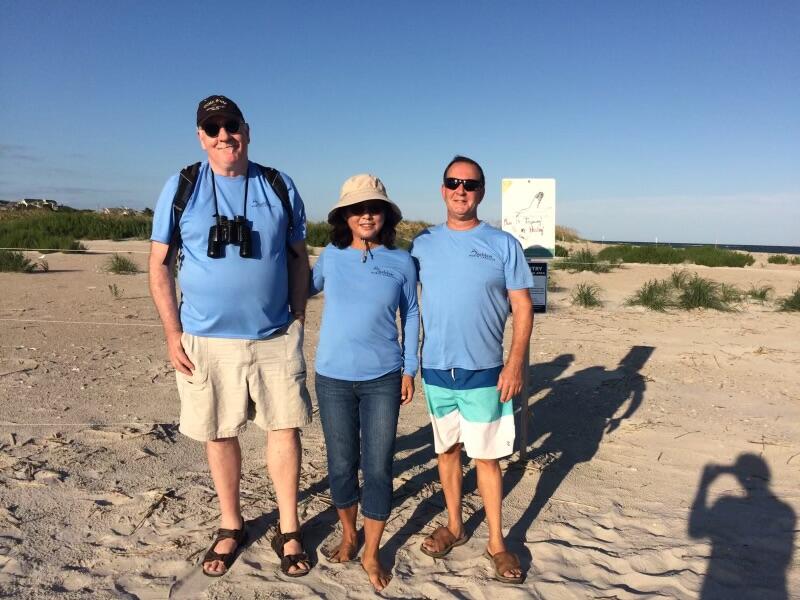 Altogether, Wrightsville Beach Bird Stewards have donated over 21,000 hours of their time since 2013 connecting people with our coastal beach-nesting birds. According to a report by Independent Sector, the 2023 estimated value of a volunteer hour in North Carolina is $29.86 per hour which totals a value of over $600,000!
Over the course of all those hours, Marlene and her flock of stewards have learned many lessons on how to best engage people on the beach. Bird Stewards make themselves visible with specially designed t-shirts and a smile! A short conversation will start with an interested beachgoer curious to know where the birds came from and what they are. The Bird Steward approach is to simply introduce folks to beach-nesting birds. Even to Wilmington natives, coastal waterbirds often go unnoticed. It's the steward's job to lend birds their voices.
"Our goal isn't to lecture people about the birds nesting in the posting," Eader said. "But to simply be approachable and answer people's questions. If we do it right, our conversations lead to a deeper understanding and appreciation for our coastal birds."
According to Eader, the most common questions Stewards get are, "What are those birds, why is the area posted, and do they mate for life?" The answers are more complex than you might think.
The topic of mating for life is a little more complex. Often times birds may have more than one mate during the breeding season, depending on nest success and chick survival, but whether or not two birds will mate again the next year is something that bird banding and resighting can help us answer.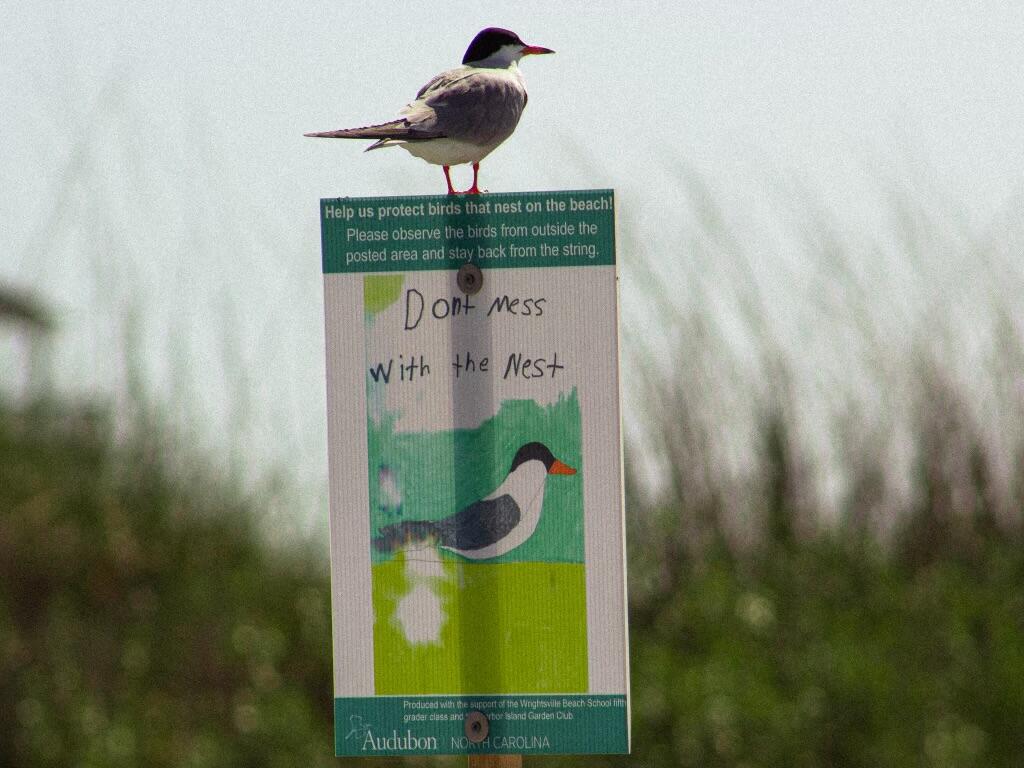 Fifth-grade students at Wrightsville Beach Elementary have chipped in by making signs for the sanctuary, with assistance from Addison and Eader. The effort began in 2010, when the two partnered with the school's Marine Science Coordinator and has continued thanks to the support of the Harbor Island Garden Club, which sponsors the signs.
"Fifth-graders are extremely curious and eager to help birds like American Oystercatchers after Lindsay's visit to their class," Eader said. "It's amazing to see their artwork and talent for communicating important messages on our posting at Wrightsville Beach and know that it will be seen by members of their own community."
Beyond the posting, life abounds
Stewards get the unique opportunity to observe our coastal birds through important life cycles from breeding to hatching to raising young. They also get to share that experience with curious passersby.
"From courting and nest building to watching a pair take turns incubating the eggs and hatch chicks, it's amazing to see the whole breeding process from start to finish," said Smith. "The interest and questions from beach walkers have also kept me coming back each April."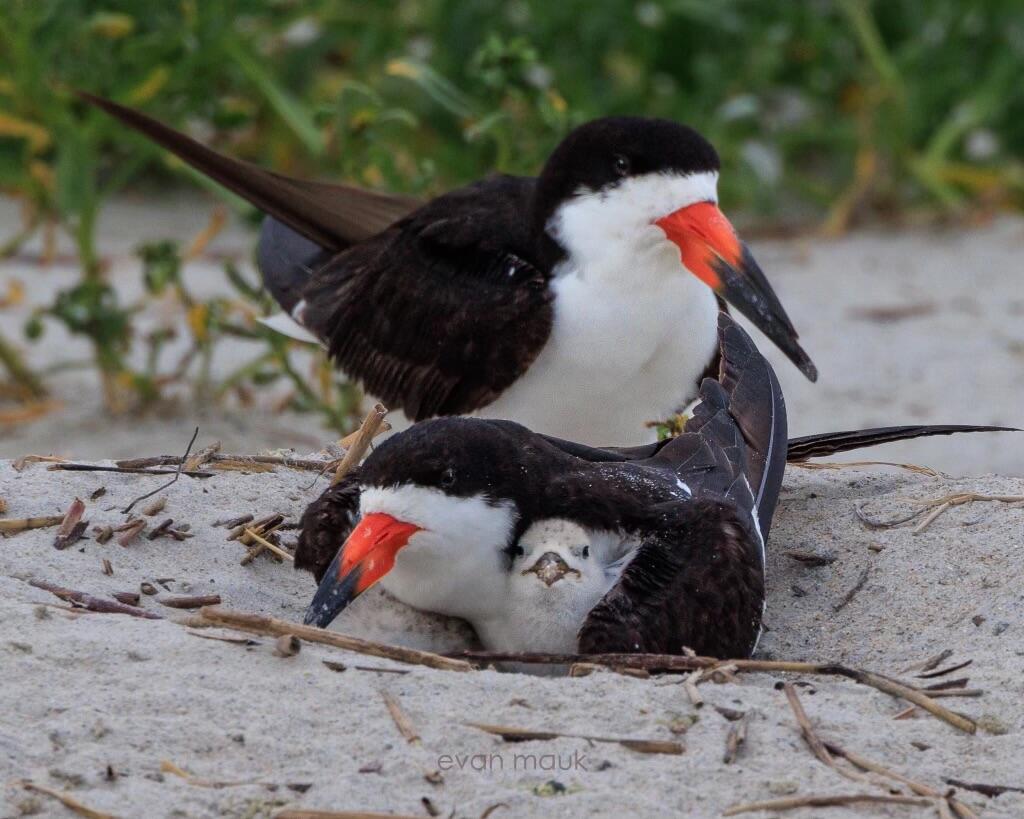 As part of the Bird Steward program, Eader also coordinates free bird walks every Monday morning at 9 a.m. from May 1 to August 15 on the south end of Wrightsville Beach. These walks are open to the public and give community members the opportunity to learn more about birds and get a closer look using binoculars or a spotting scope.
"Watching the birds at first light is my favorite thing about being out at the posting in the morning. Every week there is something I've never experienced before," said first-year Bird Steward and retired professor Joan Aitken.
The walks often inspire new birders and connects people to broader-scale environmental issues facing birds, from increased development to water and air pollution.
Our Beach Stewards are incredibly passionate people who strive to be approachable, knowledgeable, and kind. They lend their time and voice to our coastal waterbirds so that they can return to our state and raise their young each year.
From everyone at Audubon we want to thank all of our past, current, and future Bird Stewards for everything that they've done to help us continue our important work.
"I moved here not long ago and knew nothing about these particular birds," said Aitken. "I now have a deeper love for the ocean and nature because of this experience."
Here's to the next 10 years of the Wrightsville Beach Bird Stewards program!