A record number of Audubon North Carolina members descended on Raleigh March 26 to meet with lawmakers and speak up for birds as part of the organization's third annual Lobby Day. The bird advocates ranged from long-time members to college students engaging with Audubon for the first time.
In total, more than 60 members plied the corridors of the General Assembly, holding 70 meetings with legislators from both parties. Participants represented Audubon's politically-diverse membership of 30,000 people across North Carolina, but their message for lawmakers was unified: by safeguarding birds, we can create a better future for wildlife and people.
"This is our largest Lobby Day ever," Audubon North Carolina Executive Director Andrew Hutson told members at the beginning of the day. "We've never had such great participation from the mountains to the coast and it will make a difference. By traveling so far and by your numbers, you are sending a powerful message to lawmakers that our issues matter."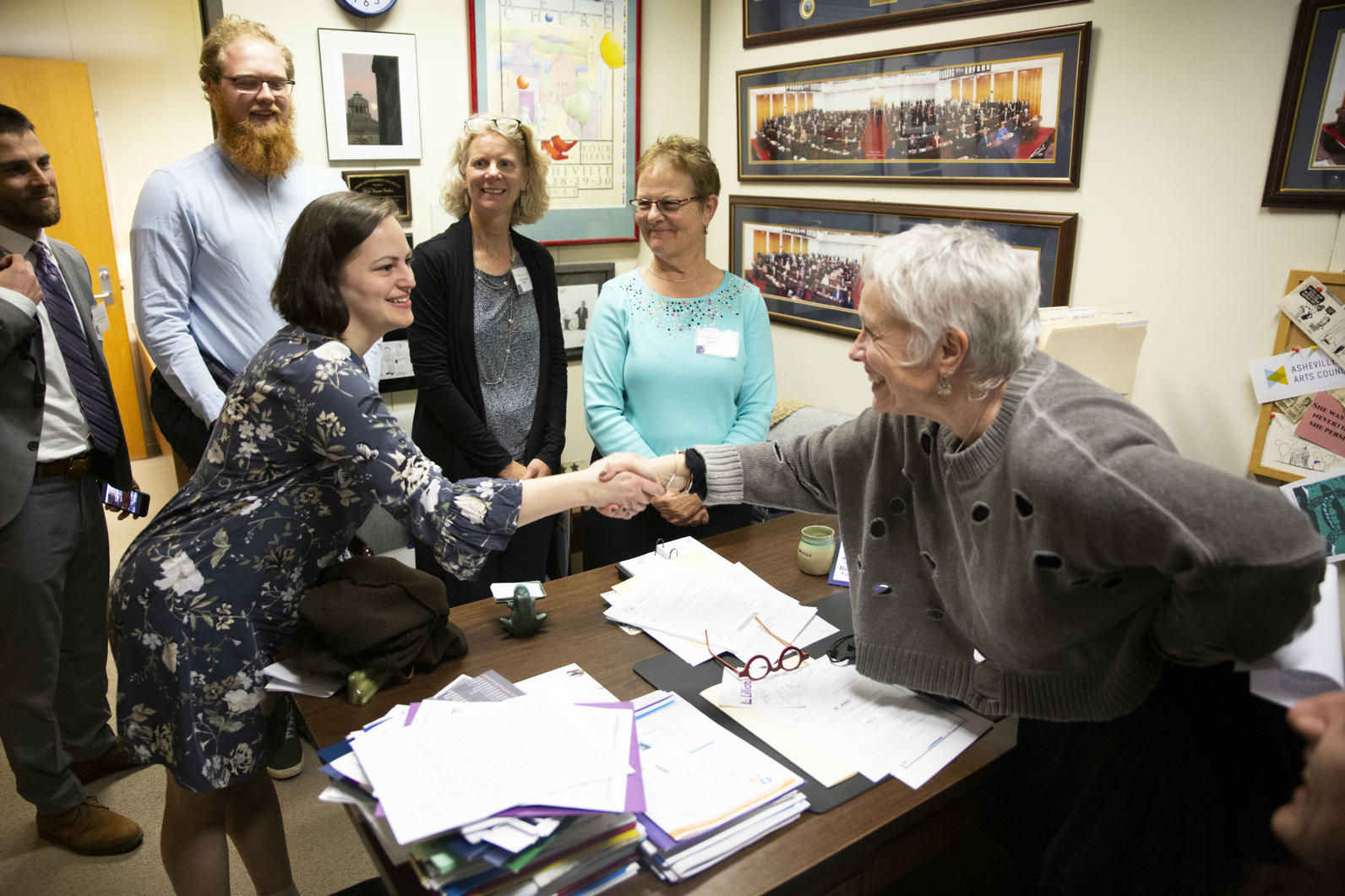 In meetings throughout the day, members built relationships with lawmakers while educating them on Audubon's legislative priorities:
Increase funding to three state conservation trust funds. Audubon is partnering with the Land for Tomorrow coalition in support of increased funding to help conserve land and protect North Carolinians from future hurricanes and extreme weather events.
Manage land for wildlife and control threats of invasive plants. Gov. Roy Cooper included $2.5 million in his proposed budget for a new competitive grant fund to control invasive species and restore native plants. The program was born out of Audubon's own grassroots network, coming to us from long-time member Debbie Shetterly, of High Country Audubon. Audubon supports doubling Gov. Cooper's proposed initial investment in the fund to $5 million.
Expand bird-friendly clean energy. Duke Energy is considering a sweeping spending plan that could result in higher rates for customers and not enough investment in clean energy. Audubon opposes giving Duke Energy a blank check and is asking the state to ensure proper oversight of grid spending.
Safeguard our coast. Audubon supports hurricane recovery and coastal resiliency investments in floodplain buyouts, marsh restoration and barrier island protection.
Delivering these messages was a rewarding and sometimes hectic task for Audubon members. In the office of Buncombe County Rep. Susan Fisher, a dozen bird advocates from the mountains crowded around the legislator's desk to talk about the importance of clean energy development and conservation funding for birds.
In a nearby quiet corner office, Grandfather Mountain Stewardship Foundation Executive Director Jesse Pope sat down with McDowell County Rep. Josh Dobson to discuss the history of the Clean Water Management Trust Fund, which has helped protect Grandfather Mountain and critical bird habitat across the state.
Down the hall, a gaggle of Audubon members filed into the office of Henderson Rep. Chuck McGrady, last year's winner of a prestigious Audubon award. They spoke with McGrady about the new competitive grant program aimed at controlling invasive species and restoring native plants to gamelands, parks and greenways.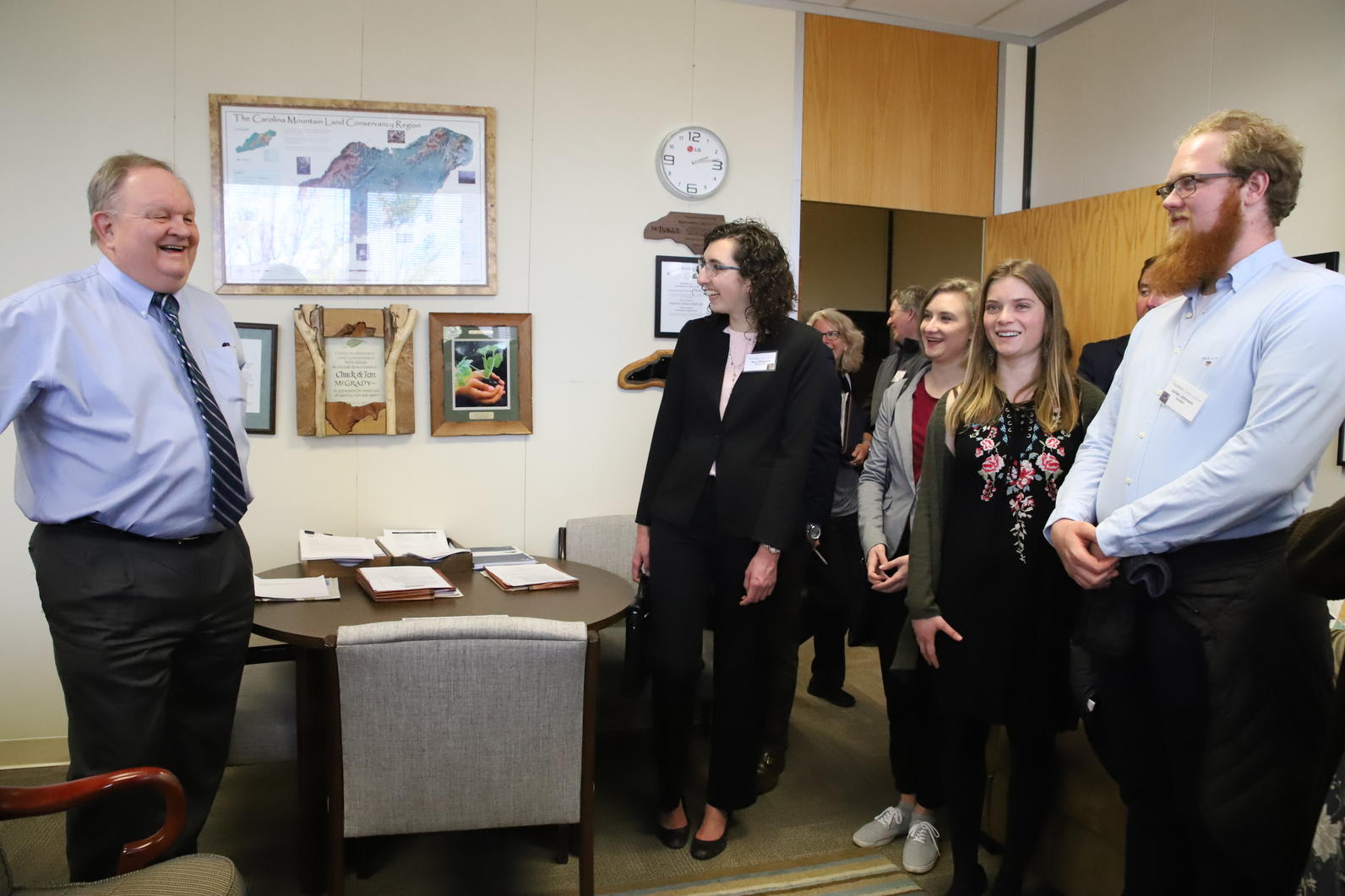 Among the Audubon members in McGrady's office was Appalachian State University Senior Riley Visser, part of the school's new student chapter. Visser, a biology major, was a first-time participant in Lobby Day and anticipated intimidating meetings with powerful politicians, but that perception quickly changed as she sat down with lawmakers face-to-face.
"A lot of the representatives and senators that we talked to all made the point that they really value bipartisan legislation, that they want to work with both sides," Visser said. That is where Audubon fits in, she said.
Birds provide common ground where it otherwise might be difficult to find, a critical component of moving policy forward. "When you have bipartisan support, politics aren't skewing what you want to get done," Visser said. "We're getting it done for the birds and for the environment." Visser was one of ten students from UNC Asheville, Appalachian State and Lees-McRae College who participated in Lobby Day.
Audubon members also paused to thank the people who have already been advocating for these issues at the General Assembly. Earlier in the day, Audubon North Carolina named former Rep. Nelson Dollar of Cary the winner of the 2019 T. Gilbert Pearson Outstanding Lawmaker Award. Dollar was recognized for his leadership in growing the state's conservation trust funds and fostering the development of North Carolina's clean energy economy, efforts critical to protecting birds.
Audubon North Carolina's inaugural Clean Energy Champion Award went to Ivan Urlaub, Executive Director of the North Carolina Sustainable Energy Association. Urlaub was recognized for his leadership over nearly two decades to help transition the state's energy economy toward a cleaner future, including his work on securing passage of North Carolina's Renewable Energy Portfolio Standard. The state's energy standards have helped usher in a wave of solar development, cutting down on carbon pollution that is harmful to birds. North Carolina is the only state in the Southeast with a renewable energy portfolio standard.
Lobby Day culminated with the high drama of a legislative committee hearing that led to a new measure aimed at saving energy and protecting migrating birds. As the House Public Utilities and Energy Committee discussed a bill that would put new energy efficiency requirements on state buildings and universities, Rep. Jason Saine, of Lincoln, proposed an amendment that requires lights of buildings to be shut off when they aren't in use.
The amendment saves energy and taxpayer money, but it also protects migrating birds that can be knocked off course by the glow of artificial lights at night, often colliding with buildings. We are happy to report that the committee supported the amendment and that the bill is now headed to the entire House for consideration.