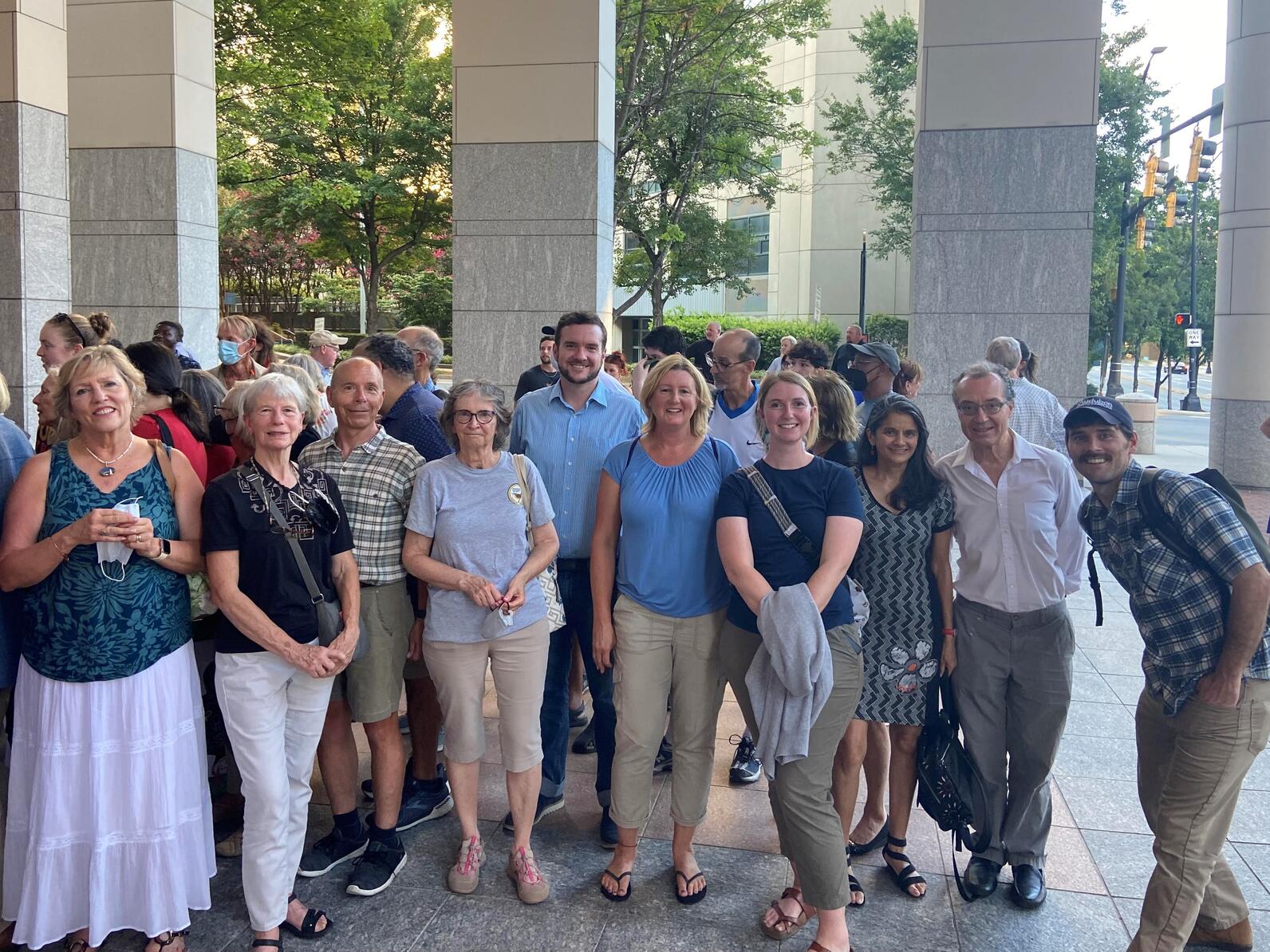 Thanks to HB 951, a bipartisan energy bill passed by the N.C. General Assembly last year, North Carolina is among only a dozen states requiring carbon emissions reductions at the speed and scale necessary to avoid the worst impacts of climate change. The legislation directs the N.C. Utilities Commission and Duke Energy to develop a Carbon Plan that achieves reductions goals.
North Carolinians got the first look at Duke Energy's proposed Carbon Plan in May, and multiple opportunities to weigh in this summer. Last week, the incoming president of Audubon North Carolina's state advisory board, Mary Abrams, spoke on behalf of Audubon and 3,787 petition signers at a public forum conducted by the N.C. Utilities Commission via webinar.
Mary Abrams' testimony to the N.C. Utilities Commission on August 23
I am incoming president of the advisory board to Audubon North Carolina, a state office of the National Audubon Society, and am speaking today on behalf of the organization.
Audubon is a century-old conservation organization dedicated to protecting birds and the places they need. Birds serve as environmental indicators. We look to the birds to know how the environment is faring and what it might mean for us. Right now, birds are telling us we need urgent action on climate change. From rising seas on our coast, to heat waves and stronger storms, the same things that threaten birds also threaten people.
That's why we are engaged on the Carbon Plan and why I am here speaking today.
We appreciate that North Carolina has made real progress on climate and clean energy. Last year, we had bipartisan agreement by our state leaders that we need to quickly and drastically reduce carbon emissions.
Just last week, the President signed the historic Inflation Reduction Act into law, making it easier for utilities like Duke Energy to quickly and affordably transition to clean energy, and the Carbon Plan is our chance to make sure this happens.
We have arrived at a huge moment for climate progress, and now the ball is in your court to make sure we do this right.
Duke Energy's Carbon Plan makes some strides toward meeting the state's carbon reduction goals. But on the whole, it falls far short of the kind of action we need to meet the moment.
We have several concerns.
As of today, 3,787 Audubon supporters and ratepayers in the state have signed a petition stating that, while the Carbon Plan is a step in the right direction, it still falls short and will jeopardize our progress on climate without major changes. Audubon and the undersigned North Carolina ratepayers urge the N.C. Utilities Commission to adopt a Carbon Plan that includes:
Even more robust and rapid investments in clean energy, with no new fossil fuel development. Fossil fuel plants and pipelines are financially risky and can leak methane, a potent greenhouse gas.
More investment in offshore wind energy, with responsible siting and effective stakeholder engagement.
Solutions to make our energy transition just and equitable, so no one is overburdened by energy bills they can't afford.
Clean energy investments that deliver carbon reductions no later than 2030. When it comes to climate action, every year counts.
I'm hopeful you'll weigh all of the evidence, the scale of the climate crisis, and the many voices speaking up for a better Carbon Plan.
Thank you for your time.
Mary Abrams
Incoming President, Audubon North Carolina Advisory Board
Audubon's vision is a clean energy economy that reduces the climate impacts for birds and people, and we're working on several fronts to make that happen. We're advocating for responsible offshore wind energy on the North Carolina coast, and will continue to speak up to make the Carbon Plan better as the December 31 deadline for the final plan approaches.