Every summer, Audubon North Carolina seeks bright minds to help support its research and conservation efforts. These biological technicians are instrumental in preserving the delicate, waning habitat on the beaches, marshes, and sanctuary islands on the North Carolina coast. The data they collect is vital in helping to defend our beloved birds for years to come.
This year, our two summer biological technicians are Dalton Jackson and Anna Parot. Continue reading to learn more about these budding young scientists:
Meet Dalton Jackson
No stranger to the southern part of the North Carolina coast, Dalton is a 2016 graduate of UNC-Wilmington with a B.A. in Environmental Sciences and a minor in Biology. His passion for wildlife and the environment is evident as he was the founder of the Seahawk Audubon Society at his alma mater. For the summer, he will be mainly focusing his research efforts on Masonboro Island working alongside the North Carolina Coastal Reserve.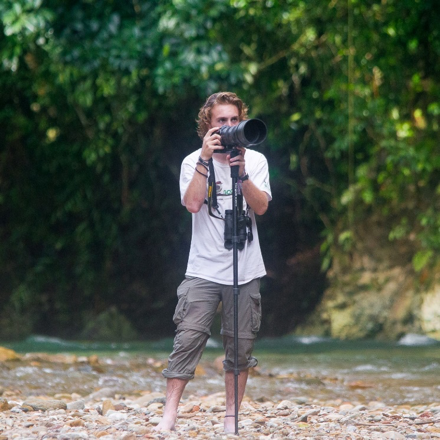 Dalton's love for the outdoors and conservation stems from his childhood. He has always loved being outside and has always had a hunger to learn as much as possible about the natural world. His grandmother inspired him to learn more about animals through teaching him to be a good steward of the Earth and by piquing his interest through showing him educational programs on Animal Planet and other networks. During his time during and post-college, Dalton has been able to travel often which has further taught him the value of conservation and protecting the beautiful gems that we still have left to hold dear.
Just in the time since he started college, he has noticed some drastic changes to the barrier islands, "On Masonboro Island itself, the waves flow over the entire island when there is a lot of rain. If action is not taken soon, some of our most important and beautiful natural areas will be thrown to the wayside and left to rot," said Dalton.
After being offered the summer bio tech position with Audubon NC, it was an opportunity that he could not pass up. Not only does he get to spend time in one of his favorite places, he looks forward to learning about shorebirds, getting to spend lots of time outside in the field, and helping to make an impactful difference for the wildlife he cares about.
"Work like what I am doing is very important in understanding the animal populations we have. With a better understanding of nesting habits and population dynamics, we can know where to best apply ourselves in conservation efforts," he explains.
Working as a bio tech is not your traditional 9-5 summer job. Dalton's week consists of being outside much more than inside. Around seven hours of his day are spent outside at the beach counting birds or looking for nests.
Dalton hopes that this summer experience will allow him to achieve his goal of working in the conservation field. Although he's not completely sure what he wants to do, his dream goal is to be a wildlife photographer.
Meet Anna Parot
A North Carolina native, Anna received a B.S. in Marine Science with a Biological Concentration and a minor in Biological Sciences from NC State in 2015. This summer, her focus will be nesting birds and sea turtles on Lea-Hutaff Island on the southern part of the NC coast.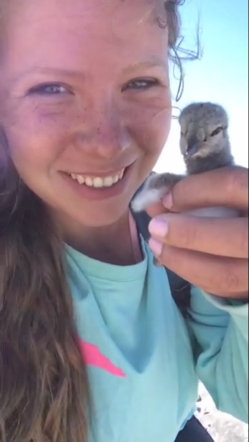 As a child, Anna never heard about rising sea levels and the other ill effects of global warming. It wasn't until she attended college that she was learned that what we as humans are doing right now will affect the environment for generations to come. In school that she realized that it is this generation's duty to stand up and make a change for a future.
After working with the NC Coastal Reserve during the summer of 2016 in a partnership with Audubon NC's staff, it was only natural that she wanted to work with Audubon NC this summer as she wanted to expand her experiences on the coast.
Anna's typical week will often vary but usually she will spend two to three days on Lea-Hutaff Island completing checks for shorebird nests and sea turtle crawls. The other two days will be used for other projects being completed or catching up on data records and management. The part of this summer position that she is most looking forward to is finding each of the different chick species on Lea-Hutaff Island, while she is also excited to gain experience handling boats as well as bird identification and surveying.
"Ultimately, my mission in life is to educate others, learn about these changes and how it will affect wildlife, and contribute to the solution by finding ways that we can combat these problems," said Anna. Although she's not certain in exactly what way she wants to use her passion to make a positive impact on the environment, she's dedicated to conserving the coast and loves working outdoors in the field and collecting data.
Without donors, much of this conservation work would just be a dream, which is why both Anna and Dalton are so thankful for their support. The ocean and coastal areas are always changing which can make coastal conservation difficult. Funding research on these changes and how they affect the biological makeup of the coast can help us make informed decisions going forward to reduce these impacts. We are so lucky to have such amazing young talent this summer and we can't wait to see what amazing things they accomplish!