The Donal C. O'Brien, Jr. Sanctuary and Audubon Center has become a destination for conservation research. This Research and Education campus offers a diverse mix of habitats where scientists observe wildlife, seek to understand their needs, and work to develop new management techniques to help birds, animals and plants thrive within a unique 2,600-acre freshwater marsh complex.
From Nuthatches to Tree Swallows
Mark Stanback, PhD, Davidson College Professor of Biology and long-time friend of Audubon North Carolina, chose the Sanctuary for his latest monitoring project compiling data from Tree Swallow nest boxes.
Stanback's observations of the Brown-headed Nuthatch nesting habits helped inspire our Home for Nuthatches project, prompting 10,000 new Brown-headed Nuthatch nest boxes to be installed across the state.
The Sanctuary: A Win-Win for Birds and People
With its prime marsh habitat along the Currituck Sound, the Sanctuary has a healthy population of breeding and wintering Tree Swallows. Over the last couple of decades, researchers have begun to document changes in many birds' behavior and shifts in their ranges due to the changing climate.
Unlike many other species that have expanded their breeding ranges northward as a result of climate change, Tree Swallows have been expanding their range southward. Historically considered a northern bird, Tree Swallows began nesting in the piedmont about 30 years ago and have recently "invaded" coastal plain areas. As they have moved south, they are encountering a longer breeding season, allowing some individuals to produce two back-to-back broods (a feat unheard of in their historical range).
Southern breeding also appears to be reducing their migratory costs, which allows these southern-breeding birds to increase in number even though their fledging success (number of chicks leaving the box) is low compared to northern tree swallows. It seems that females that lay larger clutches (number of eggs) have trouble raising that many chicks, suggesting a mismatch between historical clutch sizes and their new breeding sites.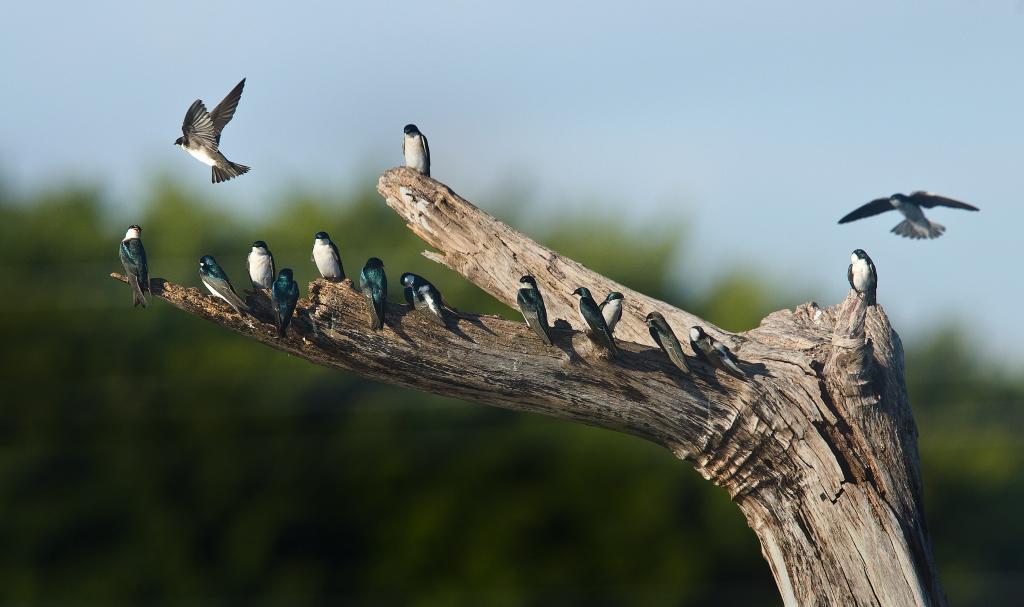 The Tree Swallow nest boxes have become a natural part of the grounds placed on poles over two areas of the sanctuary. The boxes serve as a visual reminder that this place is dedicated to protecting birds and their habitats, and it also provides visitors with a unique opportunity to experience first-hand conservation efforts. In the future, Stanback hopes to engage visitors and other researchers in the project - looking inside active bird nests, holding chicks, helping band chicks, and understanding how scientific data is collected.
Stanback started the project in 2015. His goal at the Sanctuary is to document clutch size, hatching success, and fledging success in these birds that are, for the first time, breeding on their wintering grounds. By comparing these results with those from other southeastern sites (and northern sites), he hopes to understand how Tree Swallows are adapting to their new breeding habitat. Stanback is also working with researchers at Cornell University to possibly tag coastal breeding Tree Swallows to document whether the birds wintering on the NC coast are breeding here (and vice versa).
During the first year, 30 boxes were installed at the Sanctuary in Corolla with three successful nests. Stanback is confident that 2016 will produce a more productive breeding season.
More volunteers are needed to monitor and collect data. To become a volunteer, contact Center Director Robbie Fearn at rfearn@audubon.org.
To learn more about the research and education opportunities available at the Sanctuary visit our website here.