Cherokee Scout Reservation, a part of Boys Scouts of America's Old North State Council, was recognized at the Annual Summer Camp Kickoff for their contribution to bird-friendly forest management as a part of the Forest Landbird Legacy Program. This program is a partnership between Audubon NC, US Fish and Wildlife Service, NC Wildlife Resources Commission, NC Forest Service, and Natural Resources Conservation Service. Audubon is excited to bring our experience with Atlantic Flyway priority forests and bird conservation to such a knowledgeable partnership of organizations and to share these resources with North Carolina's landowners.
Working with certified forester David Halley of True North Forest Management Services, a plan was devised to promote native mast-producing trees in a closed-canopy forest. Maintaining contiguous hardwood forests, particularly in the Northern Piedmont, is important to interior forest breeding, migrating, and wintering bird species. Working with foresters and landowners to implement current research that demonstrates oaks can be regenerated in forests where the largest and oldest "legacy" trees remain intact, is a win for both birds and people (Clark and Schweitzer 2016).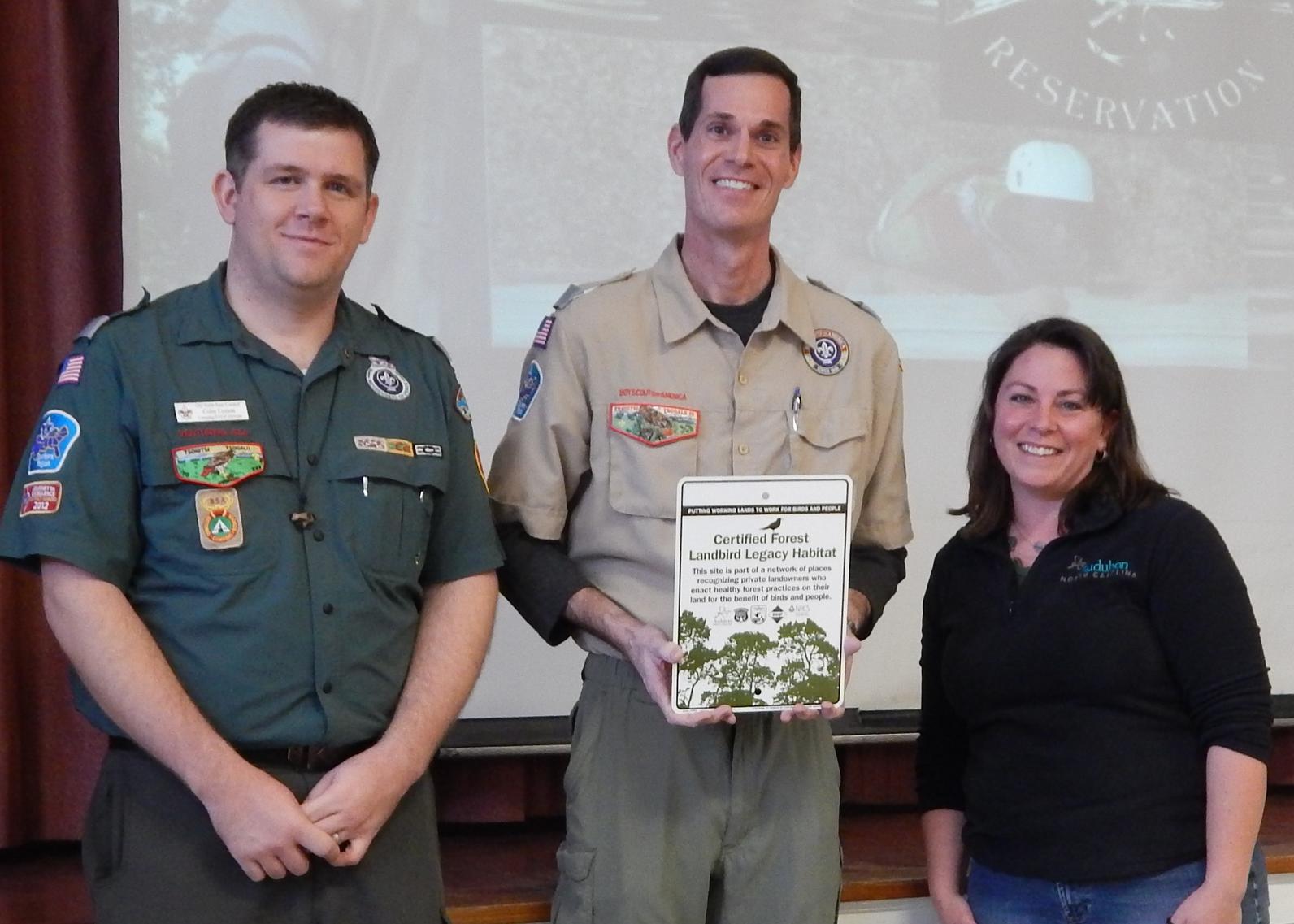 Ed Martin, Scout Executive/CEO, and Colin Lemon, Director of Camping and STEM Programs, received the honor in front of a full house of council leaders and scout families in Greensboro. They enthusiastically pledged their dedication to this 10-year program and even initiated conversations to enact additional bird-friendly practices at their other camp facilities.
The Boys Scouts are not new to natural resources conservation. Their mission incorporates the "Green to Deep Green" philosophy where sustainable environmental stewardship moves beyond education into regular practice. Cherokee Scout Reservation has also received the Forest Stewards Guild Model Forest distinction and is one of only two sites in North Carolina represented by this nationwide program promoting long-term conservation of working forests. The Reservation is also a part of the American Tree Farm System, which works with and provides resources for privately owned woodlands that are vital to our country's clean water and air, wildlife habitat, recreational activities, and producing the jobs, wood, and paper products we all need. That's not too shabby for 1,700 acres in Caswell County! Audubon is thankful to all who helped make this collaborative effort a reality.