Anyone who regularly reads our newsletter, blog, or attends our programs knows that Audubon North Carolina has spent a lot of time and effort over the last few years working to learn about and conserve Golden-winged Warblers (GWWA). And we are not alone. The Golden-winged Warbler Working Group (GWWAWG) was established in 2005, by more than 75 partners, to dig deep into the science and life cycle of this species. Learn about all the work of the GWWWG and what this collaborative effort has done to protect this tiny gem of our forests.
Early this year, Curtis Smalling visited our partners in Nicaragua to continue work to study Golden-winged Warblers and protect their wintering habitats. Please welcome Director of Land Bird Conservation Curtis Smalling.
I had the great fortune in late January to visit our partners in Nicaragua for a working visit to conduct Golden-winged Warbler work. I was met by our partner Lili Duriaux Chavarria at the airport and whisked off to El Jaguar where she and her husband Georges manage a private reserve and coffee plantation. During the visit, I was able to work with Dr. Amber Roth of Michigan Tech University to attach the latest generation of geolocators to 20 Golden-winged Warbler males.
Geolocators provide vital bird data
Geolocators are used to track and monitor the migration behavior of many priority species including the Wood Thrush and Golden-winged Warbler. The data we've collected from these tiny backpacks have helped shape conservation efforts to protect birds in North Carolina and across the entire Atlantic Flyway.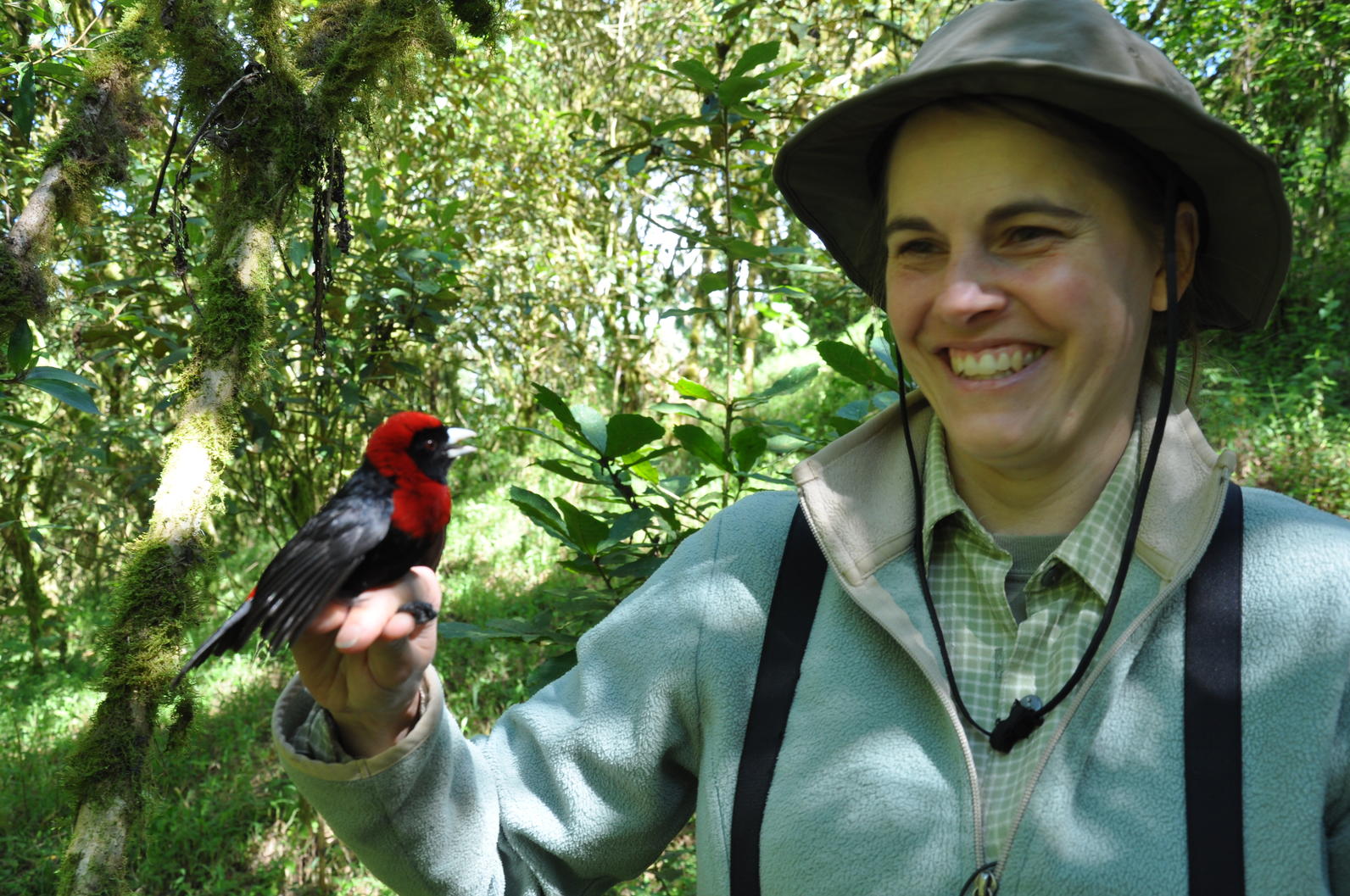 These new geolocators are very small, (<0.4 grams) and now they are finally small enough to be attached to birds as small as our 8.5 gram male Golden-wings. These small backpacks sit on the back and are held on with leg loops. The geolocator does not transmit any data but rather records it. We'll retrieve the information from the geolocators physically next year when (hopefully!) the birds return to the wintering location at El Jaguar.
The geolocators record the exact time of sunrise and sunset. This data tells us within about 100 kilometers where the bird is on any given day. We have learned a lot from these devices for a variety of species including Wood Thrush, shorebirds and of course Golden-winged Warblers. George and Lili had deployed 70 of these devices on Wood Thrush a couple years ago and retrieved data from four birds. This subset showed us where the birds wintering at El Jaguar went for the summer. Learn more on Audubon's Wood Thrush tagging project here.
A Community Effort for Widespread Bird Conservation
The visit to the cloud forests at El Jaguar was challenging at times as we had pretty wet weather throughout the visit. It was quite cool and windy for Nicaragua, but even with the weather challenges, it was a great visit. Our assistant, Moises, is a fantastic technician and very adept at setting nets in often dense vegetation. He's very good at handling birds.
Moises and I also conducted point count surveys of an adjoining farm known as La Garza.
La Garza is also owned by Georges and Lili. It's used to grow beans, raise cattle and provide other farm products to support the operations at El Jaguar.
Both farms are part of a larger reforestation project where we are partnering with American Bird Conservancy, Southern Wings and other partners. The goal is to reforest 10,000 acres of land along a corridor connecting El Jaguar with Cerro de Yali, a protected area about 30 kilometers northwest of El Jaguar. Nurseries have been established for growing seedlings, and a new forester has been hired to reach out to landowners and farm cooperatives to increase participation.
It is always a treat to see Georges and Lili and Moises, and to spend time in the beautiful countryside in Nicaragua. Our work there is important for Golden-wings, Wood Thrush and a host of other migrant species as well as high priority resident birds as well. We could not do it without the support of Audubon members like Juanita Roushdy, and Jim and Doris Ratchford, who have made multi-year commitments to help us fund the projects there.
For more information on Audubon North Carolina's work to preserve Golden-winged Warbler habitats visit our website.