Please welcome Audubon North Carolina's Bird-Friendly Communities Coordinator Kim Brand. Launched in 2013, Audubon North Carolina's Bird-Friendly Communities initiative is a partnership program involving more than 20 organizations with a vision for creating a more bird-friendly North Carolina. This vision statement guides the goals and projects of the group: "Bird-friendly communities give birds the opportunity to succeed by providing connected habitat dominated by native plants, minimizing threats posed by the built environment, and engaging people of all ages and backgrounds in stewardship of nature."
The Winterberry is one of our Bird-Friendly Native Plants of the Year for 2015. Find this and other plants at your local participating retailer.
It was love at first sight for Sandy Stinson when she saw her first Winterberry.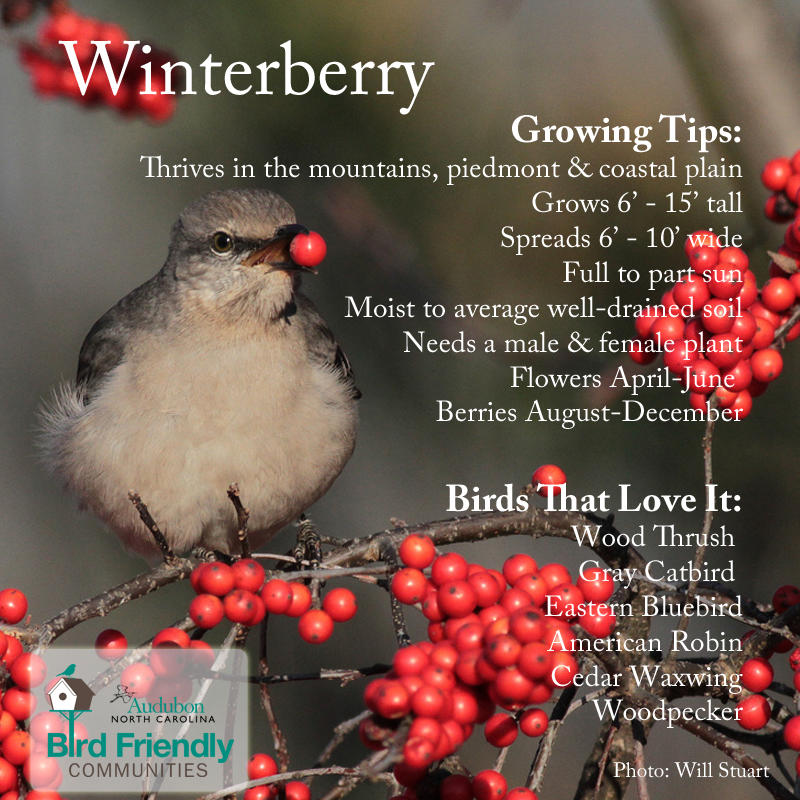 President of the Neal Place Neighborhood Association just north of downtown Winston-Salem, Sandy had rounded up neighbors to work together with Forsyth Audubon and Habitat for Humanity of Forsyth County volunteers to plant a bird garden behind the neighborhood's community vegetable garden.
The Winterberry was a surprise – a gift from Mike Garner, owner of Sedge Garden Nursery in Kernersville, when Forsyth Audubon member Betty Gray Davis picked up dozens of blueberry and elderberry plants we had ordered for the project.
"We need more of those!" Sandy, who is president of the neighborhood association, said. And I agreed. Good thing there was just a little more money left from our Audubon Toyota TogetherGreen grant.
Birds Who Love This Plant
Not only will the winterberries delight human neighbors every fall and winter, they will attract and feed a variety of birds. Wood Thrushes – our most imperiled breeding songbird in the piedmont of North Carolina – will use them to fuel up during their fall migration from eastern North America all the way to Central America. So will Gray Catbirds before they head south for the winter. Birds that brighten our winter days, like Eastern Bluebirds and American Robins, will eat the fruit on chilly days. Cedar Waxwings and woodpeckers find Winterberries irresistible too.
Unlike its iconic cousin, the American Holly used for Christmas decorations, the Winterberry loses its leaves in the fall. But that's okay, because you'll want a better view of the berries anyway.
How to Grow A Winterberry
Winterberry is native to our mountain region, piedmont and coastal plain. It produces small white flowers from April through June and bears bright-red berries from August through December. It can grow 6 to 15 feet tall and 6 to 10 feet wide. You'll need a good amount of space to fit this plant into your garden. Find a spot in full to part sun and moist to average well-drained soil. The dwarf forms of this plant don't produce fruit.
It Takes At Least Two
Winterberry plants are either female or male. To get fruit, you need a male plant to provide pollen, which bees and other pollinators will transfer to the female flowers for fertilization (many plants have both male and female flowers, but not Winterberries or other hollies).
One male can service six females, according to Dr. Larry Mellichamp, author of Native Plants of the Southeast. More helpful info from Dr. Mellichamp: Different cultivars have different bloom timing. Good pairings are the female Winter Red with the male Southern Gentleman cultivar, or the female Red Sprite and Jim Dandy or Apollo (but the Southern Gentleman just won't work for her).
If you buy plants grown from seed, plant several plants to increase your chances of getting a male and a female or buy plants that are at least three years old, when it is possible to distinguish male from female.
Winterberry made our list of Bird-Friendly Native Plants of the Year for 2015. Find this and other plants at your local participating retailer.