The Donal C. O'Brien, Jr. Sanctuary in Corolla is celebrated for its 2,600 acres of pristine marsh habitat preserved for the health of birds and wildlife. This Audubon Sanctuary is located on a barrier island between the fresh water of the Currituck Sound and the salty, sandy beaches of the ocean and may support some of the greatest eco-diversity along the Atlantic Flyway.
The Sanctuary is one of three locations along the Outer Banks that supports an uncommon ecosystem known as deciduous forest.
An Uncommon Occurrence
Deciduous forest habitat only occurs where it has sufficient protection from salt and storm damage. At the widest points of the Outer Banks, deciduous forests can safely grow in buffer zones where the trees are shielded by thick evergreen and maritime forest.
What's special about the Sanctuary's forest is the island is so narrow that only a minimal buffer zone is in place to offer protection. Finding this type of forest in this habitat is a very unusual occurrence because of the lack of protection from its biggest environmental threats: sea level rise, salt distress and severe storms.
The deciduous forest may only exist at the Audubon Sanctuary because of the long-term management of the land for hunting and wildlife protection. This long-term preservation of all the habitats in the Sanctuary have allowed a well-established evergreen forest to grow and offers close proximity to the fresh water of Currituck Sound creating a perfect buffer to protect the trees from the stress of salt exposure.
If the forest was younger, the trees couldn't get established enough to survive strong storms. If the Sound were saltier, the roots would die killing the forest from below.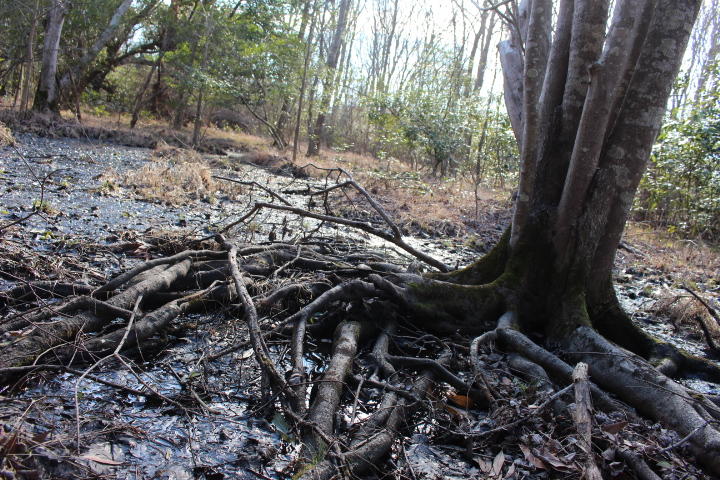 Threats Posed by Sea Level Rise
The greatest threat to the Sanctuary's deciduous forest habitat is sea level rise.
Sea level rise is pushing more salt water into the Currituck Sound. Researchers predict that over the next 60 years, the deciduous trees will suffer from salt-water intrusion – salt water coming into areas where it does not exist now. Audubon staff are looking into ways to encourage the migration of the forest upslope and away from areas that will become inundated with salt water.
Next Step in Conservation
Audubon is dedicated to managing the biodiversity of the Sanctuary to support the hundreds of species of flora and fauna already documented on site. Protecting this oasis of diverse ecosystems, including the deciduous forest, helps to provide a sanctuary birds, waterfowl and other wildlife need in the face of extreme human development along the rest of the Outer Banks.
By developing the Sanctuary into a research and education center, we can continue to protect the diversity of habitats and explore new conservation methods to preserve the deciduous forest for future generations.
Click to learn more about the programs and the future of the Sanctuary in Corolla.