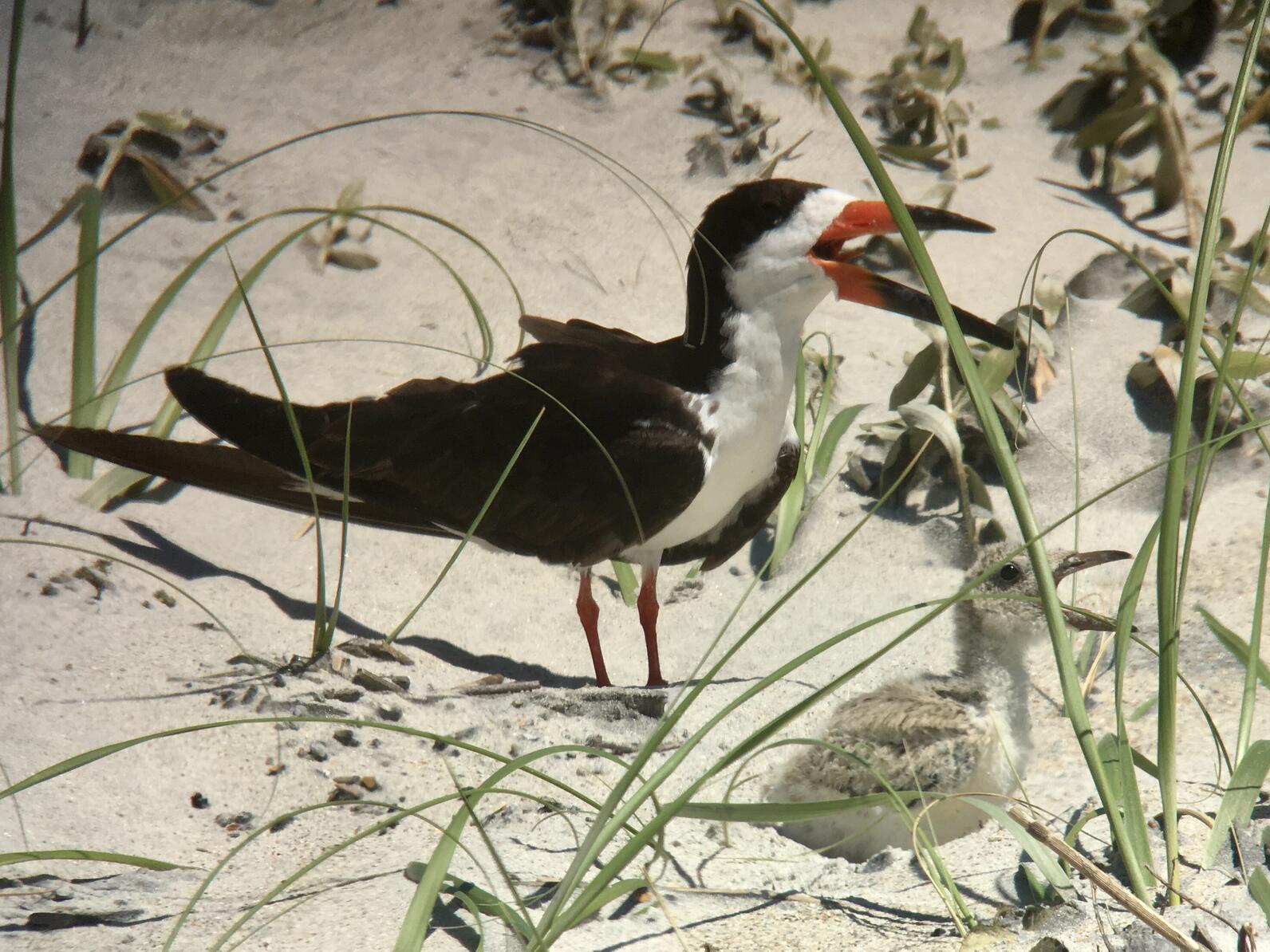 Hurricane Isaias made landfall near Ocean Isle Beach on Aug. 3, lashing the southern North Carolina coast with heavy winds and a powerful storm surge. Thankfully, Audubon North Carolina staff made it through the storm safely. Isaias was the third hurricane to make landfall in North Carolina in two years, and it came just as the National Hurricane Center updated its forecast to predict an extremely active season.
The hurricane was intense and fast-moving, arriving as night fell and departing before dawn. Communities across North Carolina are still assessing the damage and cleaning up in its wake. Rebuilding is always hard, a task made more difficult during a pandemic. Our thoughts are with those most affected.
In the days following the storm, Audubon biologists were out on the water, visiting our coastal nesting sanctuaries. Isaias was the earliest, strongest storm to hit our coast in recent memory. The result for nesting birds was a mixed bag.
Fortunately, many coastal species—birds like oystercatchers, terns, and plovers—had already fledged their chicks, meaning their young were strong enough to seek shelter and survive the storm. Other birds that were still raising newly hatched chicks didn't fare so well.
Here's what we know about the sites we manage and protect, from south to north. We will visit our more northern sites in Core Sound and Ocracoke Inlet soon.
Cape Fear River Island Sanctuaries
Audubon biologists visited the Cape Fear River three days after the storm, and it was still littered with logs and other hurricane debris.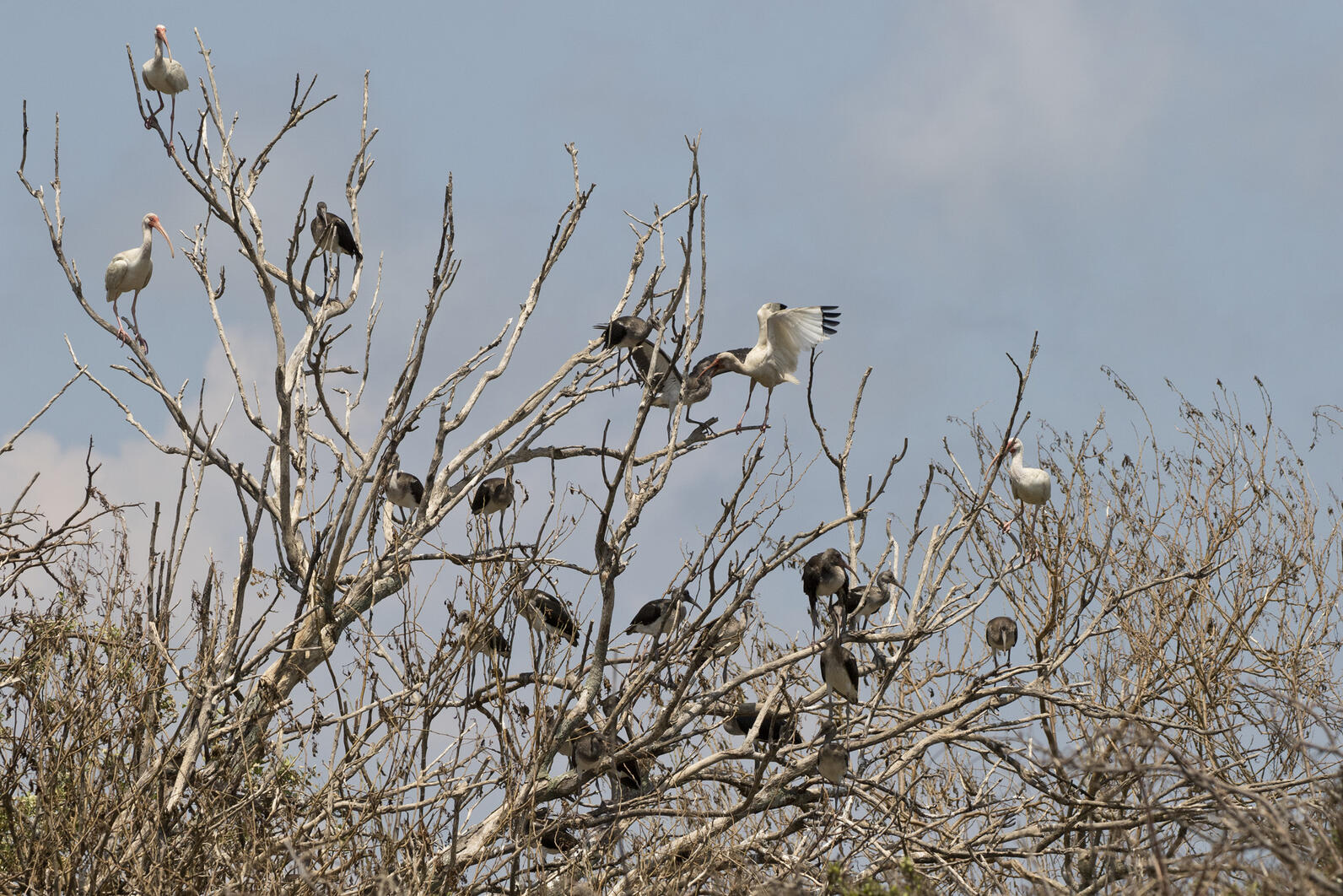 The most extreme weather to hit the river was a tornado that tracked across the southern shore of Battery Island, where as many as 20,000 breeding White Ibis nest. The tornado damaged trees on the island, twisting off the limbs of cedars and stripping the leaves off mulberry trees.
Just across the river, the Southport waterfront was severely battered by the storm, as were Southport marinas. Fortunately, no injuries were reported, but the economic damage and recovery efforts will be significant. Waiting for power to return, cleaning up tree branches, repairing broken docks and boats, and checking on community members is a laborious process that can take days or weeks after even a Category 1 hurricane like Isaias.
The good news from an avian standpoint is hundreds of White Ibis fledglings were still present on the island. Still, there are likely some casualties—Turkey Vultures were circling overhead during our visit looking for their next meal.
Battery Island is home to the largest concentration of nesting wading birds in the state. Erosion is a significant problem, as boat wakes eat away at the island's shores, resulting in dead and dying trees along the waterline. Many of these skeletons were pushed landward by, presumably, the tornado and by the brunt of Isaias coming up the river from the south.
Elsewhere on the Cape Fear River, the storm caused substantial erosion on sandy dredged-material islands like Ferry Slip and South Pelican. Many Brown Pelicans on these islands had already finished nesting, and fortunately, the pelicans still on active nests were in elevated areas and survived. However, on Striking Island, a low-lying marsh island, the nests and chicks -- the youngest on the river -- of 67 late-nesting pelican pairs were entirely wiped out by overwash from the storm.
South end of Wrightsville Beach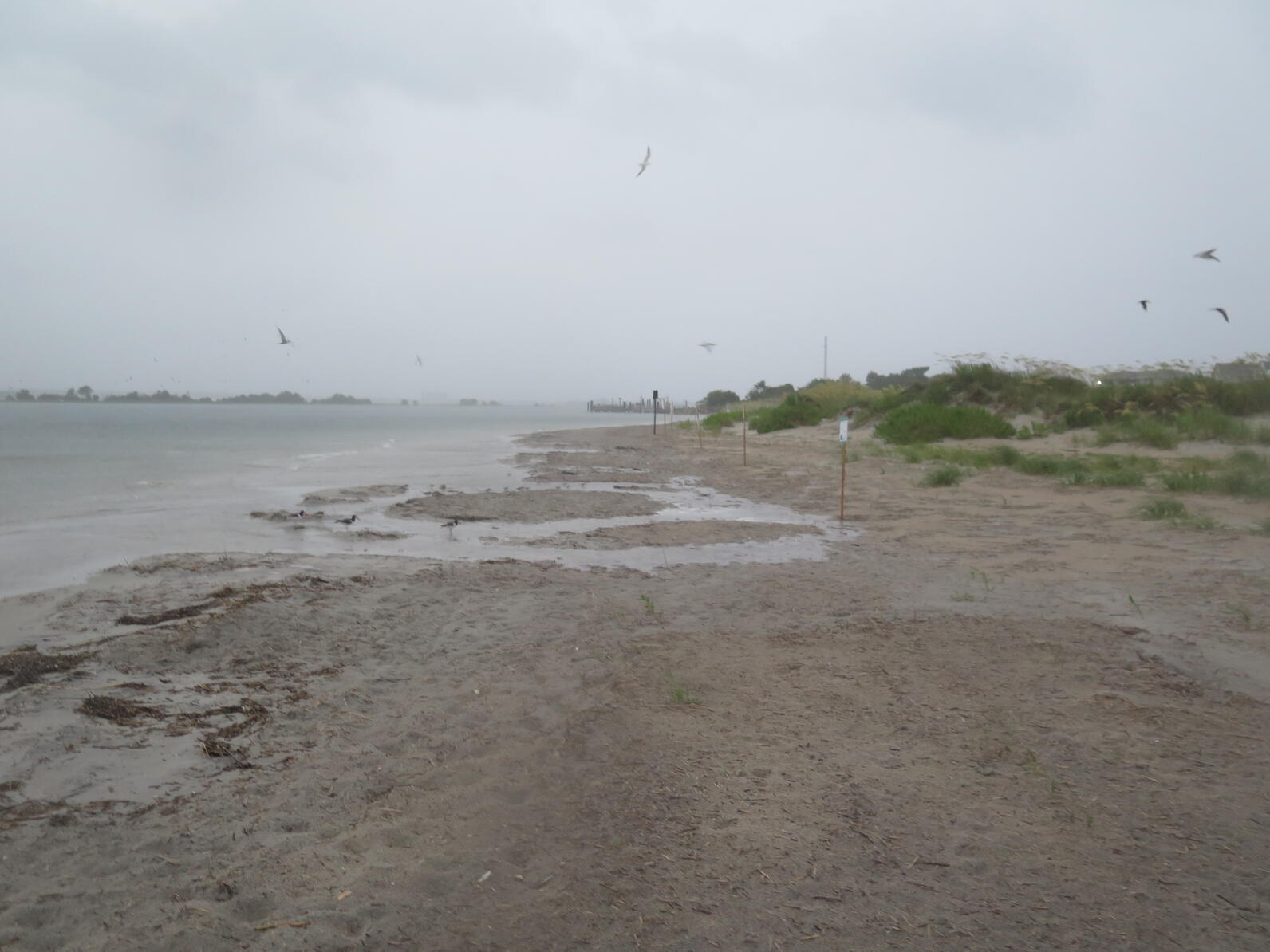 The nesting sanctuary at the south end of Wrightsville Beach was almost entirely overwashed with water from Isaias. The storm surged wiped out roughly half of the 60 newly hatched Black Skimmer chicks at the site. These skimmer pairs were nesting late because their first nests failed due to heavy rain in late May; heavy rain is among the localized threats that our changing climate poses to bird species (see Audubon's Survival By Degrees report). The chicks that survived will fledge by the end of the month. As for older skimmer chicks and fledglings, we've already begun to find some that we banded earlier this summer. Young birds that are able to fly are better able to survive extreme weather.
Black Skimmers are among the latest nesting birds on the coast, making them more vulnerable to hurricanes, which typically start threatening the coast in July and August. Other species at the sanctuary, like American Oystercatchers, had already fledged their chicks before the storm.
Lea-Hutaff Island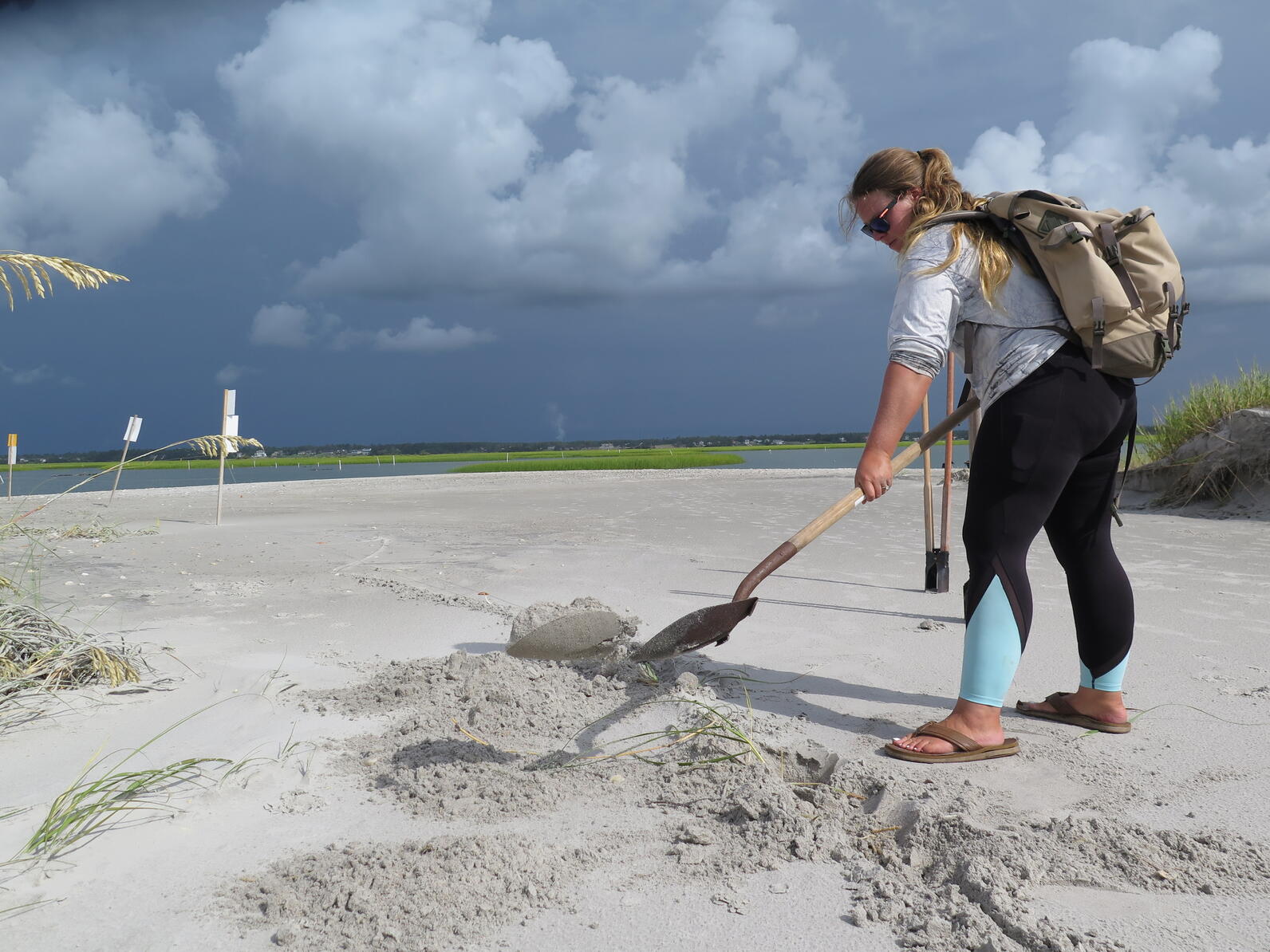 On Lea-Hutaff Island the storm surge reached the toe of the dunes, and the island saw overwash in some places, mostly in areas that are normally underwater during big storms. The 5,641-acre undeveloped barrier island is home to large colonies of nesting Least Terns, as well as other beach-nesting species like the American Oystercatcher and Wilson's Plover. These birds fledge their chicks earlier in the summer, and indeed, many Least Terns had already migrated south before Isaias arrived.
When Isaias struck, 16 sea turtle nests were incubating on the island. All of these received some overwash, but it's likely that many of these eggs will continue to develop. As each nest reaches hatching time, we'll know to what extent, if any, it was affected. Audubon staff were able to excavate and inventory the contents of three nests that hatched just before the hurricane, so we know that 379 sea turtle hatchlings made it into the ocean before Isaias.
Donal C. O'Brien, Jr. Sanctuary at Pine Island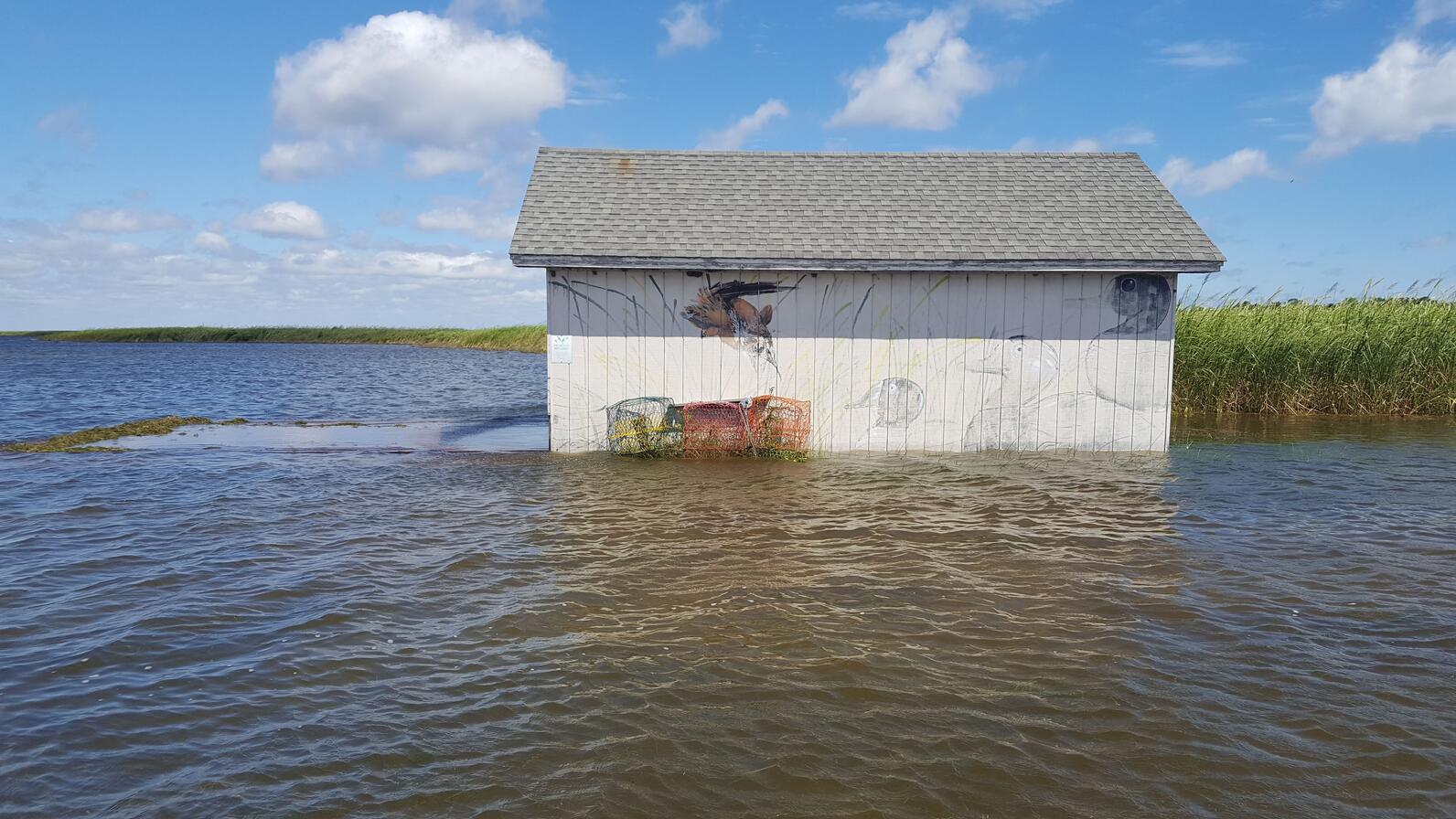 Audubon's sanctuary on the Outer Banks saw only minor damage and moderate flooding from Isaias. The dock and boathouse were partially submerged a day after the storm. The waters didn't reach the historic lodge, and weren't deep enough to damage any buildings.
The storm serves as a reminder that birds already face enough dangers in the natural world. To give birds the best chance at surviving and thriving, we must do what we can to limit the threats that are within our control, such as human disturbance and other anthropogenic impacts. Protecting and restoring our natural infrastructure, like marshes, "living shorelines," and oyster reefs, not only provides important habitat for coastal birds, it is also more effective than "gray infrastructure" like seawalls or jetties, because natural infrastructure can literally grow over time to adapt to sea-level rise. By harnessing nature's ability to break down wind and waves and reduce flooding—and by wisely managing our risk footprint when developing coastal areas—we can prepare for the stronger, more frequent storms that our coasts are experiencing due to climate change.