Please welcome Audubon North Carolina's Donal C. O'Brien Jr. Sanctuary Director Robbie Fearn. Robbie will direct Audubon's restoration and revitalization efforts for the Audubon Sanctuary and the adjacent Currituck Sound.
These little winter thaws are delightful at the Audubon Sanctuary in Corolla. The morning's fog burns off the land, the sun feels warm, and nature takes advantage of the day.
Most people think of the winter in Currituck as a land full of waterfowl, and that is true. But on these warm days – out in the marsh, the number of waterfowl actually drop, likely because shallow inland ponds beckon. Still, at night, the soulful songs of swan carry up from the marsh where they have gathered for an evening's respite. By day, in the upland fields and maritime forests, songbirds testing northern boundaries surprise us with sudden sightings. Small flocks of bluebirds appeared briefly in mid-January, and a few days later, we caught brief sightings of black and white warblers.
Then one day while deer grazed upon the great lawn in front of the 1913 hunt lodge, more than 200 robins descended around them. The deer nearly bolted from their sudden arrival. Soon dozens of heads were probing the newly warmed wet soil, searching for worms, and other invertebrates also awaked from their slumber. Robins, though year-round residents, usually disappear from the sanctuary in mid-winter to feed on inland berries in a less tumultuous climate. On warm days, they return briefly in these large flocks.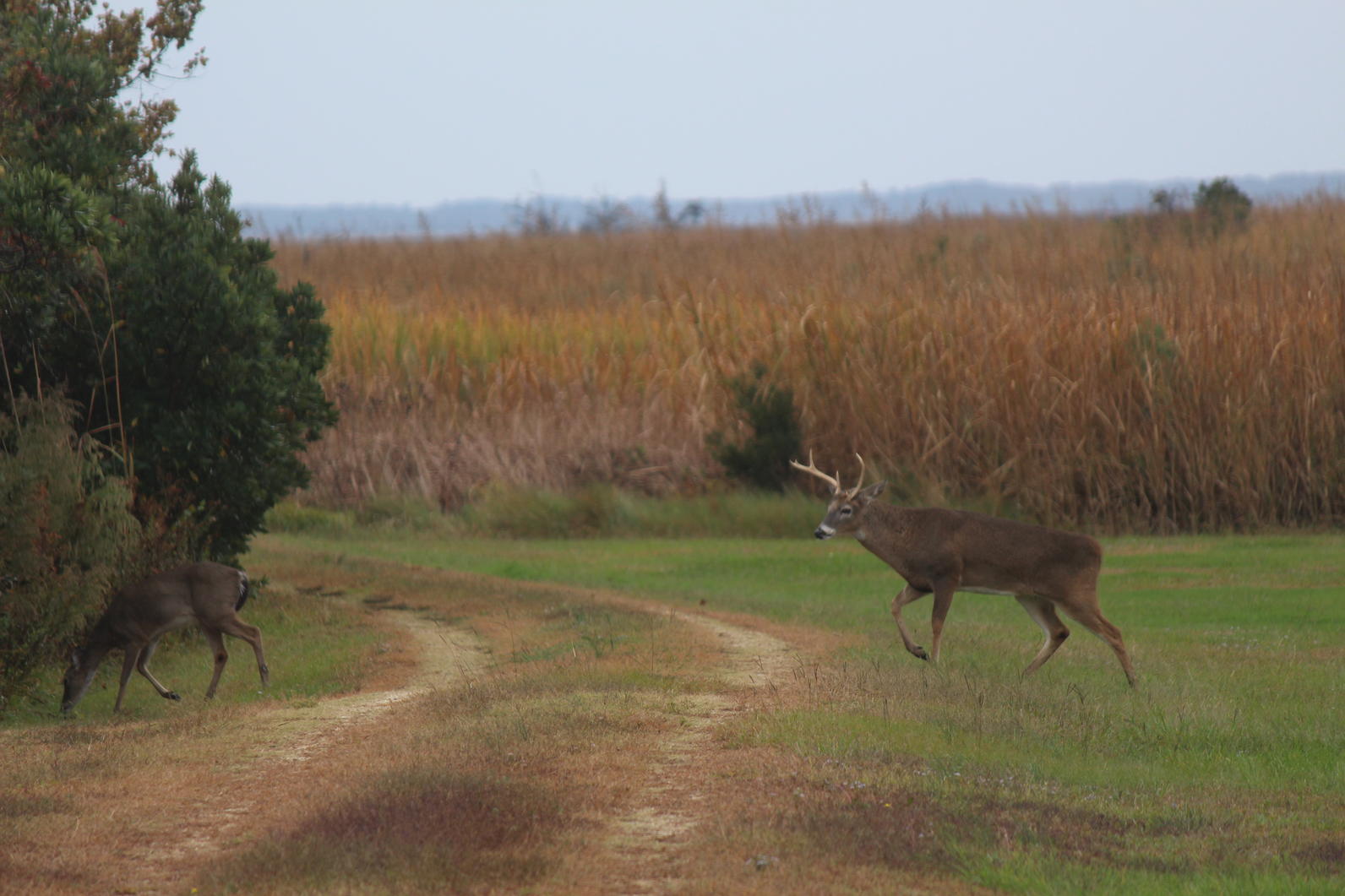 Robins form dense flocks in winter for there is no breeding pressure and survival may be easier in a group. When mating season comes, they disperse, each settling down on that special patch of land they call their own. But this time of year, the more these large flocks decorate the great lawn, the happier we are, for it means warmer days are upon us. During spring and fall, Robins are our constant companions, so we look forward to their periodic winter arrivals, each time hoping that the warm up will be here to stay.
In late January, some 100 still remain, but they are more restless than usual. Quickly taking to the bordering trees at the slightest provocation. The UPS van sets them aflutter, but they promptly return. Mike, the UPS guy, is less a threat than the Cooper's Hawk that sends them suddenly back to the trees again. Far more attuned to their surroundings, they always spot the hawks long before we do. Today, they are restless; they know that change is coming.
As the day progresses, the wind begins to shift. The westerly component fails and it rounds northward. The fog that hung low upon the sound all day grows denser creeping into the marsh bordering the field. A Red-tailed Hawk bursts forth from the fog only to find…nothing!
The robins left so suddenly that we had not even noticed them go. The coming cold front has urged them inland and southward again, but we know, after the cold, a warm-up will bring them back again to where the soils are moist and warm, and a worm banquet awaits. We shall once again enjoy their bob, bob, bobbin.
After all, that's what we are here for, a sanctuary for birds and a place for people to enjoy them.
To learn more about the Audubon Sanctuary and the birds that call Corolla home, visit our website.