Darryl Gaston, an African American pastor and habitat steward, attended a meeting for Mecklenburg Audubon Society in Charlotte, North Carolina and realized that no one in the room looked like him. "It didn't bother me," he elaborated, "because my life has been like that. As a result of my experience, I wanted to bring Audubon to my inner-city neighborhood of Druid Hills."
On May 25, Gaston and Jill Palmer, a longtime leader of Mecklenburg Audubon Society, hosted "The Birds, Nature, and Community Festival" in Gaston's neighborhood. The idea to create Druid Hills' first festival is the result of a brainstorming session in Gaston's living room. Kim Brand, Senior Network Manager at Audubon North Carolina, and Judy Walker, Newsletter Editor at Mecklenburg Audubon, were also present for this pivotal moment.
"I started e-mailing my list of people and saying, 'Hey, would you like to come out for a first-time-ever event? We have no idea what it's going to be, but we want you to be there!' And they all said yes," Palmer said.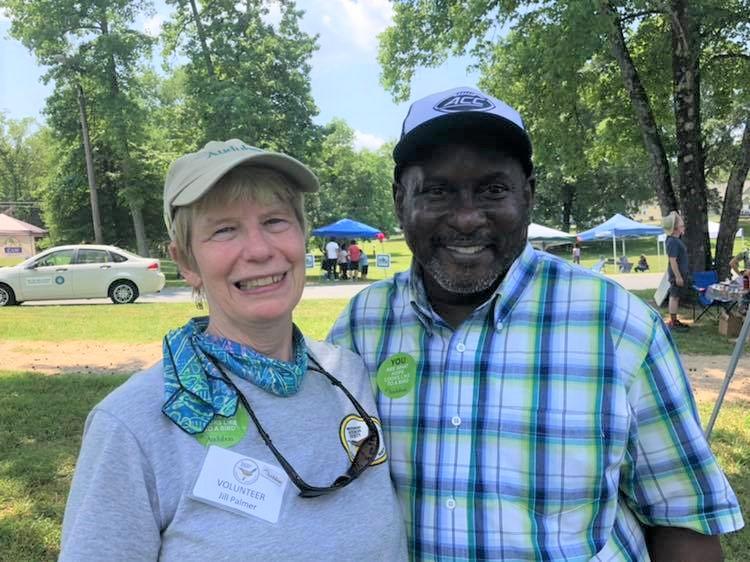 The festival was held from 10 a.m.-1 p.m. in Druid Hills Neighborhood Park on a warm and sunny Saturday. Smiles and welcoming eyes filled the park, as people of all ages filtered in and out of the festival. Many of the participants were volunteer organizations aiming to conserve and aid habitats for wildlife and plants in the area. Several of the tables had activities like making a butterfly out of a coffee filter or spinning a wheel to guess a bird fact. Each table had a host of goodies for guests to win along with tips on how they could become more involved in their community.
Motioning towards the participant's tables, Gaston explained that all of the organizations had gathered here partially because he knows how to connect with people on their level. "I consider myself to be a connector," he said. "There are many layers to me, but one of my layers is connecting with people. It's important for us to have eyes for people."
He elaborated that having eyes for someone is, "recognizing that you're visible, vital and valuable. Recognizing that I matter, you matter, and everyone else out here matters. But when we leave here today what will each of us do to help somebody else know that they matter too?"
Gaston is a third generation owner of a home in Druid Hills that was originally purchased by his Grandfather in 1952. He and his wife also built an additional home near the park.
Along with being a husband, father, pastor, and habitat steward at Mecklenburg Audubon, he is also the founder of CAW, or Community Alliance for Wildlife, president of the Druid Hills neighborhood association, and remains very active volunteering for various neighborhood environmental projects.
"It's important for us to be involved so that we are aware of what is happening around us," Gaston said. "When we are aware of the importance of planting flowers and creating beauty then we are activated. It stimulates something in us," he stated, as he wiped a bead of sweat from his brow.
Gaston and Palmer aim to build relationships with people from all backgrounds, races, ethnicities, and religions. Hopefully, this event has shown the Druid Hills community the need for minority involvement.