Join citizen scientists and bird nerds across North Carolina when they direct their eyes to the sky for Audubon's Great Backyard Bird Count (GBBC) over Valentine's Weekend. Now in its 19th year, the four-day event is encouraging bird watchers of all ages and skill level to contribute to research and conservation on a global level.
How it Works
The GBBC is for everyone, everywhere! Becoming a citizen-scientist is easy when you count birds for at least 15 minutes on one or more days of the count, and submit your sightings to www.BirdCount.org. And the information gathered by volunteers helps track the health of bird populations at a scale that would not otherwise be possible!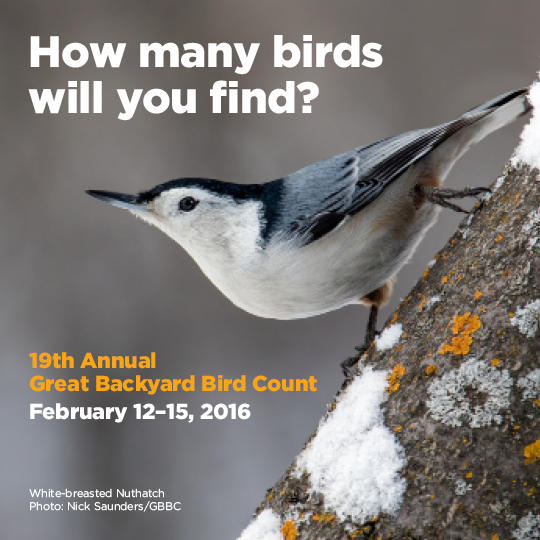 What We'll Learn
The Great Backyard Bird Count is the perfect follow-up to the Christmas Bird Count allowing us to track birds movements throughout the winter months. The data collected by thousands of citizen scientists across North Carolina is increasingly important to Audubon's work as we develop new conservation methods to protect our birds from the effects of climate change.
North Carolina continues to be a top-performing state for the GBBC. During last year's citizen science event, 4,500 checklists were submitted in our state. The most frequently reported species were the Northern Cardinal and Dark-eyed Junco. In total, 201 individual species were spotted during the four-day event.
A Family Affair
For those bird nerds in need of a fun activity to share with their kids, the GBBC has plenty to choose from! With its less structured design, this weekend event is a great opportunity to introduce children of all ages to the excitement of bird watching. Audubon has created games and activities to help parents engage their kids in the count, and foster a love of citizen science from an early age.
Where to Bird
With 96 classified Important Bird Areas comprising 4.9 million acres, diverse landscapes from the mountains to the coast, and the state's position along the Atlantic Flyway migration path, North Carolina is for the birds. And with so many species to spot, our citizen scientists have made NC one of the top performing states in the Count each year.
The GBBC continues to grow thanks to integration with the eBird online checklist program. Participants from more than 100 countries submitted a record 147,265 bird checklists.
The GBBC is a joint project of the Cornell Lab of Ornithology and the National Audubon Society with partner Bird Studies Canada. To learn more about Audubon's Great Backyard Bird Count visit birdsource.org/gbbc.
For GBBC information in your area: Find a Chapter.
Take the Pledge to Fledge in 2016! Share your love of birding with someone new.