Birders across North Carolina are excited to get back outdoors and enjoy the beautiful birds that call our state home. Audubon's new interns are excited to get outside this summer as well, and help continue the work to protect birds at Audubon's Pine Island Sanctuary on the Outer Banks.
Tysean Wooten will be working as Pine Island's Coastal Resilience Intern, supporting restoration projects at the sanctuary and using geospatial analysis to help Audubon explore ways that natural infrastructure can benefit birds and frontline communities across the North Carolina coast. Pine Island Coastal Communications Intern Lauren Bills will help capture the wonder of the sanctuary through storytelling, highlighting its diverse wildlife and Audubon's marsh restoration work on Currituck Sound.
They are part of an internship program at Pine Island supported by a grant from National Audubon Society Board Chair Maggie Walker. The program helps build our coastal resilience program as we develop innovative conservation and restoration strategies that will serve as a model across Audubon's network. Walker's investment encourages young people to get involved in conservation, community engagement, and leadership throughout Audubon's centers.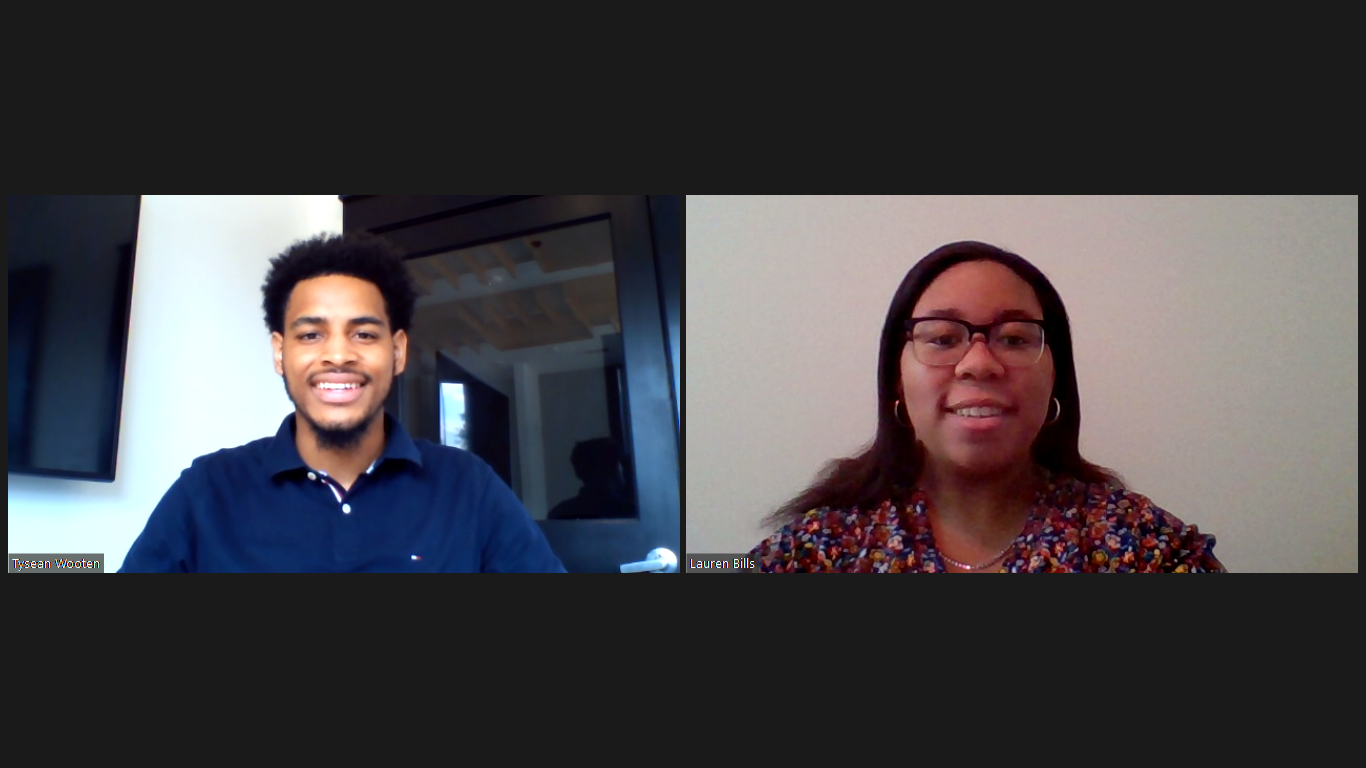 Tysean is a recent graduate from North Carolina Central University, where he received a degree in Environmental and Geographic Sciences. Originally from Connecticut, he moved to North Carolina for college. His passion for conservation work was cultivated during his college experience and led him to various research projects.
Before his work with Audubon, Tysean coauthored a joint research paper with Dr. Timothy Mulrooney. The study focused on using geospatial tools to assess local-scale food environment research.
What are you looking forward to most about interning at Audubon this summer?
I am looking forward to gaining more knowledge about bird conservation and restoration. This summer, I'll have the opportunity to work on two projects: an effort to identify vulnerable communities on the coast and a pond restoration project. With this internship being part virtual, part in-person, I'm also excited to visit Pine Island Sanctuary to do one of my favorite hobbies…. kayaking!
What sparked your passion for conservation and environmental work?
I first was introduced to conservation and environmental work on a spring break field trip to New Orleans. My colleagues and I used Christmas trees to restore a marsh habitat that was still facing effects from Hurricane Katrina. I was fascinated by the outdoors and the unique method used to help the marsh ecosystem. After the trip, I began doing more work in the community garden on my campus and joined an organization whose mission is to combat climate change.
What interests you the most about Audubon's work at Pine Island?
I am most interested in seeing the thousands of acres that have been preserved at Pine Island. Seeing the natural lands that Audubon has been able to keep untouched is impressive and will be beautiful to experience firsthand. I am also interested in seeing the field work that is done at Pine Island which I will get to observe and participate in during my visit.
How has your prior education and experience prepared you for your role this summer?
My bachelor's degree in Environmental and Geographic Science with a concentration in geoscience has prepared me to look at coastal resilience not only from a science perspective, but also through a geospatial lens. Geography can tell us what has happened or what will happen to an ecosystem when it experiences climate change, natural disasters, or human impacts. Using GIS will allow us to analyze data and map areas on the coast. My experience in planning and engineering will help me in looking at ways to improve the ecology of Pine Island.
What's your favorite bird?
My favorite bird is the Snail Kite. The Snail Kite evolved to only eat freshwater apple snails and can dive up to 6 inches deep into the water to catch them.
…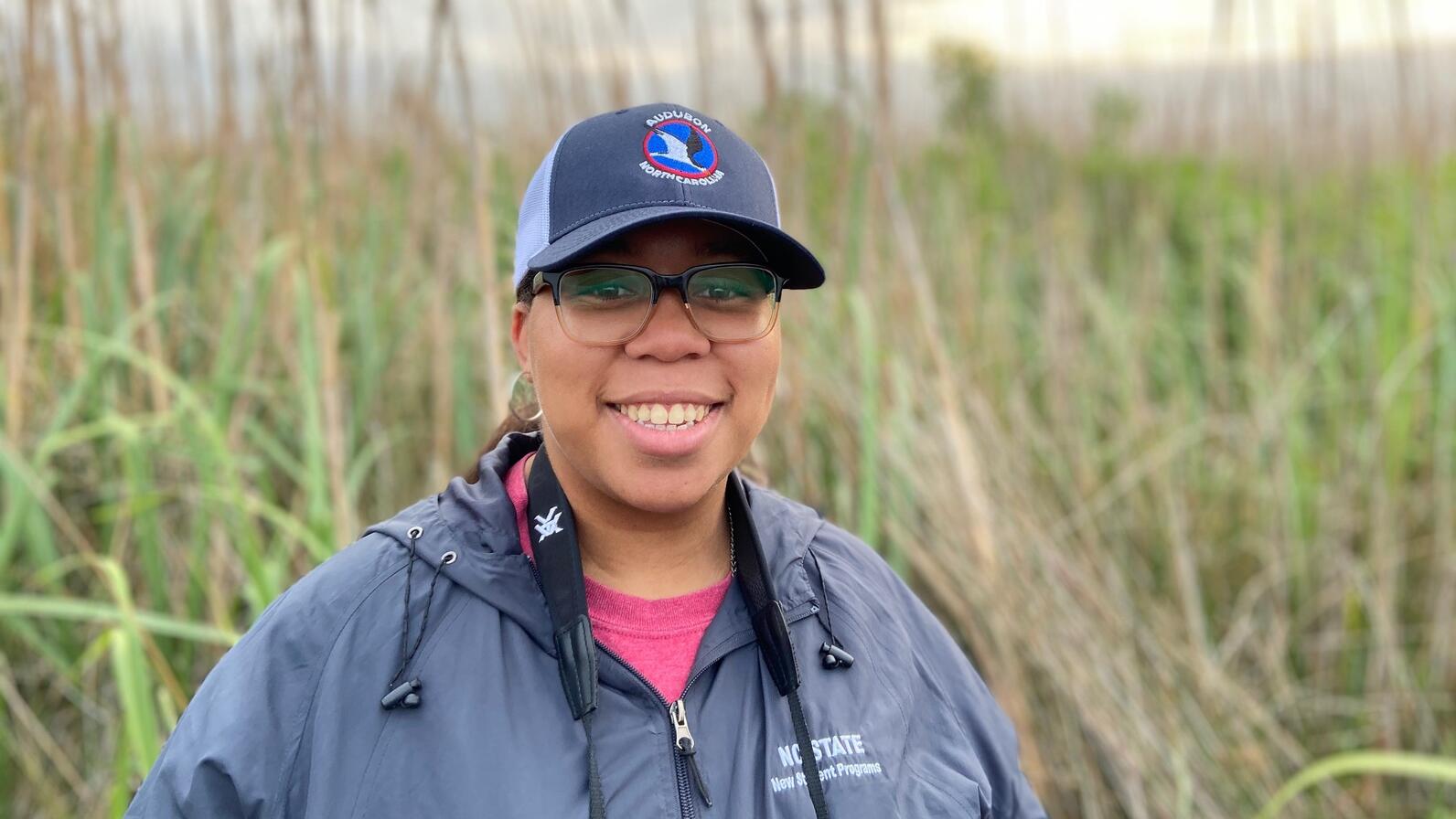 Lauren, a North Carolina native, graduated this year from North Carolina State University. Her senior capstone research focused on misinformation in science communication. Her topics of focus included climate change and Covid-19, and how misinformation changes perceptions of them. She enjoys walking outside and trying to sharpen her bird identification skills whenever she can.
What are you looking forward to most about interning at Audubon this summer?
Working with Audubon this summer opens a world of possibilities. I am looking forward to getting out in the field and experiencing firsthand the conservation work being done to protect our wonderful birds. As the Coastal Communications Intern, my job is to showcase all the work Audubon is doing. I hope sharing my experiences through blog posts and social media this summer inspires others to get involved and show support for the birds.
What sparked your passion for conservation and environmental work?
When I was younger my parents would take me on walks around the lake near our house. I would often stop every few feet to look at geese, a rabbit or even butterflies. I have always appreciated nature but have only recently gotten into supporting efforts to protect it. Participating in volunteer clean ups that ranged from neighborhood forests to beaches helped me realize that we must keep the environment clean not only for the animals that reside there but for humans as well. Many species have been displaced from their habitats due to infrastructure and development. Seeing this has made me more passionate about conservation work and protecting them.
What interests you the most about Audubon's work at Pine Island?
Pine Island Sanctuary is home to so many different species. I was very excited to participate in secretive marsh bird surveys and to observe these hidden birds in their natural habitat. The surveys help pinpoint where future restoration needs to occur to make the habitat even better. Visiting Pine Island also meant I got to try Tysean's favorite hobby, kayaking, for the first time!
How has your prior education and experience prepared you for your role this summer?
During my time at NC State, I focused on science communication and its importance to society. Science communication helps to bridge the gap between scientific research and the general public. I specifically focused on navigating misinformation and learning how to write concise accurate pieces that anyone can understand. I believe this journalistic writing ability will allow me to convey topics like bird conservation to diverse audiences. Outside of bird conservation, Audubon also focuses on climate change, restoration projects, water quality, etc. I believe my prior education will help me share this important work with the public.
What's your favorite bird?
My favorite bird is the Red-shouldered Hawk. I have always loved seeing hawks near my local parks and neighborhood trails. I discovered that the Red-shouldered Hawk is very common in North Carolina. Hawks are so powerful, yet they remain majestic and caring creatures.