Leaves are changing colors, the weather is getting chillier and North Carolina's coastal birds are preparing for a change in scenery too! While this fall brings bird migration departures, many new arrivals are starting to appear along our coast. So, grab your binoculars and take a trip over to the beach to see your favorite birds.
Arriving
Dunlin
One of the coasts' newest additions this October will be the droop-billed, colorful Dunlin. Its populations will peak over the winter at inlets across the NC coast.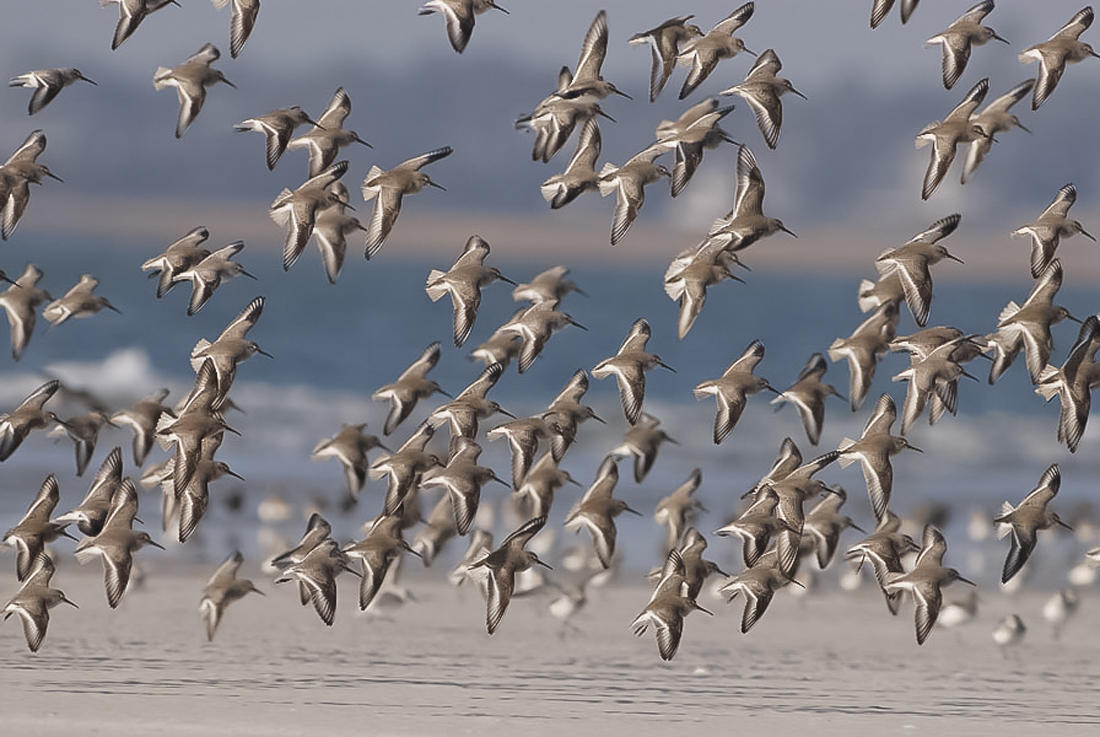 Sanderling
These small white birds may stand at six inches tall, but in August to mid-September, they can be spotted at any beach in North Carolina picking at the sand. Sanderlings leave at the end of the winter for the Arctic. They enjoy the cold, but not winters in the Arctic!
Black-bellied Plover
The distinct whistles and speckled backs of the Black-bellied Plover can be heard and seen at coastal inlets from July to October.
Western Sandpiper
The Western Sandpiper, with its long beak and orange and brown speckles can be spotted at coastal inlets in the fall wading in shallow water along beaches. Their populations are especially large between September and October.
Red Knot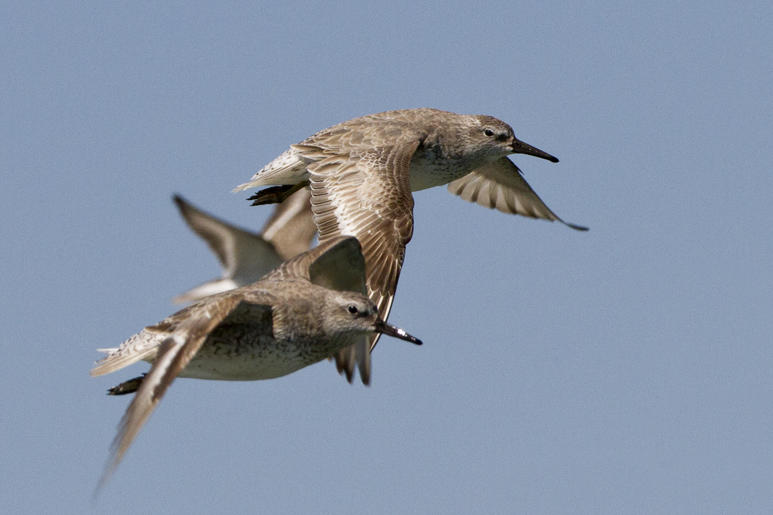 The red-bellied Red Knot arrives on the NC coast in August and stays until mid-November. Small flocks will stay for the winter. They can be found at Cape Point at Cape Hatteras National Seashore, and Cape Lookout National Seashore.
Departing
Royal Tern
With little black crowns on their heads, Royal Terns rule over the inlets of North Carolina, especially in mid-September. They leave their kingdoms to migrate to Florida, the Caribbean and South America in October to avoid NC's chilly winters.
Black Skimmers
Black Skimmers are known for their large, red beaks. In August, they can be found at Mason, Rich and Topsail Inlets along the NC coast in flocks of over 1,000. Viewing is limited, as they are nearly all gone by Thanksgiving.
Wilson's Plover
NC coastal inlets will be losing Wilson's Plover to Florida and South America in September for its winter migration.
Arriving and Departing
The American Oystercatcher
The large, long-beaked and chicken-legged American Oystercatcher is hard to miss. August through November, however, it can be found even more easily on the coast of North Carolina, especially in the Masonboro Sound and on the rocks at Fort Fisher.
Piping Plover
This small, pale shorebird with a characteristically small beak is protected on NC's beaches and inlets. Piping Plovers can be particularly found during the fall and winter at the Rachel Carson NERR, Topsail Inlet, Rich Inlet, and the spit at Fort Fisher, Tubbs Inlet.
When you are out spotting this season, always remember to share the beach. Click to learn how Audubon NC is working to protect our coastal birds all year-round.