At Audubon's Donal C. O'Brien, Jr. Sanctuary at Pine Island, birds may already have noticed their newest companions in the sky—drones. Elizabeth City State University's drone technology team is partnering with Audubon North Carolina to conduct aerial surveys of the Outer Banks sanctuary and the Currituck Banks National Estuarine Research Reserve.
The purpose of the project is to map the marsh and collect data to help inform marsh restoration work, ensuring Currituck Sound remains a stronghold for birds and a place where people in the region can enjoy outdoor recreation, hunting, and wildlife.
"The marshes of Currituck Sound are expansive, making them great habitat for wildlife but difficult to survey in the field," said Cat Bowler, coastal resilience manager at Audubon North Carolina. "Drones give us a reliable and accurate way to see the marshes from above and map how forces like erosion and sea level rise are rapidly changing this ecosystem."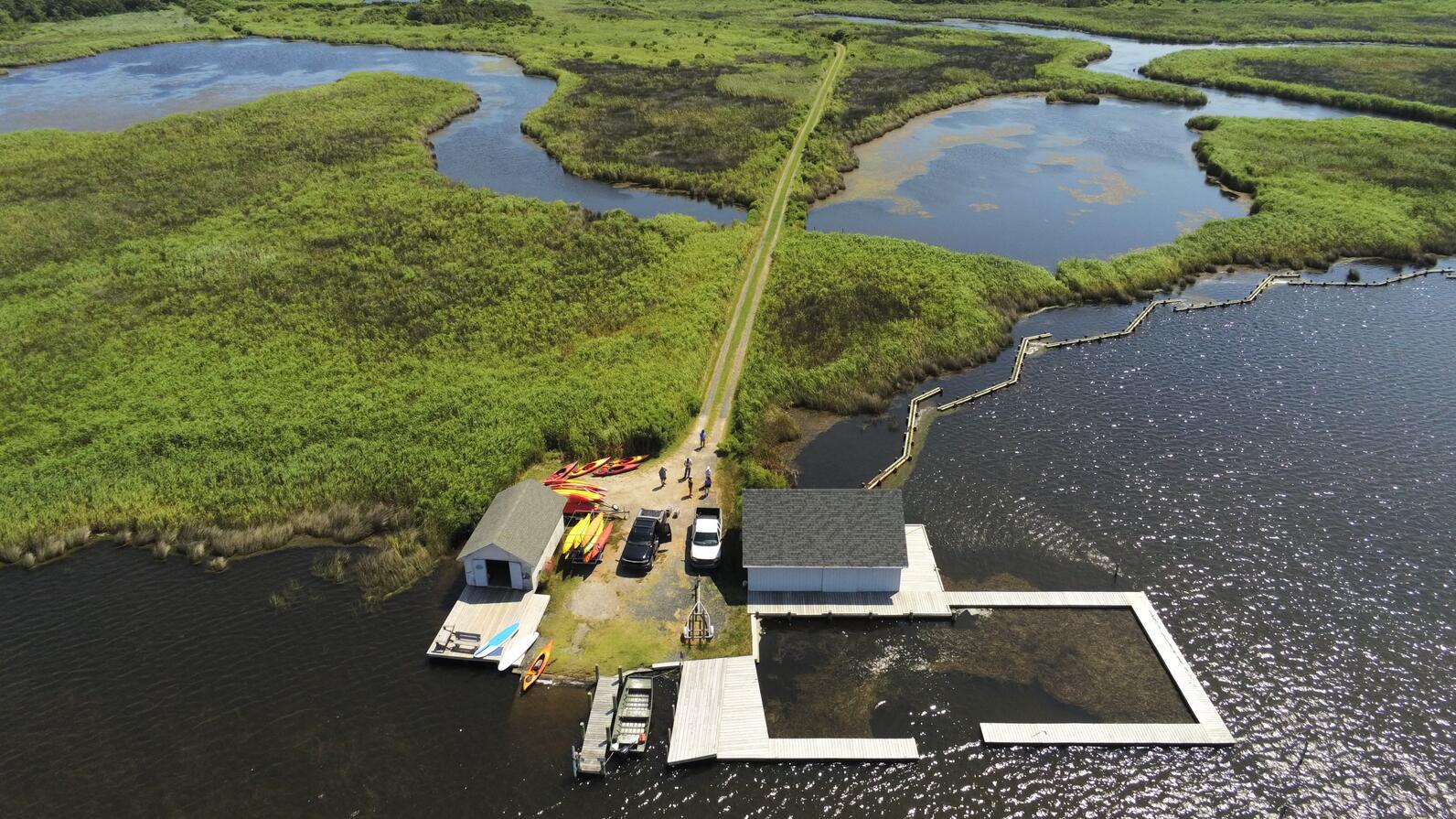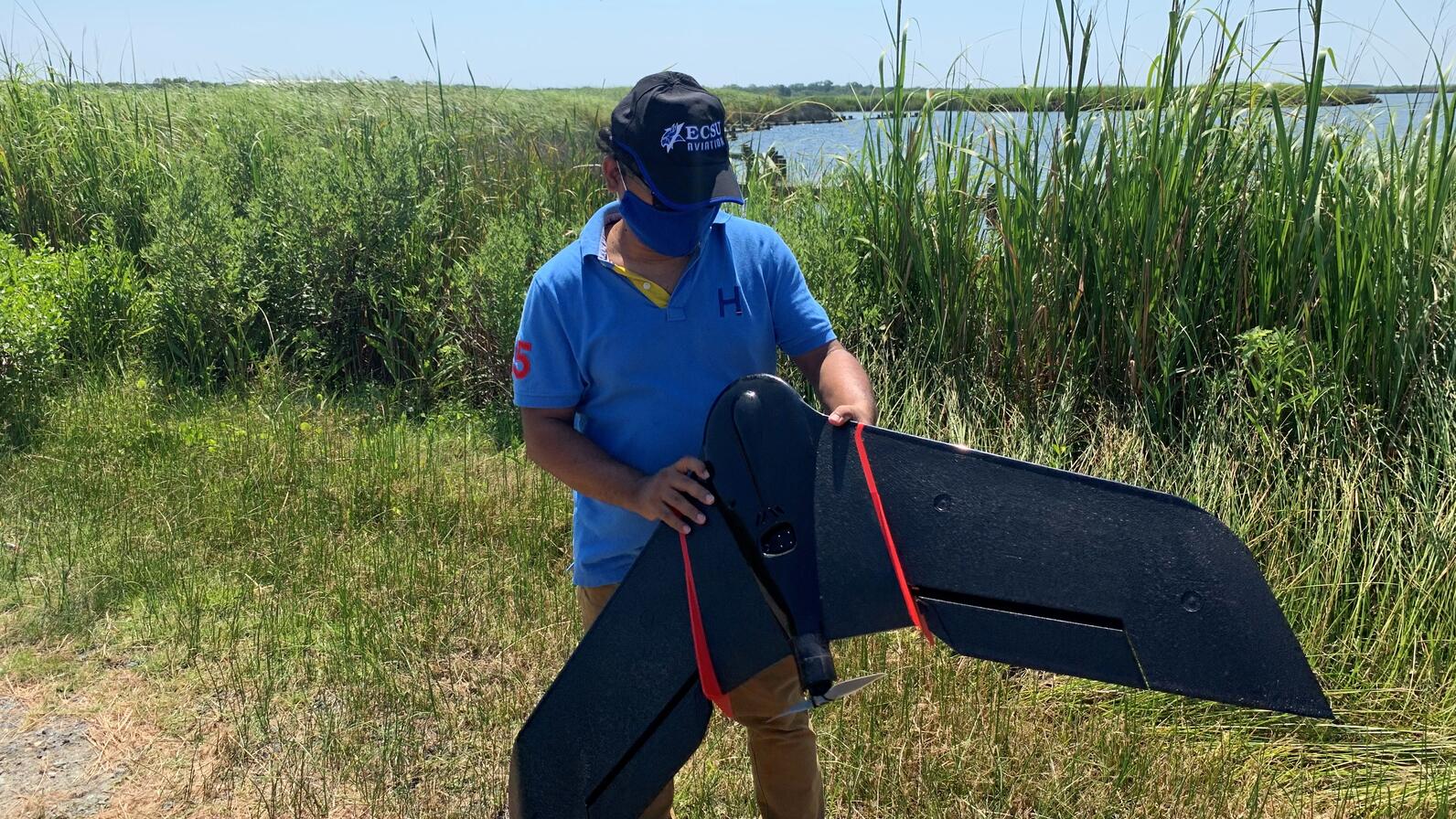 The first drones took off from Pine Island in late July. During flights, drone pilots from Elizabeth City State University stay on land and navigate the machines remotely while spotters follow the drones in kayaks and jon boats. Special lab software converts the raw images and other data collected during the flights into 3D maps.
"The drones will allow us to understand Currituck marshes in new and important ways—how they're changing over time and which areas need restoration," Bowler said. "None of this would be possible without the support of the NC Policy Collaboratory and expertise of our partners at Elizabeth City State and their new drone program."
ECSU, a historically Black university in the UNC system, is located just 20 miles from Currituck Sound and has the only four-year aviation program in North Carolina. There are currently six students majoring in drone aviation, and two who are helping with the Pine Island project.
After the drone program launched two years ago, Audubon North Carolina contacted ECSU about a potential partnership to map Pine Island's vegetation. The project will help Audubon staff better understand the state of marsh erosion and plan resilience work, which will likely include the construction of more living shorelines.
Professor Kuldeep Rawat, dean of ECSU's School of Science, Aviation, Health, and Technology, oversees the university's research at Pine Island. The drone mapping project will provide important data on marshes in Currituck Sound, but it will also give drone aviation students hands-on experience, he said.
"This is not a simulated flight or anything like that," Rawat said. "This is going to be a real flight, where they fly the drones over those areas, they gather the imagery data, and then they also will be processing the data so that we can actually see if there's any change in the shoreline or in what kind of vegetation is there."
The inaugural flights will map shoreline changes and vegetation on Pine Island, which can then be compared to historical photos of Pine Island's marshes. Research was slated to begin in March, though social distancing guidelines and the closure of ECSU's campus postponed the project kickoff to July.
ECSU plans to continue monitoring Pine Island by drone until at least June 2021, giving the team nearly a full year of data to work with.
While it would be possible to conduct land surveys using traditional methods, drone aviation technology is more efficient, consistent, and cost effective. The North Carolina Policy Collaboratory, a center at UNC Chapel Hill which funds research related to North Carolina's natural resources, provided a $25,000 grant to support the project.