Bird watchers across North Carolina and the globe stepped outside over Valentine's Day weekend to count birds as part of the Great Backyard Bird Count.
The festivities extended to the Executive Mansion in Raleigh, where Audubon members and Exploris School students gathered on the lawn to help First Lady Kristin Cooper search for birds in her backyard. The birds did not disappoint.
As participants fanned out across the property, the first bird was spotted soaring high in the sky—a Red-tailed Hawk!
Many species soon followed. Carolina Chickadees and House Finches at the feeders outside of the First Lady's office window. Common Grackles glinting iridescent in the morning sun. A Yellow-bellied Sapsucker letting out its nasal, mewing call as it drilled holes into a branch.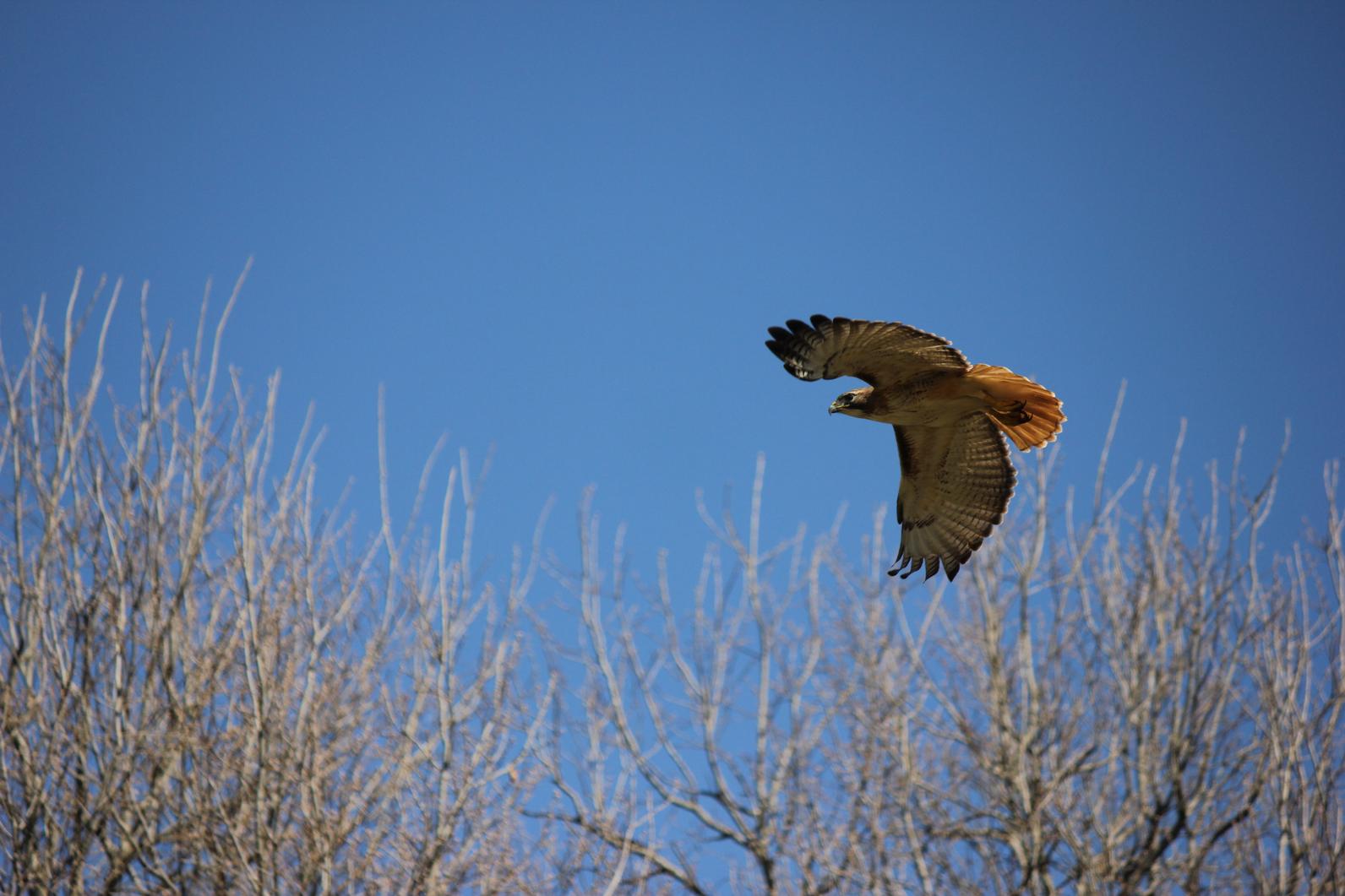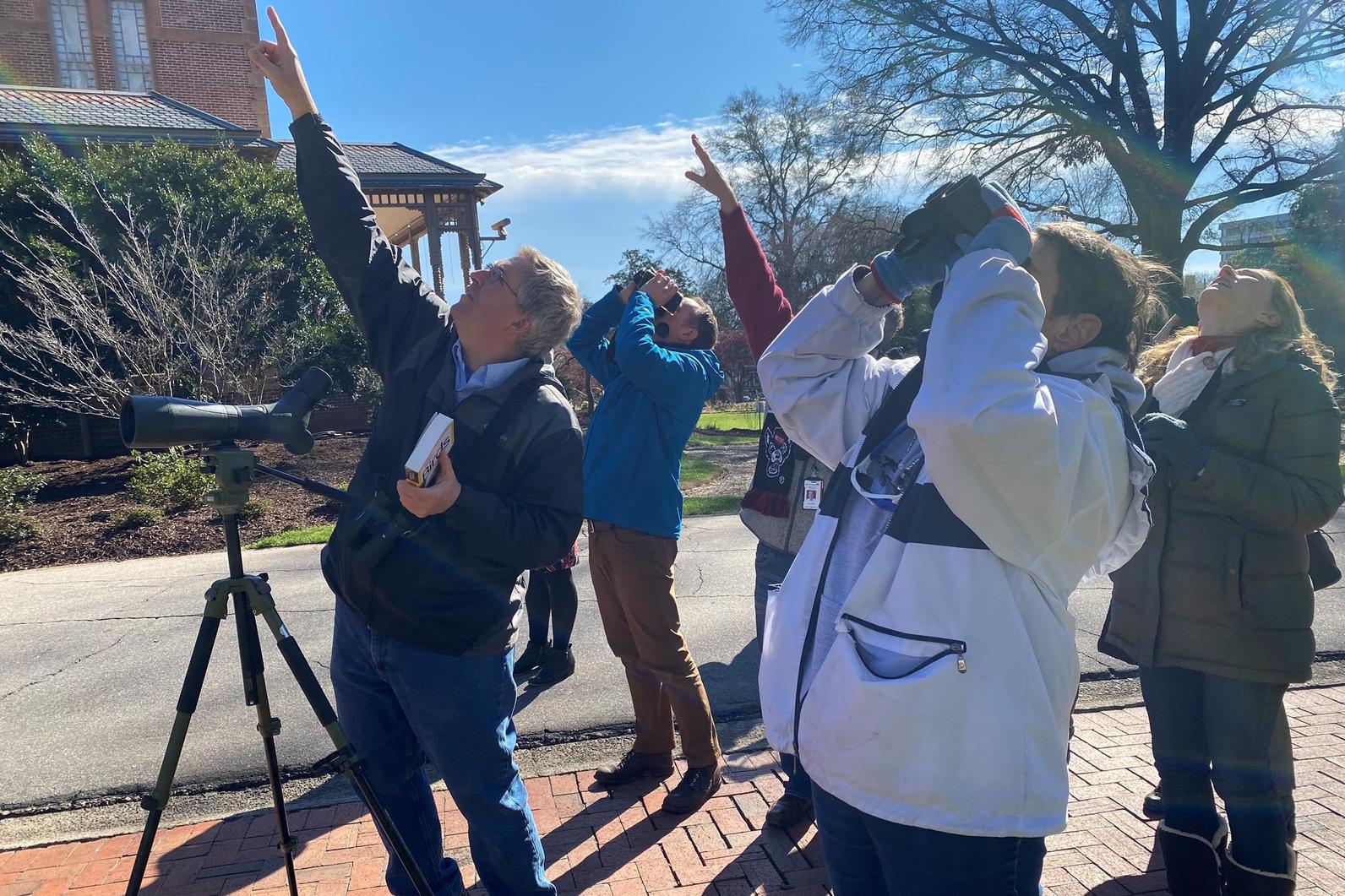 With help from Wake Audubon and Audubon North Carolina Director of Conservation Curtis Smalling, participants tallied 26 total species, adding a Brown-headed Nuthatch that squeaked in the distance as checklists were submitted.
The total surpassed the last count at the Executive Mansion. In 2018, Audubon members and the First Lady counted 20 species during the Great Backyard Bird Count. New species added this year included a Red-Shouldered Hawk and a pair of Black Vultures flying above the capitol.
The Executive Mansion, which in a way serves as a backyard for our entire state, is truly a birdy place. This is likely due in part to the native plant garden that the First Lady is growing, with help from Audubon.
The garden features all sorts of natives, from Woodland Phlox (Phlox divaricata) to native grasses like Little Blue Stem. During the bird count, Golden Alexander was already blooming.
These native plants serve as important habitat for birds and other pollinators, providing food in the form of berries or hosting the kinds of insects baby birds need to grow.
Thanks to bird watchers like you, North Carolina made a strong showing in the Great Backyard Bird Count this year. As a state, we submitted nearly 5,000 checklists, ranking us 8th in the country and exceeding our total last year of 4,200.
Across North Carolina, many counties also surpassed their checklist and species count totals from last year. Wake County again notched the most checklists submitted, with 767, while the most species were seen in the coastal counties of Dare (140) and New Hanover (130).
The data gathered over the course of the count gives scientists critical information about the health of bird populations. Thanks for helping us carry on this fun and important tradition!
Top Counties by Number of Checklists Submitted
Wake

–

767
Mecklenburg

–

442
Buncombe

–

304
Orange

–

268
Durham

–

239
Guilford

–

228
Henderson

–

183
Brunswick

–

163
Dare

–

158
Forsyth

–

156
Top Counties by Number of Species Reported
Dare

–

140
New Hanover

–

130
Carteret

–

112
Wake

–

112
Brunswick

–

100
Mecklenburg

–

95
Guilford

–

89
Buncombe

–

88
Hyde

–

88
Durham

–

87