Each summer, Audubon members from across North Carolina flock together to share stories, successes, and ideas at Chapter Day.
This year 48 people representing eight chapters from mountains to coast, one Audubon college club, our state board, and our state staff gathered together. For the first time ever, we had birds in our group photo, courtesy of the fabulously entertaining Birds in Flight show at the North Carolina Zoo!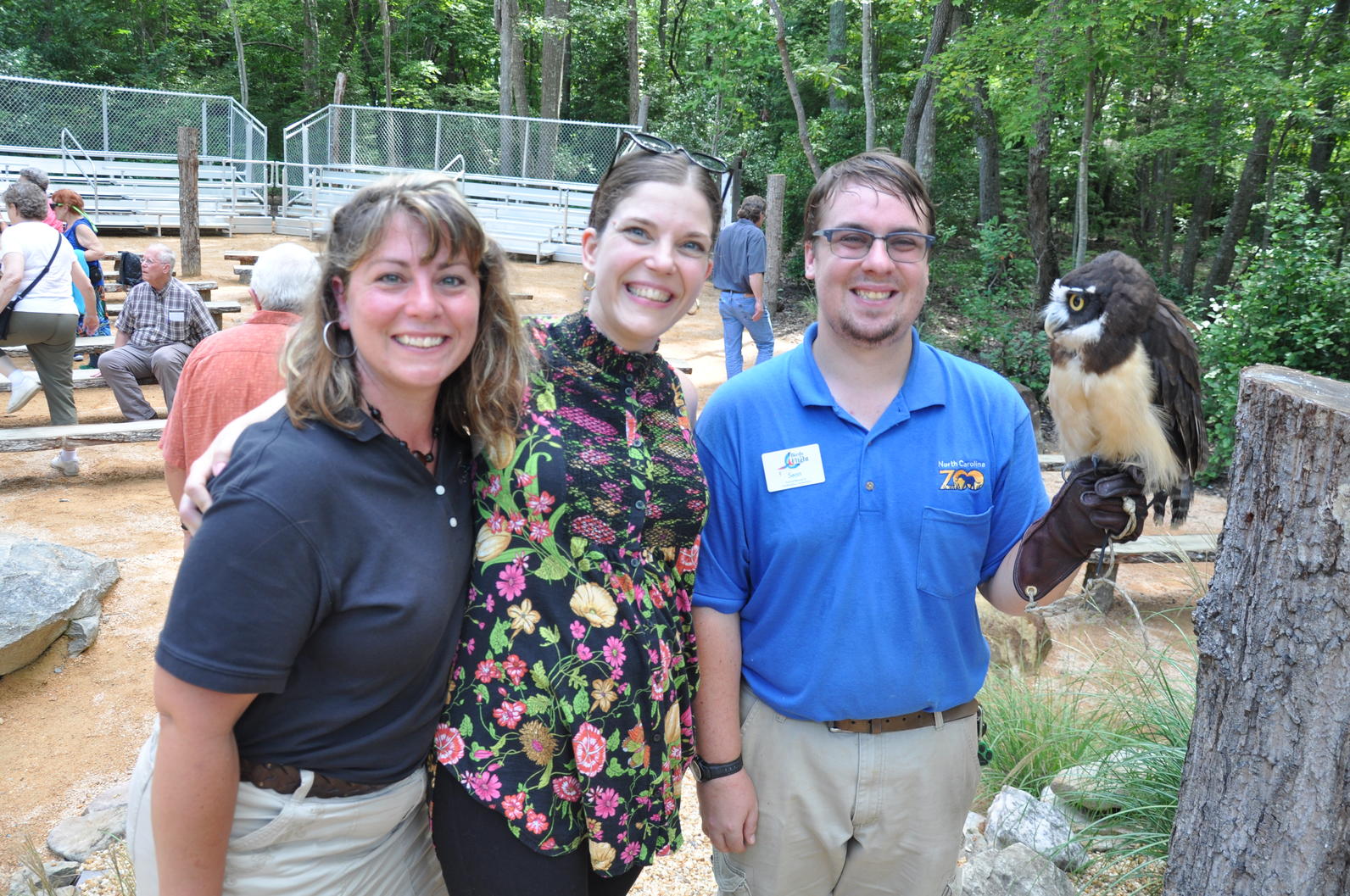 Audubon North Carolina Field Organizer Kim Brand kicked off the day by reminding everyone that Audubon chapters are the heart of Audubon and Audubon's boots on the ground, working to protect birds and the places they need in communities throughout North Carolina.
Chapters shared their proudest accomplishments of the past year, described below. These are just a few of the many great wins for birds they orchestrated.
Congratulations to all, and keep up the great work for birds!
T. Gilbert Pearson Audubon Society collaborated with the City of Greensboro, Pennybyrn retirement community, and Waste Management International on Bird-Friendly Communities and community science.
New Hope Audubon Society saved an old brick chimney for Chimney Swifts by persuading the Town of Chapel Hill to uncap it – and then playing swift calls to persuade 1,500 birds to roost there once again.
Wake Audubon Society established a robust advocacy committee, expanded educational outreach, and extended Lights Out monitoring to towns around Raleigh.
Cape Fear Audubon Society helped hundreds of fourth-grade students Discover the Wonders of Birds through their hands-on education program.
Seahawk Audubon engaged UNC-Wilmington students in bird walks and watching Chimney Swifts roost on campus.
Elisha Mitchell Audubon Society created their first-ever advocacy plan and partnered with St. Eugene Catholic Church to plant a friendship garden for birds and people who share connections between Western North Carolina and Mexico, Central America, and South America.
High Country Audubon Society created a strategic plan for the first time and worked to restore local wetlands.
Mecklenburg Audubon Society promoted the new book Birds of the Central Carolinas by author Don Seriff and illustrator Leigh Anne Carter; the book shares results of the chapter's community science efforts over many decades, including Audubon Christmas Bird Counts, spring bird counts, and a county Breeding Bird Survey.
Forsyth Audubon created a bird migration curriculum for fourth-graders featuring their award-winning "Wood Thrush Connection" film.

Because Audubon chapters are doing many more projects – ranging from Bird-Friendly Communities to advocacy – than they did even five years ago, we shared ideas for recruiting and engaging volunteers and board members.
Barbara Driscoll shared how her chapter, New Hope Audubon Society, has recommended bird-friendly updates for 80 properties – mostly yards – totaling 366 acres. Wonder if your yard would qualify for silver, gold, or platinum? Check out their requirements and learn more here. But if you want a yard visit, you have to either live in Durham, Orange, or Chatham counties – or start your own program (with advice from Barbara and the rest of the team, of course!).
Plan on the first Saturday in August for Chapter Day in 2019!