The Blackgum tree is one of our top Bird-Friendly Native Plants of 2017, as its blue-black fruits attract a wide variety of local birds to its branches.
The Blackgum tree, or Nyssa sylvatica, is found in a variety of habitats, from swampy wetlands to dry mountain ridges. Its name, "Nyssa," refers to a Greek water nymph, and its specific epithet "sylvatica" refers to growing in the woods or forest.
Find this and other plants at your local participating retailer.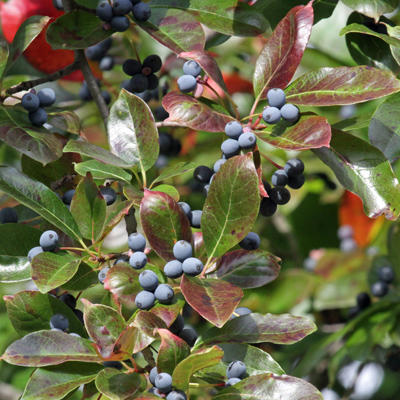 Birds who Love Blackgum
Who doesn't? Thrushes, mimids, woodpeckers, tanagers, and waxwings all flock to the Blackgum from August through October to vie over its small, nutritious, berry-like stone fruits. Its white flowers are also a nectar source for native insects and the birds that feed on them.
How it Grows
Although it will grow in full sun or partial shade, Blackgum's fall color is enhanced by sunny conditions. It also needs quite a bit of space, as it can reach 50 feet tall with a spread of 20-30 feet wide!
If you are planting Blackgum as a nursery-grown sapling, be sure to position it where it can safely reach its mature size.
As summer fades to fall, Blackgum trees burst in color, morphing from shiny green to yellow, orange, and especially red or purple in just a matter of weeks. All these colors can be present on the tree at one time!
Blackgum is one of our 2017 Bird-Friendly Native Plants of the Year. Learn more about our other 2017 picks here!