"Have you ever been to see Chimney Swifts roost in the fall?" asks Tom Tribble, President of the Elisha Mitchell Audubon Society in Asheville, NC.
"They breed in the eastern part of the US and migrate to Colombia, Ecuador, Brazil, Peru and northern Chile; they come through in the thousands and maybe even millions in the fall. Overnight, they roost communally in whatever towers they can find. They'll go in one by one until it looks like a vortex, like they're being vacuumed in—I've seen 3-5,000 go into a single chimney!"
Building a support system for swifts
Chimney Swifts arrived in North Carolina in early April, just in time for volunteers from the Elisha Mitchell Audubon Society to erect a Chimney Swift tower at the Beaver Lake Bird Sanctuary in Asheville.
"In Asheville and other big cities they use large, industrial chimneys. Around dusk, they begin gathering; there are fifty, then a hundred, then a few hundred, then a thousand flying around catching insects, and they drop lower and lower to investigate the chimney before zooming in all together" describes Tribble.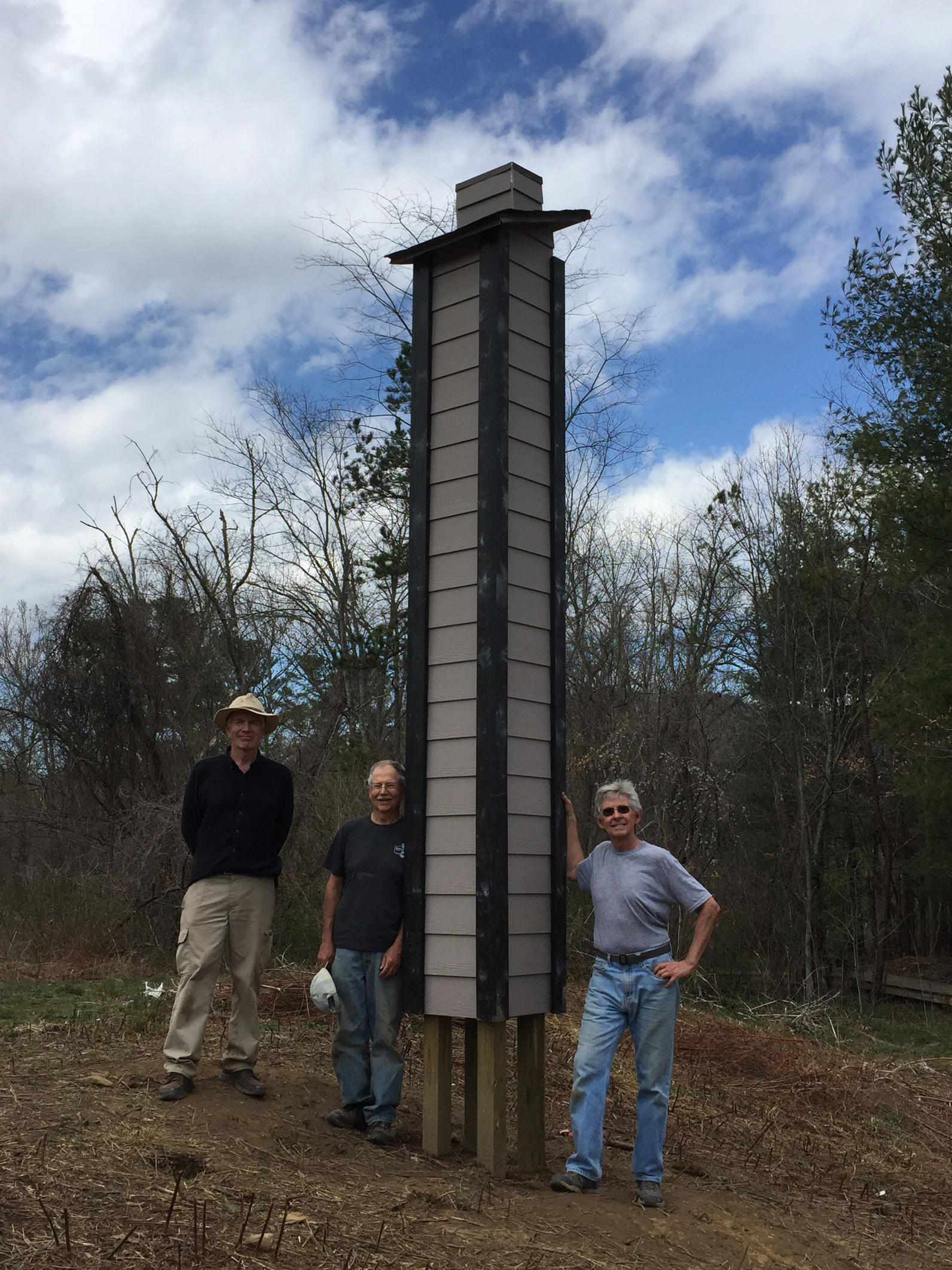 That was the impetus for the Beaver Lake tower—a magical moment that could be shared by the whole community. "We talked about it for years, but last summer I got a call from a woman who lives in Black Mountain—she'd been watching swifts roost at the top of a two-story chimney at a restaurant for years. Then, they re-roofed the restaurant and took the chimney out! Well, we arranged to meet with the town manager and went in with a proposal… easiest project I've ever sold! The town manager agreed in about three minutes and said 'well, let's build two.'"
After these successful builds, Tribble was excited to bring the project home to Asheville. "To be given the opportunity to try and make that phenomenon happen at our Audubon sanctuary at Beaver Lake was just so exciting," says Tribble excitedly.
So what happens next?
"Well, only one pair would actually nest in each tower" explains Tribble. "In the fall, when they migrate by the thousands and millions, they roost communally. To help the process along, we may install a tape recorder (as per the Raleigh museum), but we're also excited to see what if anything happens naturally."
In the meantime, folks can make a tour of other local Audubon society chapter-built towers: there are two in Black Mountain, one in Valle Cruces Community Park (built by our High Country chapter), and another at the Prairie Ridge Ecostation in Raleigh (built by our Wake County chapter), a part of the Museum of Natural Sciences.
What you can do to help
"Building a tower is a project that almost anyone can do, although the construction does require some higher level skills" explains Tribble. "It needs to be at least 30 feet away from nearby trees. They need to be unobstructed around the chimney. When you have a space in mind, follow the instructions from Audubon North Carolina!"
Read "How to Build Your Own Chimney Swift Tower" here.