This summer, the Donal C. O'Brien, Jr. Sanctuary and Audubon Center in Corolla invites visitors to enjoy the birds and wildlife by land and by water. This is the second year of public programming at the Sanctuary, and Audubon NC is excited to create even more connections with birds, people and conservation on the Outer Banks.
Three-Mile Nature Trail
This self-guided walk is available dawn to dusk daily. The path is a short three miles, and wanders through an evergreen Maritime Forest of Live Oaks, Pine and Maritime Scrub. Warblers and other migrant and resident forest birds are common – as are many mammals, reptiles and amphibians. The trail has two elevated overlooks of the sound where hikers can spot wading birds in summer and waterfowl in winter.
Two access points are available behind the Pine Island Racquet Club and beyond the Sanderling Inn along the sound shore path to the south end of the Nature Trail.
Kayak and Stand Up Paddle Board Program
In collaboration with Coastal Kayak Touring Company, the Sanctuary is offering 2-hour tours of the most intricate marsh maze on the Outer Banks. Tours traverse a section of our 2,000 acres of marsh, which is frequented by osprey, river otters and wading birds. Bald Eagles are sometimes seen and clapper rails rattle unseen in the grasses. Reservations and information can be found at www.coastalkayak.org or (252) 441-3393.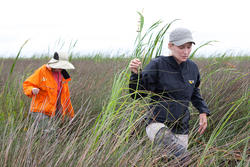 Family Programming
This summer, family friendly programs will be offered at the Historic Hunting Lodge in the 2,800-acre sanctuary. To maximize the experience, these programs limit participation to 15 individuals and may sell out quickly. Click here to register for an upcoming event.
Additionally, we will offer the following summer schedule July and August.
Tuesdays at 8:30am – Nature CSI (Critter Scene Investigation)
Get your Detective on! Become a nature investigator, as you look for clues left by animals that were recently here and discover what they were doing. Attendees will look for tracks, scat and other evidence to learn the story hidden in the Critter scene. This program will include some indoor and outdoor elements.

Wednesdays at 8:30am – Habitat Discovery Hike
Explore plants and animals in the sanctuary: the maritime forest, the dune fields and marsh. The guided hike will start at the Lodge for an overview of the sanctuary, then head out to discover the wonders that are living on this land and the habitats that sustain them. This program will include some indoor and outdoor elements.
Thursday at 8:00 pm – Night Hikes
A number of night hikes will be offered this summer and fall. Starting near sunset, these hikes will include a walk in the forest to listen for frogs and chuck-will's-widows, and attendees can take a gander at the night sky. Flashlights provided.
All Family programs begin at the Pine Island Lodge on Audubon Drive. Turn at the Pine Island Racket Club sign, near the Hampton Inn.
Day Programs begin promptly at 8:30 a.m. and run 60-90 minutes, rain or shine.
$10/person, Children 5 and under free.
Refunds only available if the program must be cancelled.
All programs will walk more than 1-mile, wear enclosed walking shoes. No strollers or dogs.
Bring: sunscreen, bug repellant, hat and water.
Click here for more information and to register for a summer program with Audubon North Carolina at the Sanctuary in Corolla.