Audubon advocates from across the state rallied all day on Feb. 10 to meet virtually with lawmakers, talking with their elected representatives about our top priorities for birds and communities at the North Carolina General Assembly. The flock of advocates numbered 100—a new Advocacy Day record—and represented communities from the Outer Banks to Brevard.
Their advocacy helped lay the foundation for an important legislative session in 2021, in which Audubon and our members will be speaking up for conservation trust funding, clean energy and energy storage, and heirs' property reforms.
"I came away from Advocacy Day feeling completely energized, with more hope than I've felt in a while," said Kim Brand, Audubon North Carolina director of engagement. "Meeting with lawmakers is one of the most important ways we can engage in the democratic process and speak up for birds. And when so many of us show up together, it sends a powerful message."
Advocates held meetings with 41 lawmakers, Republicans and Democrats from across the state, and followed up with more to setup meetings in the coming days and weeks. They spoke on behalf of Audubon's politically diverse membership of 52,000 people in North Carolina, including nine chapters and four campus chapters.
Audubon advocates had additional help this year from a new group of volunteer local leaders, who stepped up to organize members within their own regional delegation, recruit new people, prep them for the big day, and schedule meetings with lawmakers.
"We couldn't have pulled off such a successful Advocacy Day without these new leaders rising up to the challenge," Brand said. "They represent the future of grassroots organizing at Audubon."
In meetings throughout the day, advocates spoke with lawmakers about our legislative priorities:
Invest in Conservation: Our state's conservation trust funds are critical to protecting birds and the places they need. North Carolina needs to strengthen these funds to protect clean air, water, and habitat, and to keep pace with the skyrocketing demand for our state's special outdoor places.
Support Bird-Friendly Clean Energy and Energy Storage: Clean energy and energy storage are critical to protecting our air and water, protecting against changes to our climate, and preserving the places birds need to survive. North Carolina should expand competitive markets for energy storage and clean energy, creating jobs and making our grid more reliable, all while ensuring a healthier and more resilient future for birds and people.
Protect Family Land: Family-owned farms passed down through generations, often without a will, are especially vulnerable to involuntary land loss. Because the title to these properties can be unclear, it can prevent families from accessing federal conservation funding. The Uniform Partition of Heirs Property Act adds due process to address these problems and has been adopted by 17 states, including Texas, South Carolina, and Florida. North Carolina should be next.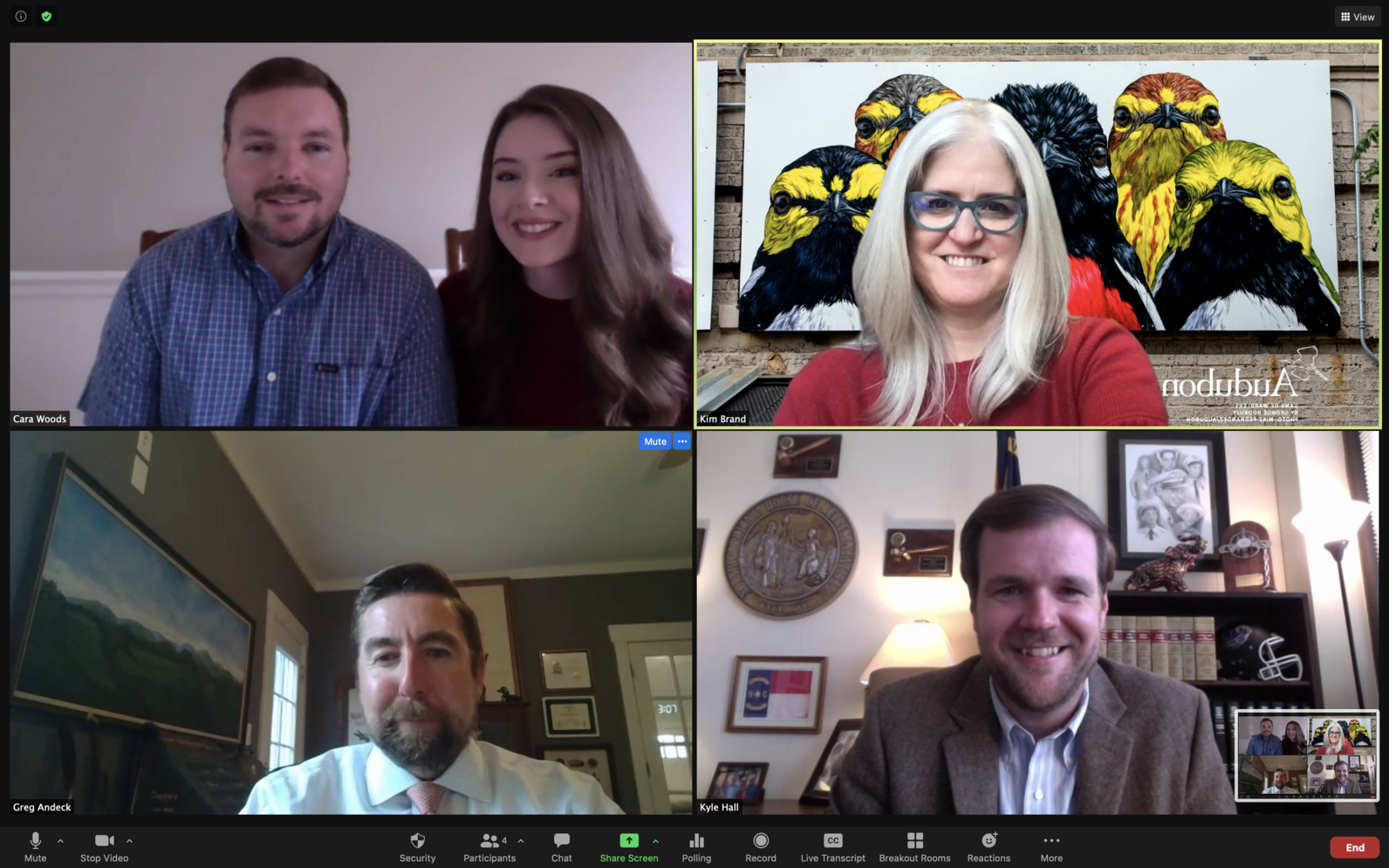 When advocates weren't discussing Audubon's policy priorities, they were connecting with lawmakers over their shared love of birds. In a meeting with Forsyth Audubon members, Rep. Jeff Zenger talked about finding American Woodcocks on his property, to the delight of advocates in the meeting, who told the lawmaker just how difficult the secretive birds are to find.
In a meeting with Blue Ridge Audubon, Rep. Susan Fisher shared a framed painting of a Carolina Wren—her favorite bird, because its song reminds her of her granddaughter Chidori, whose name means 'A Thousand Birds' in Japanese.
For new Advocacy Day participants, the overall turnout of fellow advocates was encouraging, and gathering together for virtual coffee hour before a busy day of lawmaker meetings was a highlight.
"Getting on the morning Zoom call—when everyone was on the edge of their seats ready to go—was really inspirational," said Will Freund, an environmental educator from the Outer Banks who participated in his first-ever Advocacy Day. "I could tell that they were there because they really cared. Seeing so many people from across the state all coming together, both longtime friends and new acquaintances, was incredible to witness."
For many participants, Advocacy Day was a reminder that there is no substitute for talking directly with your lawmaker, even if it has to be virtual.
"It makes a difference to make these connections with our legislators," said Pam Diamond, a Wake Audubon member and two-time Advocacy Day participant. "They need to hear from us but they also need to know who we are and why what we are asking for matters. The approach we are taking with Audubon to reach out and connect and get to know one another—even on Zoom—brings the human element to the process."