Each fall, thousands of Chimney Swifts gather above North Carolina's towns and cities, swirling above the skyline at dusk before swooping down into chimneys to roost for the night.
These huge swift congregations are an amazing spectacle of fall migration and are surprisingly accessible, if you know where to look.
Use the list of North Carolina swift roosts below to get outside and find a roost near you! Thanks to Audubon chapters in North Carolina for compiling the addresses.
Chimney Swifts have adapted over the last century, learning to roost in human-made structures rather than their natural roosting sites—things like large hollow trees and caves. Still, swift populations are declining precipitously, decreasing by more than 50 percent between 1966 and 2007.
You can help swifts by getting involved in community science and helping to count them. Learn more ways you can get involved here.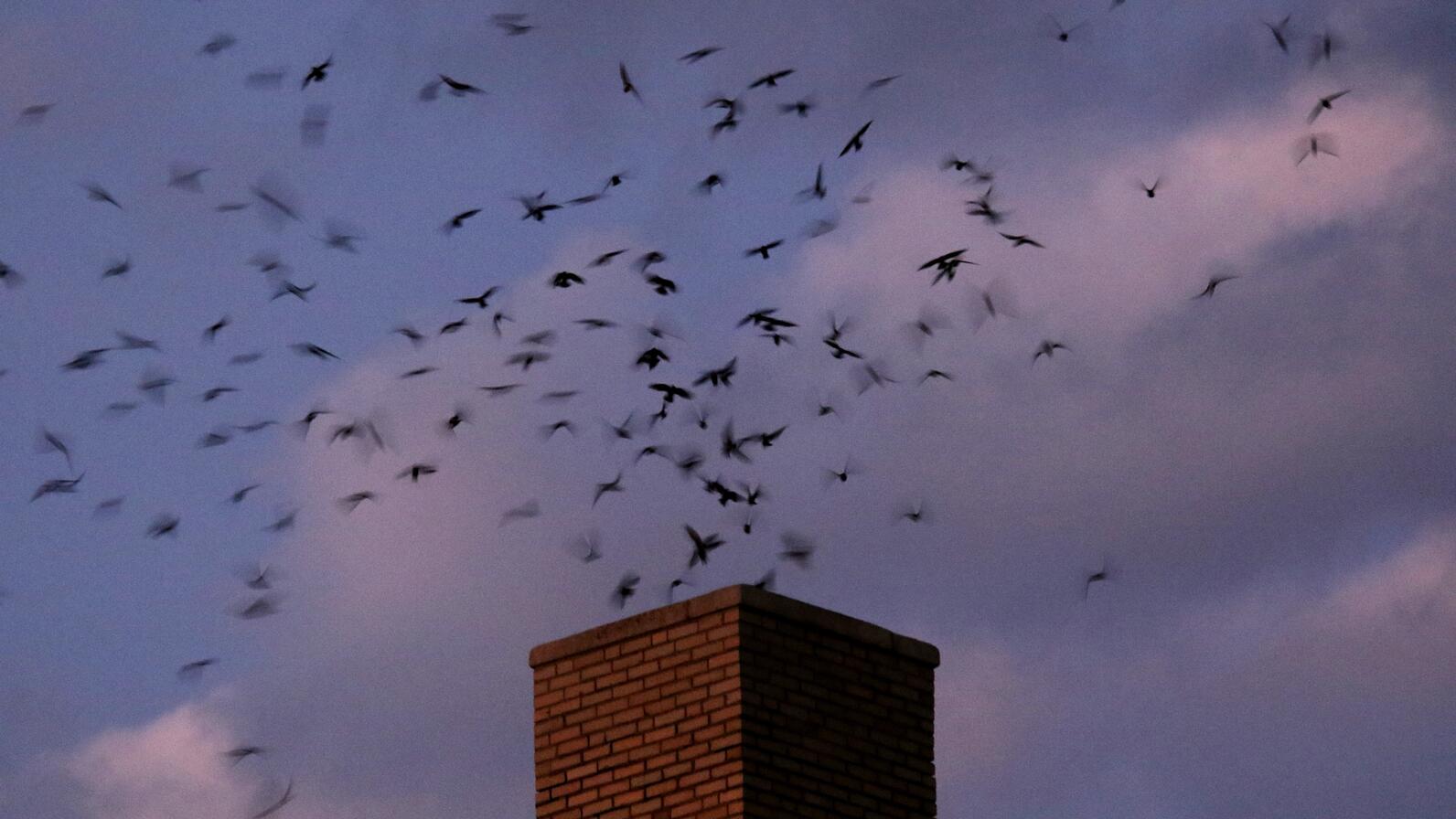 If you're going to watch swifts at a chimney roost, it's a good idea to arrive at the chimney by sunset.
BONUS: John Gerwin, research curator of Ornithology for NC Museum of Natural Sciences, is hosting a virtual chimney swift watch this Wednesday! More info here.
Find a swift roost near you:
ASHEVILLE
Sherwin-Williams, 615 Merrimon Ave, Asheville. The chimney is easily seen from the parking lot.
Mission Hospital, St. Joe's campus, 116 Veronica Lane, Asheville. The chimney is due south of that address. A parking lot just east of the chimney has good viewing.
Visit the Asheville Civic Center parking garage, 7th floor, 68 Rankin Avenue, for an excellent vantage point. Look east, across Rankin Avenue to a large brick building, for the swift roost.
BANNER ELK
Lees-McRae College, 191 Main Street W, Banner Elk. The chimney is on the North Carolina Building at the intersection of Lees-McRae Drive and College Drive.
CHAPEL HILL
Franklin Street Post Office, 179 E. Franklin Street, Chapel Hill. View from parking deck behind the post office on E. Rosemary Street. Actual chimney is on the backside of the Post Office.
CHARLOTTE
The Lofts at Noda Mills, 3327 N Davidson Street, Charlotte (at the intersection of N Davidson and E 37th St.). Important note: There's a tower right by the road, but the swifts use a smaller chimney in the back of the building. Find more details in this eBird checklist.
DURHAM
The Roof at The Durham Hotel, 315 E. Chapel Hill St, Durham, is a terrific vantage point for several downtown Durham chimneys. Make a reservation before you go.
The Accordion Club, 316 W Geer St, Durham. View is of the chimney on Trosa's dormitory at North Street and Geer behind the Accordion Club.
Pearl Mill Flats, 807 W Trinity Ave, Durham. Best view is from end of Minerva Street right off Duke Street, behind the Apartment complex. This is a very large tower which can be seen from a number of locations.
GREENSBORO
Carolina Theater, 310 S. Greene St, Greensboro, near the corner of Federal Place and Exchange Place.
Note: T. Gilbert Pearson Audubon Society and Piedmont Bird Club are hosting a socially distanced swift-watching event Sept. 22 and 23.
RALEIGH
Oberlin Magnet (formerly Daniels) Middle School, 2816 Oberlin Road, Raleigh.
Brentwood Elementary, 3426 Ingram Drive, Raleigh.
Broughton High; 723 St. Mary's Street, Raleigh.
Carnage Middle School, 1425 Carnage Drive, Raleigh.
Transfer Co. Food Hall, 500 E. Davie St, Raleigh.
Chimney Swift event with City of Raleigh Parks, Recreation, and Cultural Resources is hosting a swift watch at Carnage Magnet Middle School. More info here.
SALISBURY
East Rowan High School, 175 St Lukes Church Rd, Salisbury. See a photo of the chimney here.
WILKESBORO
Wilkesboro Elementary School, 1248 School, St., Wilkesboro.
WILMINGTON
UNCW Natatorium, 690 Hamilton Drive, Wilmington; watch from the intramural fields across Hamilton Drive from the Natatorium.
WINSTON-SALEM
Northwest Middle School, 5501 Murray Road Winston-Salem. There's a good view of the chimney from the parking lot.
Thanks to Blue Ridge Audubon, Lees-McRae College Audubon, New Hope Audubon, T. Gilbert Pearson Audubon, Wake Audubon, Mecklenburg Audubon, Forsyth Audubon, High Country Audubon, Cape Fear Audubon, and UNC Wilmington Seahawk Audubon for these roost recommendations.